Bajan Chicken Salad
For the next meeting of our World Spice Cookbook Club, we're embracing the warm weather with Salmagundi: A Celebration of Salads from around the World. This Bajan chicken salad, a recipe from the book, combines allspice, cumin, paprika and oregano with a mix of fresh, bright-tasting ingredients for a unique and refreshing flavor.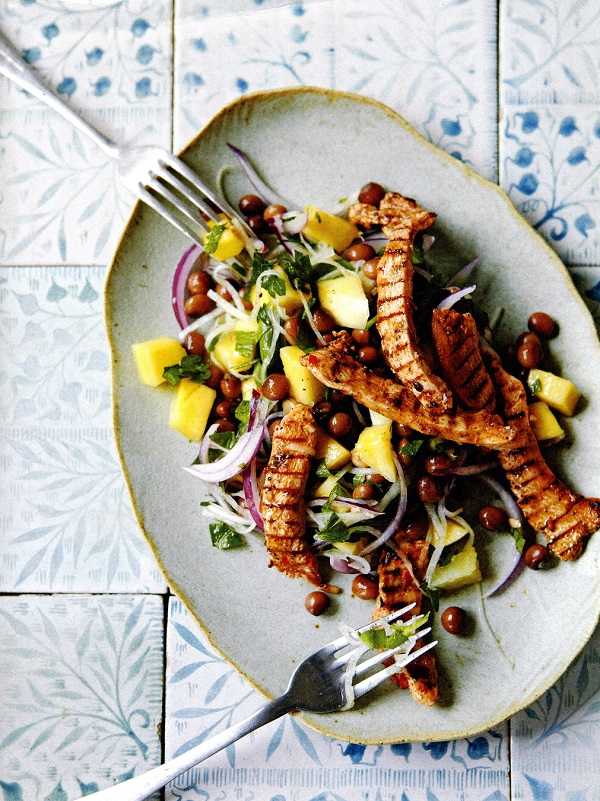 From the Author: "Bajan food is a beguiling mix of Africa and India and the Caribbean. This recipe is a similar jumble—of all the lovely flavors that we sampled on our trip."
Ingredients
A TOTALLY TROPICAL SUPPER FOR 2
2 skinless, boneless chicken breasts
1 garlic clove, minced
¼ tsp ground cumin
½ tsp paprika
½ tsp ground allspice
1 red chili, finely chopped (or use green for less heat)
½ tsp dried oregano
juice and grated zest of 1 lime
1 tbsp peanut oil
FOR THE SALAD PART:
scant ½ cup / 2.75oz / 75g dried pigeon peas (or 1 can / 14oz / 400g), soaked for 6 hours
1 small jicama or white (daikon) radish, peeled and diced
1 red onion, diced
1 mango, carefully peeled and diced
big handful of fresh parsley, chopped
1 bunch of fresh chives, chopped
1 lime
2 tbsp extra-virgin olive oil
dash of hot sauce
Instructions
Slice the chicken breasts into thin strips of 2in / 5cm in length. Mix the garlic, spices, chili, oregano, lime juice and zest, and oil together in a bowl. Add a little salt and toss the chicken strips in, turning them over so they become well coated in marinade. Cover and leave in the fridge for an hour or so (or marinate for just 30 minutes at room temperature).
Meanwhile, drain the soaked beans, bring to a boil, then turn down the heat and simmer in unsalted water for about 45 minutes, or until cooked without being mushy. Drain and allow to cool.
When you are ready-ish to assemble your salad, preheat the broiler or grill. Shake the chicken so that any surplus marinade slides off, then broil or grill the strips for around 6 minutes, turning once or twice. Keep warmish.
Mix the peas with the jicama, onion, and mango, then stir the herbs through the mixture. Next, use a sharp knife to remove the skin and pith from half of the lime. Discard any seeds and chop the rest of the flesh into the salad (if you don't like things too sharp, you can omit this part and just use the juice in the dressing instead).
Squeeze the other half of the lime into a bowl, and whisk in the olive oil, hot sauce, and salt to taste before trickling it over the beans. Serve the still-warm chicken on top. Steamed white rice or some good bread would render this dinner rather than supper.
© 2023 World Spice Merchants https://www.worldspice.com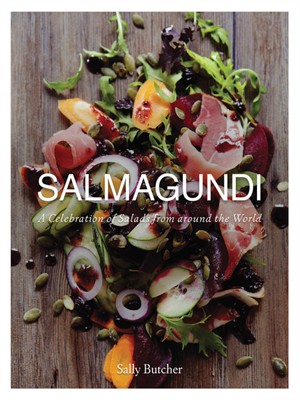 Salmagundi is the August 2016 selection for the World Spice Cookbook Club. Salmagundi is currently available for purchase at our retail store and online.
Recipe from Salmagundi, © 2014 Sally Butcher, published by Interlink Books. Image from Salmagundi, © 2014 Yuki Sugiura, published by Interlink Books.