Chaat Masala Butter and Grilled Corn
One of the best things about summer is the abundance of fresh corn on the cob. I was excited to see the first of the season's crop available at my local Farmer's Markets and was inspired to spice-up this classic BBQ side.  Adding Chaat Masala to butter makes a perfect accompaniment to grilled corn. This beautifully flavored butter is delicious on just about anything that comes off your grill… fish, steak, veggies, you name it!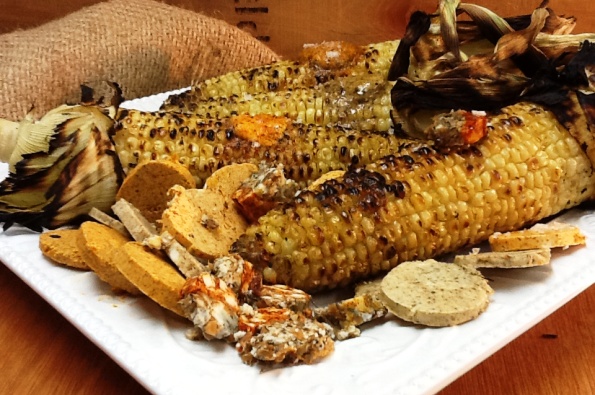 Instructions
For the Butter
For the butter, mix together the unsalted butter, the Chaat Masala and 1 tsp. black lava flake salt in a small bowl . Roll butter into a log using parchment paper or transfer to a small covered container. Refrigerate until needed.
For the Corn
Heat your grill to medium. Pull the outer husks down the ear to the base, and strip away the silk from each ear of corn. Fold the husks back into place and tie the ends together with kitchen string. Place the ears of corn in a large bowl of cold water with the kosher salt for 10 minutes.
Remove corn from the water and shake any excess water. Place the corn on the grill, close the cover and grill for 15 to 20 minutes, turning every 5 minutes, or until kernels are tender when pierced with a paring knife. Remove the husks, slather the corn with the Chaat Masala Butter.
© 2023 World Spice Merchants https://www.worldspice.com