Ancho Chili Beef Empanadas
Who doesn't love food that you can hold in your hand?  The beauty of empanadas is that the rich, buttery dough can be filled with almost anything – sweet or savory. Our Ancho Chili Powder is mild-medium in heat and adds magnificent depth to the beef and vegetable filling we chose. Ancho chiles have a wonderful, darkly sweet flavor, so we added a little Alderwood Smoked Salt for just a touch of smoky contrast. They can be served either hot or at room temperature; we like ours with salsa, sour cream and a Hibiscus Margarita.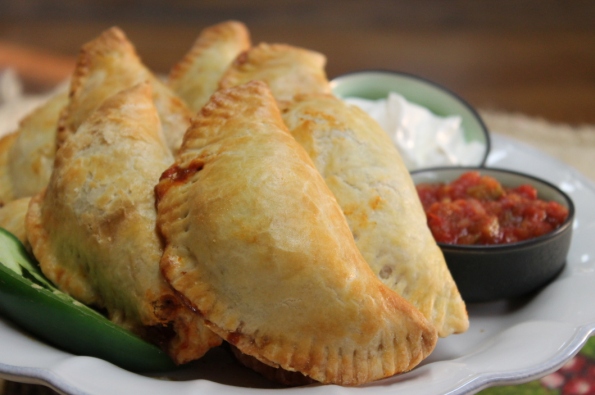 Ingredients
For the Dough
4 1/2 cups flour
2 teaspoons Maldon Smoked Flake Sea Salt
1 cup unsalted butter, cut into cubes and chilled
2 large eggs
2/3 cup ice water
2 tablespoons distilled white vinegar
For the Filling
1/4 cup olive oil
5 large garlic cloves, finely chopped
1 large sweet onion, finely chopped
1 medium red bell pepper, finely chopped
1 pound lean ground beef
1 1/4 teaspoons Alderwood Smoked Salt
3 tablespoons ground Ancho Chili Powder
1 teaspoon Mexican Oregano
1/2 cup sliced black olives
For the Egg Wash
1 egg, lightly beaten
1 tablespoon water
Instructions
Preheat oven to 400 degrees.
To Make The Dough
Sift flour into a large bowl. Add salt and chilled, cubed butter. Using your fingertips or a pastry cutter, mix together until the mixture resembles coarse meal.
In a separate bowl, beat together eggs, chilled water and vinegar and add to flour mixture.Combine until well incorporated.
Empty onto a lightly floured surface and knead just enough to bring the dough together. Cut dough in half and form each half into a rectangle. Chill for at least 1 hour.
To Make the Filling
In a heavy skillet heat olive oil over medium heat, add onions, red bell peppers and garlic and saute until softened. Add Alderwood Smoked Salt, Ancho Chili Powder and Mexican Oregano, and saute for about 1 minute.
Add ground beef, breaking up any lumps and cook until no longer pink, about 5 minutes. Add olives and mix well. Taste for seasoning, adjust as needed. Pour into a bowl and refrigerate until chilled.
To Assemble the Empanadas
Remove chilled dough from the refrigerator. Cut each rectangle into 12 pieces, form into discs and cover with a towel. On a lightly floured surface, take one of the pieces and roll it out into a circle about 1/8 inch thick. Holding the circle in the palm of your hand, place 2 heaping teaspoons of the chilled filling in the center.
Fold the two edges of the circle together over the filling. Press the edges to seal. Using a fork dipped in flour, crimp the edges so the filling won't escape. Transfer to a parchment lined baking sheet. Repeat the process with the remaining dough and filling. Lightly brush the empanadas with egg wash.
Bake until golden, about 25 minutes. They are done if they sound hollow when tapped on the bottom. Transfer to a wire rack and cool for at least 5 minutes. Serve with salsa and sour cream.
Notes
These empanadas freeze well, so make a bunch and plan to enjoy them another day, or surprise yourself at how quickly your guests devour the extras.

© 2023 World Spice Merchants https://www.worldspice.com