Rooster Grilled Artichokes with Spicy Garlic Mayonaise
Seattle's local farmers have been showcasing artichokes for a few weeks now, so what better produce to highlight one of our newest blends, Rooster Spice! Inspired by everyone's favorite Vietnamese hot sauce, Rooster Spice packs a wallop of heat, but boasts a delicious complexity that will keep you coming back.  It's the perfect accompaniment to these artichokes, or really anything else your market basket can throw at it.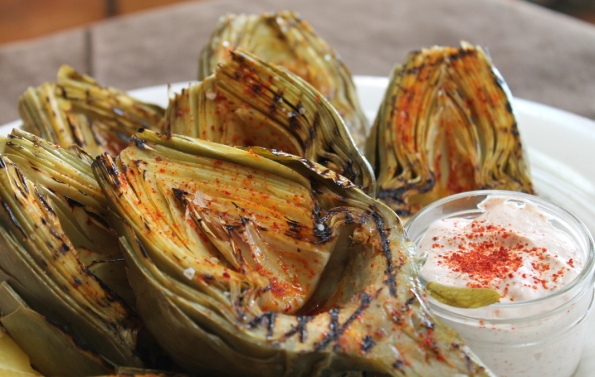 Ingredients
2 lemons
4 large artichokes
1 tablespoon extra virgin olive oil
1/4 teaspoon kosher salt
2 tablespoons Rooster Spice
1/2 cup mayonnaise
1 clove garlic, minced
1 tablespoon lemon juice
Rooster Spice, to taste
Instructions
Fill a Dutch oven with water, add the juice of 1 lemon and the bay leaf.
Trim leaves from the top of artichoke, remove outer layers of leaves from the stem end and snip all remaining spiky tips from the outer leaves. Trim an inch off the bottom of the stem and use a vegetable peeler to remove the fibrous outer layer.
As each artichoke is prepared in this way, drop it into the lemon water to prevent from turning brown.
When artichokes are prepared, cover the pan and bring to a boil. Boil until the base of the stem can be pierced with a fork, about 12-15 minutes. Transfer to a cutting board and let stand until cool enough to handle, about 10 minutes.
Meanwhile, combine garlic, lemon juice, and Rooster Spice with the mayonnaise. Mix well. Transfer to a serving dish and chill until needed.
Preheat grill to medium.
Slice the artichoke in half lengthwise. Scoop out the choke and first few inner layers in the center until the bottom is revealed. Brush each half with olive oil and sprinkle with Maldon flake salt and Rooster Spice.
Grill the artichokes until tender and lightly charred, about 5 minutes per side. Transfer to a serving platter, squeeze half a lemon over them and garnish with remaining lemon wedges.
Serve warm, at room temperature or chilled alongside Spicy Garlic Mayonnaise.
© 2022 World Spice Merchants https://www.worldspice.com