Gourmet Salts: The Spice Merchants' Need-to-Know Basics!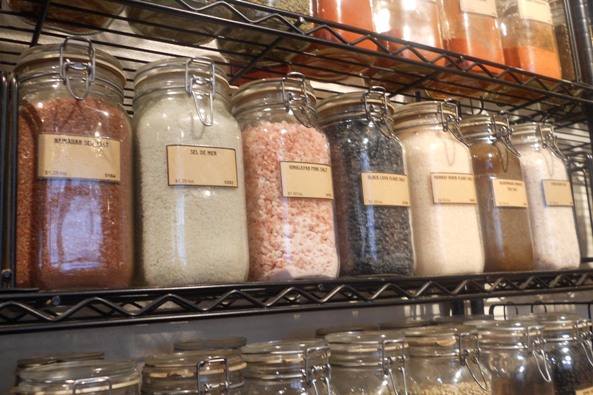 "Salty" is one of the five basic flavors that the human palate can detect, along with sweet, sour, bitter, and "umami." A baker might tell you that salt makes "sweet things, sweeter," but more specifically, salt clarifies all of the other flavors. The human mouth is saline to begin with, so in order to begin to taste the more nuanced flavors in our food, the salt level in the food first has to match that in our mouth. The wisest of chefs know that the goal with a sprinkle of this prized mineral is not necessarily to achieve a salty flavor, but to elevate and complement all of the flavors in a dish. Here are a few of our favorite varieties, and what we find to be their best uses!
We love Alderwood Smoked Salt, arguably the most dramatic of our offerings. Fine grains of Pacific sea salt are cold-smoked over locally-harvested alder wood chips to achieve a charcoal grey color and a distinctive smoky aroma and taste. Shop visitors consistently describe Alderwood Smoked Salt as a "campfire in a jar." The spice team finds that Alderwood Smoked Salt makes meat dishes somehow "meatier," and enhances grilled flavors both inside and out. We also love it on heartier vegetables like eggplant and squash.
Murray River Flake Salt is another shop favorite. This flaky, apricot-colored salt is harvested from a dry river bed in Australia. The flakes are delicate, and almost crispy when eaten whole. We love to bake with this salt, as it mostly dissolves easily, but often leaves just a smidge of crystal behind, so one stumbles upon a tiny bit of salt as they make their way through dense banana bread or peanut butter cookie.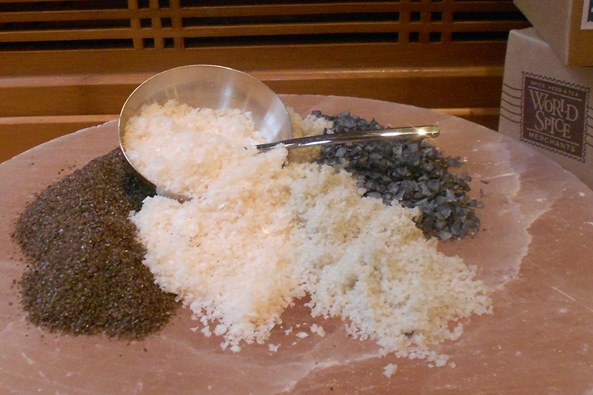 Sel de Mer, the aged scotch of salts! This French grey salt is light grey in color, and its medium-sized crystals tend to clump together with its high moisture content. The subtle flavor is deep and earthy, and is right at home atop fish of all kinds. We also prefer it over all others on our caprese salads, for the great contrast in texture between the crisp tomatoes, the creamy mozzarella, and the crunch of the salt, not to mention how well the heartiness of the flavor plays against the sweetness and acidity of the balsamic vinegar.
Black Lava Flake Salt is as delicious as it is visually intense. The pyramid-shaped crystals are black in color, rendered so because of natural charcoal deposits. This salt is best used as a finisher, as all of what makes it unique would be lost once dissolved. We like its assertive flavor sprinkled on slices of fresh cucumber seasoned with a dash of sweetened rice wine vinegar, as well as a whimsical addition to a fresh watermelon and mint salad- the crystals appear to be watermelon seeds at first glance!
As we often remind you, there are no wrong answers in food! (Well, okay, sometimes…) Any of these salts could lend a fun update to a standby dish. Salts are a wonderful way to break in to the world of experimental cooking and seasoning, and make a great gift for both the seasoned (yes, pun intended!) chef, and the novice foodie alike. Happy cooking!