Nutty Chocolate Chile Thumbprints
We have a new go-to cookie recipe! If you love the marriage of nuts and chocolate (and who doesn't?), try these for easy baking, gifting and be sure to leave some out on 12/24. These delicious morsels are topped with little bit of salt and infused with mellow chile heat. In this recipe, we've mellowed the peanut butter with some almond butter, and added just the right measure of urfa biber to the chocolate ganache. Enjoy a few with your next cup off eggnog – it's a tasty combination!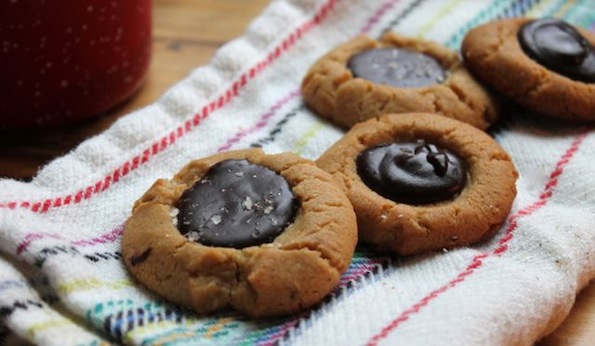 Ingredients
For the Cookies:
1½ cups all purpose flour
1 teaspoon baking soda
½ teaspoon baking powder
¼ teaspoon kosher salt
1 stick unsalted butter, softened
½ cup almond butter, creamy or chunky
½ cup peanut butter, creamy or chunky
½ cup brown sugar
½ cup granulated sugar
1 large egg
1 tablespoon milk
1 teaspoon vanilla extract
For the Ganache:
Instructions
Cookies:
Preheat the oven to 350 degrees. Line 2 large baking sheets with parchment paper.
In a medium bowl, mix together the flour, baking soda, baking powder and salt. Set aside.
Using a stand mixer with the paddle attachment, beat the butter and nut butters together until they are smooth and creamy. Add the sugars and continue to beat until smooth. Add the egg, milk and vanilla extract and beat until completely combined.
Slowly add the flour mixture while beating on low speed, and then increase the speed and beat until the flour is completely incorporated and a dough ball forms.
Scoop out the dough in rounded balls of about 2 teaspoons each and place them on the prepared baking sheets, about 2" apart. Using your finger, press a deep well into each dough ball, supporting the edges of the dough ball with the fingers of your other hand to keep the edges intact.
Bake 10-12 minutes, until the edges of the cookie begin to darken, but the center is still a little soft. Remove the pan from the oven and, if needed, deepen the well in the center of each cookie by pressing with the back of a teaspoon. Remove the cookies to a wire rack to cool completely.
While the cookies are cooling, make the ganache.
Ganache:
Combine the dark chocolate chips, urfa chile and heavy cream in a small saucepan. Using a double boiler or water bath, melt over medium heat, stirring frequently. The ganache is ready when the ingredients are completely melted and smooth.
When the cookies are cool, spoon a small portion of warm ganache into the center. Allow the ganache too cool a little bit, and then sprinkle with a small measure of the smoked Maldon sea salt. Note: If the ganache is too hot, it will melt the sea salt.
Notes
We've made these cookies several times lately- sometimes using gluten free flour, sometimes using all almond butter, sometimes creamy and sometimes chunky. They always come out great!

© 2023 World Spice Merchants https://www.worldspice.com