Cuban Black Bean Burger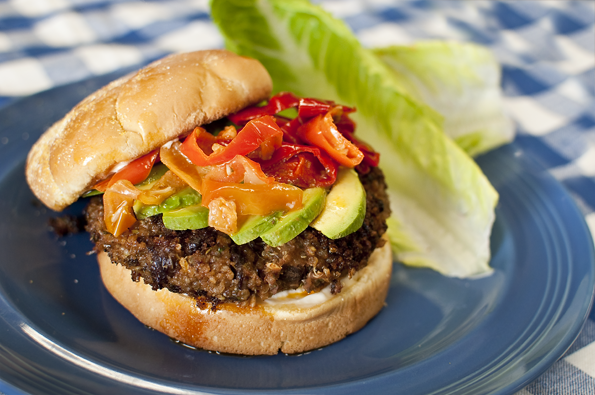 There are many veggie burger recipes out there, but we have a fondness for this one. With protein-rich black beans and quinoa, this is a veggie burger with some substance. We added our savory Cuban Spice, zesty Voodoo and herbs to amp up the flavor even more. Top with lettuce, tomato, or any other burger fixings you love. This delicious and addictive veggie burger will become one that you will want to eat year round.
Ingredients
3 cans black beans, drained and rinsed
2 cups of cooked quinoa
2 cups water
2 tablespoons olive oil
1/2 red onion, diced
3 large cloves of garlic, minced
4 tablespoons tomato paste
1-1/2 teaspoons Voodoo
1-1/2 tablespoons Cuban Spice
2 teaspoons lime juice
3/4 teaspoon lime zest
1 teaspoon whole cumin seeds
1-1/2 teaspoons Turkish oregano
1/4 cup cilantro, chopped
Panko bread crumbs
Oil for pan frying
Instructions
Heat oil in a sauté pan over medium heat. Add onion, garlic, Cuban Spice, Voodoo and cumin seeds, and cook until onion has softened.
In a large bowl, mash the contents of one can of black beans with the tomato paste, lime juice, lime zest, Turkish oregano and chopped cilantro. Fold in the remaining whole black beans, mixing well. Add in the onion mixture and quinoa, combining thoroughly.
Form handfuls of batter into patty shapes, and dredge in Panko. Heat oil over medium-high heat, and pan-fry burgers for 3 to 5 minutes per side, or until golden and crispy.
Serve on toasted buns with your choice of condiments - avocado, lettuce and tomato are delicious with these.
© 2023 World Spice Merchants https://www.worldspice.com
Play with your Veggie Burger!
Looking for a different exotic flavor to try? We love Chorizo Bomb or Harissa in this burger.
Not a fan of black beans? Use garbanzo or kidney beans instead.
These freeze well, so make a double batch for those busy nights.