Fresh Herb Falafel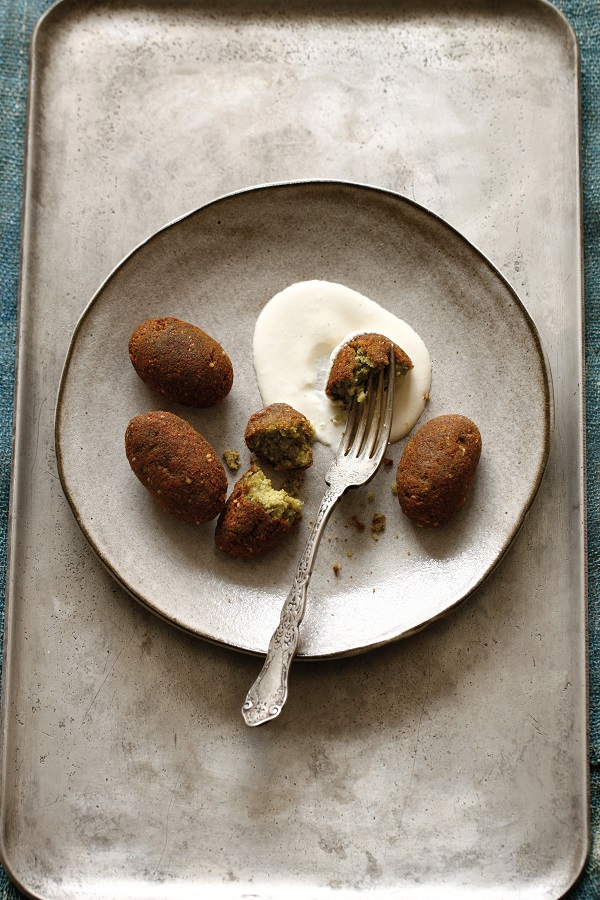 When we sat down to begin planning for next month's World Spice Cookbook Club, this recipe immediately jumped off the page as one we had to try.  Truly well executed falafel is a revelation to the palate, and this recipe provides exactly that. For more such recipes, be sure to check out the World Spice Cookbook Club's September 2016 Selection, Rose Water & Orange Blossoms, by Maureen Abood.
From the Author: "What a fantastic discovery homemade falafel is! Completely fresh and such a difference from falafel in restaurants, because of the copious fresh herbs and balance of spices. We've never cooked with cumin in my extended Lebanese family, but here you can add a pinch if you like."
Ingredients
1/2 cup / 100 g dry chickpeas
1/?2 cup / 100 g dry shelled fava beans
1 teaspoon kosher salt
Big handful of fresh mint leaves (about 20 leaves)
1 bunch fresh flat-leaf parsley leaves
1/2 bunch fresh cilantro leaves
1 small jalapeño, ribs and seeds removed and coarsely chopped, or 1/2 teaspoon cayenne pepper
1 garlic clove, minced
1 small yellow onion, coarsely chopped
1 tablespoon sesame seeds
1 teaspoon baking soda
3 cups / 700 mL safflower or canola oil, for frying
1 recipe Tahini-Yogurt Sauce (see blow)
Instructions
In a medium bowl, cover the chickpeas and fava beans with cool water by 3 inches / 7.5 cm. Soak them overnight and up to 24 hours. Thoroughly drain the chickpeas and fava beans. In the food processor, process them with a teaspoon of salt until they are ground to a coarse crumb.
Add the mint, parsley, cilantro, jalapeño, garlic, onion, and sesame seeds and pulse until the mixture is finely ground to a moist crumb. Transfer the mixture to a bowl, stir in the baking soda, and chill for at least 30 minutes or up to 1 day.
Heat the oil to 375F / 190C in a 3-quart / 3 L saucepan or sauté pan until a dropped pinch of herb bubbles dramatically. Using an ice cream scoop or a large spoon, pack the falafel mixture tightly into the scoop to form 2-inch / 5 cm ovals, and fry a few at a time until they are golden brown, flipping them over with tongs as soon as they are browned on one side. Remove the falafel from the oil with the tongs to a paper towel-lined plate, and fry the remaining falafel. Serve the falafel hot with the tahini sauce on the side.
© 2023 World Spice Merchants https://www.worldspice.com
Ingredients
3/4 cup / 170 g yogurt
1/3 cup / 80 mL tahini (well-stirred before measuring)
1 teaspoon kosher salt
1 small garlic clove, minced
Juice of 1 lemon
Instructions
Process the yogurt, tahini, salt, and garlic in the food processor, or whisk in a medium mixing bowl, until combined. Add the lemon juice and pulse or whisk to combine. Taste and adjust the seasonings, if needed, so that the sauce has the nutty flavor of tahini with a bit of the tang of the yogurt.
© 2023 World Spice Merchants https://www.worldspice.com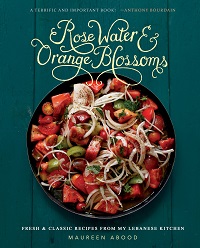 Rose Water & Orange Blossoms is the September 2016 selection for the World Spice Cookbook Club. Rose Water & Orange Blossoms is currently available for purchase at our retail store and online.
Reprinted with permission from Rose Water & Orange Blossoms © 2015 by Maureen Abood, Running Press, a member of the Perseus Books Group. All Rights Reserved.