Chermoula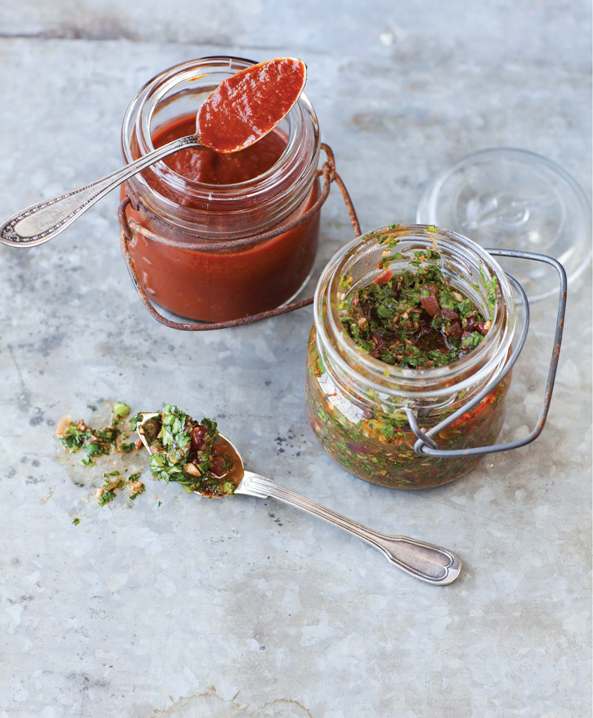 Afro-Vegan  by Bryant Terry is the  World Spice Cookbook Club selection for May. We are whipping up his incredible Chermoula recipe! Chermoula is a versatile marinade combining fresh herbs with dried spices, oils and citrus to create layers of flavor. It is used liberally in Algerian, Libyan, Moroccan and Tunisian cooking to flavor fish, seafood, meats and vegetables.
Ingredients
3 tablespoons extra-virgin olive oil
1/2 cup finely chopped red onion
1 teaspoon coarse sea salt
3 large cloves garlic, minced
1 1/2 teaspoons cumin seeds, toasted and ground
1/2 teaspoon paprika
1/4 teaspoon freshly ground black pepper
1/8 teaspoon cayenne pepper
3 tablespoons freshly squeezed lemon juice
1 tablespoon freshly squeezed orange juice
2 tablespoons water
1/4 teaspoon minced seeded habanero chile
pinch of saffron threads, crumbled
1 1/2 cups packed minced cilantro
1/2 cup packed minced flat-leaf parsley
Instructions
Warm the oil in a medium saute pan over medium-low heat.
Add the onion and salt and saute until the onion is soft, 5 to 7 minutes.
Add the garlic, cumin, paprika, black pepper, and cayenne and saute until fragrant, for 2-3 minutes.
Add the lemon juice, orange juice, water, habanero, and saffron and mix until well combined.
Stir in the cilantro and parsley.
Taste and season with more salt if desired.
Use immediately or store in a tightly sealed jar in the refrigerator for up to 1 week.
© 2023 World Spice Merchants https://www.worldspice.com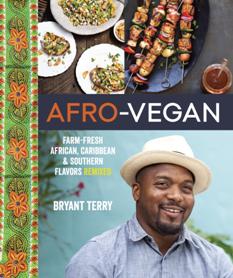 Afro-Vegan: Farm-Fresh African, Caribbean & Southern Flavors Remixed is the May selection for the World Spice Cookbook Club. Afro-Vegan is currently available for purchase at our retail store and also online through the following sellers:  Amazon.com, BarnesandNoble.com, Powells.com, IndieBound.org.
Reprinted with permission from Afro-Vegan by Bryant Terry, copyright (c) 2014. Published by Ten Speed Press, a division of Penguin Random House, Inc. Photography (c) 2014 by Paige Green