Qalat Daqqa Chocolate "Kielbasa"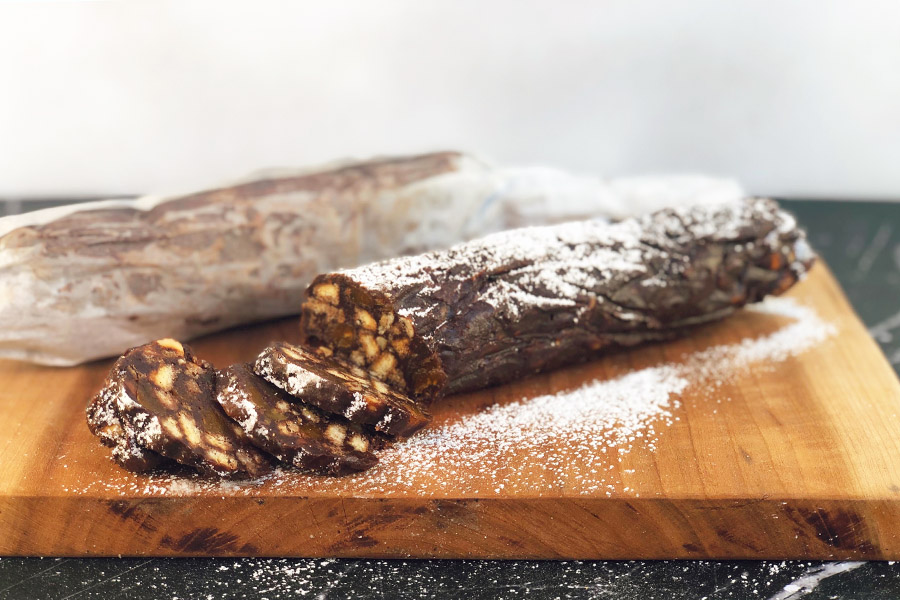 This recipe was inspired by the chocolate kielbasa in Kachka, a cookbook from the Portland, Oregon restaurant of the same name. We first tried it at a Tom Douglas Cookbook Socials and were instantly taken with the unique recipe. Don't be turned off by the unusual name! Think of it as the best fudge you never knew you needed in your life.
Of course, we couldn't resist the opportunity to play with the recipe, adding some spices and dried fruit for a bit more texture and flavor. Qalat Daqqa, also known as Tunisian Five Spice, is one of our most underused blends. It's great as a rub or in stews and tagines, but absolutely sublime in sweet applications pairing especially well with anything chocolate. This is a great recipe to make for holiday giving or for parties. It's easy to make, and you can finish it the day before you need it.
Ingredients
2 cups smashed plain cookies (shortbread, tea biscuits, or graham crackers), about 4 oz
2/3 cup chopped toasted nuts (hazelnuts, pecans, walnuts or pistachios)
1/2 cup butter (one stick)
3/4 cup sweetened condensed milk
4-1/2 oz dark chocolate, broken into small pieces
1 tablespoon Valrhona Cocoa Powder
2 teaspoons Qualat Daqqa, ground
3/4 teaspoon salt
1/2 cup dried apricots, chopped (can also use figs, cherries, or cranberries)
1/4 cup powdered sugar
Instructions
Break cookies into pieces no larger than a blueberry. Pour into a large bowl. Add chopped nuts, mixing well. In a medium saucepan over low heat, melt butter. Once melted, add condensed milk, chocolate pieces, cocoa powder, salt and Qalat Daqqa. Whisk until smooth.
Pour chocolate mixture over cookie/nut mixture and stir until combined. Set aside until it has cooled to room temperature.
While waiting for the mixture to cool, lay out two 18 inch long pieces of foil and top each piece with a sheet of either wax paper or parchment paper. When mixture is cool, divide it into two portions, one for each piece of paper. Using your hands and the paper, shape and roll the mixture into a sausage-shaped log, up to 12 inches long, and no more than 3 or 4 inches wide. Roll the mixture up in the paper, then wrap it in the piece of foil, making sure that the log is even throughout. Then use the foil to twist the ends tightly.
Refrigerate for at least an hour, then check to make sure that the logs are firming evenly. If needed, you can reroll the logs to smooth them further, without having to remove the paper/foil. Refrigerate until set, at least 2 hours, or even a couple of days.
When ready to serve, unwrap them on a cutting board. Sprinkle with powdered sugar, being sure to turn the log to coat all sides. (This makes it look like a cured sausage.)
Shake off any excess, then use a serrated knife to cut slices.
© 2023 World Spice Merchants https://www.worldspice.com