Baharat Chewy Molasses Cookies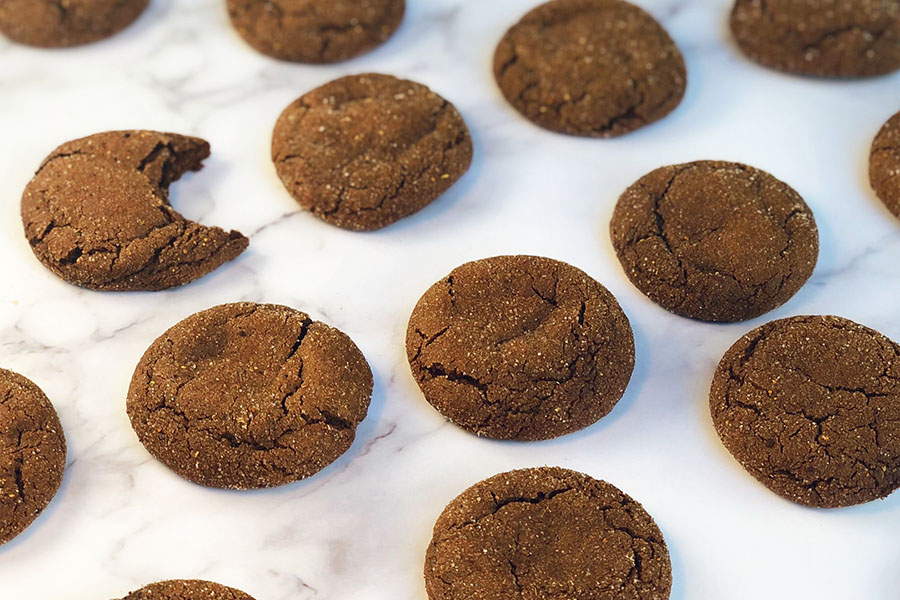 Molasses cookies are such a treat. Delightfully moist and delightfully chewy, there's no other cookie quite like them. You'll find a wide range of recipes for these sweet and spicy snacks, containing ingredients ranging from cocoa powder to orange zest, and all sorts of spices in between!
Our humble contribution to the molasses cookie canon features the addition of Baharat. This Middle Eastern blend is traditionally used in savory dishes, but with its warm and sweet spices such as allspice, cinnamon, nutmeg, cloves and cardamom, we wondered how it would be in a cookie. It's wonderful, as it turns out!
Alongside it's signature seasoning, this recipe adds a bit of Valrhona cocoa powder to deepen the flavor of the cookie. It's definitely a keeper, and too good not to share. Just be sure to make enough, because they'll disappear pretty fast. You can share the recipe, too, since you can really never have too many recipes for a good cookie.
Ingredients
2 cups all-purpose flour
1/4 cup Valrhona cocoa powder
2 teaspoons baking soda
4 teaspoons Baharat, ground
1/2 teaspoon salt
1 egg
1/2 cup butter, melted
1/3 cup dark brown sugar
1/4 cup white sugar
1/3 cup molasses
1/2 teaspoon vanilla extract, or scrape the insides of one vanilla bean
1/4 cup white sugar + 1/2 teaspoon Baharat, ground
Instructions
Preheat oven to 350 degrees and prepare a sheet pan lined with parchment paper. Whisk dry ingredients together in a small bowl.
Whisk egg, butter, sugars, vanilla and molasses in a medium bowl until well mixed. Add dry ingredients and mixed until combined.
Put remaining sugar and Baharat into a shallow bowl or saucer. Scoop out dough by the tablespoon and roll into balls. If dough is sticky, refrigerate for 20 minutes. Roll in sugar mixture and place on parchment lined sheet pan, about 2 inches apart.
Bake until puffed, cracked and just set around the edges, about 8 - 10 minutes. (Over baked won't be chewy.) Transfer to wire rack until cooled.
© 2023 World Spice Merchants https://www.worldspice.com