Baked Quince
The World Spice Cookbook Club is taking a trip through the varied cuisines of Eastern Europe this month… our selection for September is Mamushka: Recipes from Ukraine and Eastern Europe, by Olia Hercules! For more information and delicious recipes, check out Olia Hercules's website.
We do love some good quince. The fruit's firm flesh lends itself quite well to baking or poaching, as is the case in this recipe, and the addition of juniper to the spices piqued our interest. We decided to give it a try… and it didn't disappoint!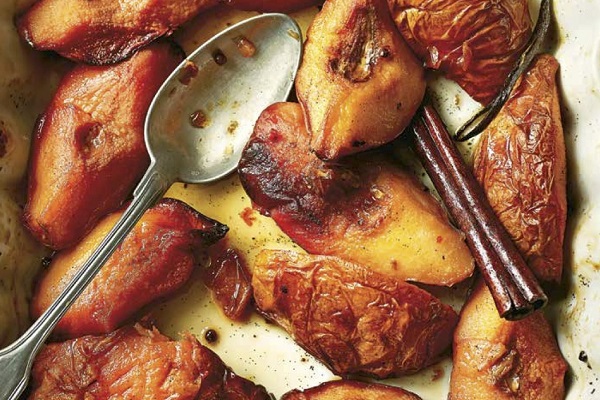 From the Author: "My uncle had a quince tree in his garden and I have always had an overwhelming love for this fruit. We even used to eat it raw (yes, crazy, I know!) or chop it and turn it into jam. I do love it roasted or poached whole, though. Add some sea salt flakes and black pepper, remove the vanilla, and halve the quantity of sugar to make a delicious addition to roast duck."
Ingredients
1½ cups (12 oz/375 ml) water
½ cup (3½ oz/105 g) super fine sugar
1 vanilla pod, split lengthwise and the seeds scraped out, pod and seeds reserved
3–4 quinces, about
2 lb (1 kg) total weight ice cream, to serve
Instructions
Preheat the oven to 325°F/160°C. Place the water with the sugar in a saucepan, add the vanilla seeds and the pod to the pan with the cinnamon stick, star anise, and juniper berries, and cook over low heat, stirring regularly, until the sugar dissolves.
Cut the quinces in half, then cut in half again lengthwise and remove the core. Place the quince quarters in a medium baking dish.
Pour the spiced syrup over the quinces. Cover with foil and pop in the oven for 1 hour, then uncover and cook until the quinces are soft and amber colored, 1 hour more.
Serve this warm with ice cream, or chilled instead of the strawberries for a winter version of the Birthday Ice Cream & Strawberry Cake on page 201.
© 2023 World Spice Merchants https://www.worldspice.com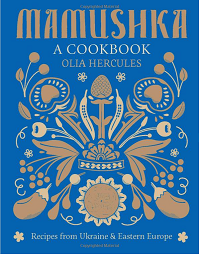 Mamushka: Recipes from Ukraine and Eastern Europe is the September 2016 selection for the World Spice Cookbook Club. Mamushka: Recipes from Ukraine and Eastern Europe is currently available for purchase at our retail store and online.
Recipe and image from Mamushka: Recipes from Ukraine and Eastern Europe by Olia Hercules. Copyright © 2015 by Olia Hercules. Photographs copyright © 2015 by Kris Kirkham. Reprinted with permission of the publisher, Weldon Owen. All rights reserved.