Tasmanian Cherry Ice Cream
Summer: Too many eggs in the coop + an early bumper-crop of cherries + a fresh shipment of Tasmanian Pepperberries = Ice cream party!!!!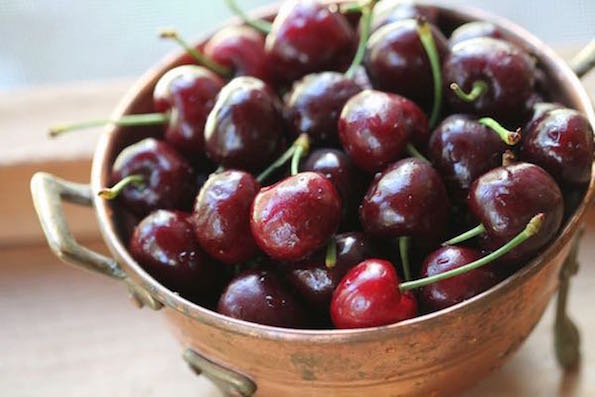 This is an awesome flavor combination, sweet cherries pair perfectly with the subtle tingle of Tasmanian pepperberries. You can also add chocolate chips into the mix, or maybe even a caramel swirl. Happy Summer!
Ingredients
2 cups heavy cream
1 cup whole milk
2/3 cup + 1/2 cup sugar (divided)
1/8 teaspoon fine sea salt
6 large egg yolks
2 tbs whiskey (optional)
1pound fresh, pitted cherries, coarsely chopped
1 vanilla bean, split and scraped
1 tbs Tasmanian pepperberries
Instructions
In a saucepan, combine cherries, sugar, and whiskey (if using), and let simmer until the cherries have just broken down and a little of the water has cooked off- about 10 minutes. Too much water will make for ice crystals in the final product.
Crush the pepperberries in a mortar and pestle. In a medium sized pot, gently simmer cream, milk, sugar, crushed pepperberries, split vanilla bean (scraped seeds and the pod), and salt until the sugar has dissolved and the cream has taken on color from the berries. Remove pot from heat.
In a separate bowl, whisk the egg yolks. Whisking constantly, slowly whisk about a third of the hot cream into the yolks, then whisk the yolk mixture back into the pot with the cream.
Return pot to medium-low heat and gently cook until mixture is thick enough to coat the back of a spoon (about 170 degrees on an instant-read thermometer, or 10-15 minutes).
Strain through a fine-mesh sieve or cheesecloth into a large bowl. Mix in the cherry compote and allow the mixture to cool to room temperature. Cover with plastic, leaving no room for air, and chill at least 4 hours or overnight.
Churn in ice cream maker of your choice according to manufacturer's instructions. Serve fresh for soft serve, or freeze in an airtight container for a few hours for a firmer ice cream.
Notes
For creamier ice cream, omit the milk and add just a half cup of buttermilk instead. If it's for a party, make a double batch.

© 2023 World Spice Merchants https://www.worldspice.com