Summer Fruit Papillotes and Lavender Ice Cream (Papillotes de fruits de l'ete et glace a la lavande)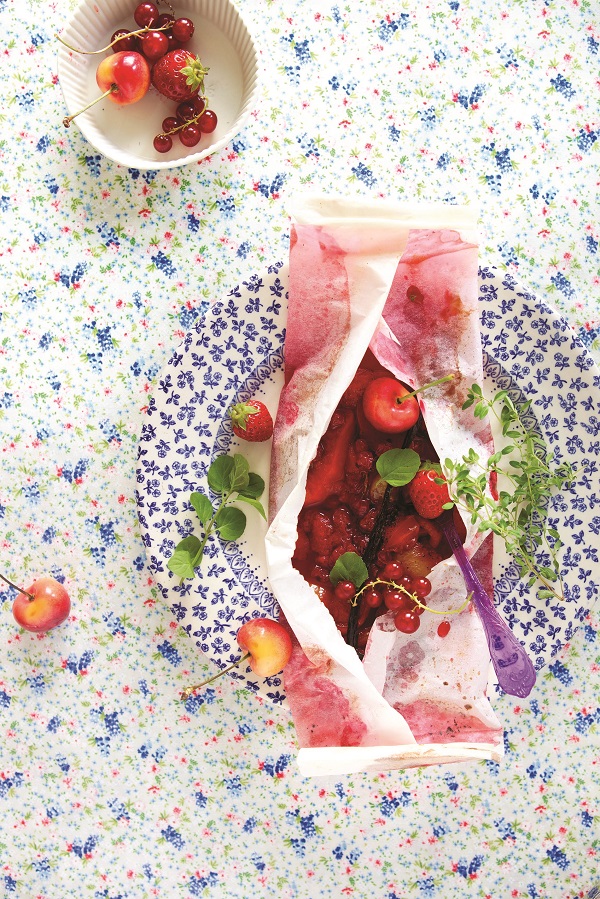 Food is considered by the French to be one of life's greatest pleasures, and author Béatrice Peltre celebrates that with her beautiful blog and cookbooks. In her latest cookbook, My French Family Table, she definitely takes advantage of spring and summer produce to make gorgeous salads and desserts. Here's a unique take on the traditional en papillote, but turning it into a stunning dessert instead.
From the Author: "Use the same technique as for a savory papillote but add sweet ingredients instead; the result is something irresistible. This papillote uses a medley of luscious summer fruit that, once the parchment paper is torn open, displays a palette of bright colors that is completely seductive. I love it served with a scoop of lavender-infused ice cream melting slowly right in the middle."

Summer fruit papillotes and lavender ice cream (Papillotes de fruits de l'ete et glace a la lavande)
Ingredients
For the lavender ice cream:
4-1/4 cups (1 liter) whole milk
10-1/2 oz (300 g) blond cane sugar
2 tablespoons edible lavender
1 cup plus 1 tablespoon (250 ml) heavy whipping cream
For the fruit papillotes:
4 apricots, cut in quarters and pitted
3-1/2 oz (100 g) cherries, pitted and cut in half
3-1/2 oz (100 g) strawberries, hulled and cut in quarters
3-1/2 oz (100 g) red currants
Juice and zest of 2 limes (about 4 tablespoons)
1/4 cup (1-3/4 oz; 50 g) blond cane sugar
2 vanilla beans, cut in half, split lengthwise, and seeds scraped out
2 tablespoons (1 oz; 30 g) unsalted butter, diced
Instructions
To prepare the ice cream:
In a pot, bring the milk and sugar to a boil, stirring until the sugar is dissolved. Remove from the heat and add the lavender flowers. Cover and let cool. Leave to infuse for 8 hours, or overnight in the fridge. Strain the milk. Whip the cream until firm peaks form, then fold it gently into the infused milk preparation. Transfer to the bowl of an ice cream maker, and churn according to the instructions for the machine. Transfer to a container and place in the freezer until ready to use.
To prepare the papillotes:
Preheat the oven to 350 degrees F (180 degrees C). Cut four 14-inch (35.5 cm) pieces of parchment paper. Lay them flat on the working surface. In a bowl, combine the fruit with the lime juice, sugar, and vanilla seeds. Divide the fruit between the four pieces of parchment. Add 1/2 vanilla bean and 1/2 tablespoon b utter to each papillote. Lift the wider edges of the paper and fold them over the top. Crimp the edges by pleating them over and over, or secure with string. There should be enough space between the ingredients and edge of the paper for the pouches to puff.
Set the pouches on a rimmed baking sheet and bake for about 20 minutes, or until the fruit is soft and has released its juice. To serve, open each papillote, remove the vanilla bean, and put one scoop of lavender ice cream in the middle of the fruit. Or serve with whole milk Greek yogurt.
© 2023 World Spice Merchants https://www.worldspice.com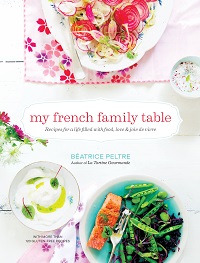 From My French Family Table by Beatrice Peltre © 2016 by Beatrice Peltre.  Reprinted by arrangement with Roost Books, an imprint of Shambhala Publications, Inc. Boulder, CO. www.roostbooks.com
My French Family Table is the May 2017 selection for the World Spice Cookbook Club. My French Family Table is currently available for purchase at our retail store and online.