Lavender Blueberry Handpies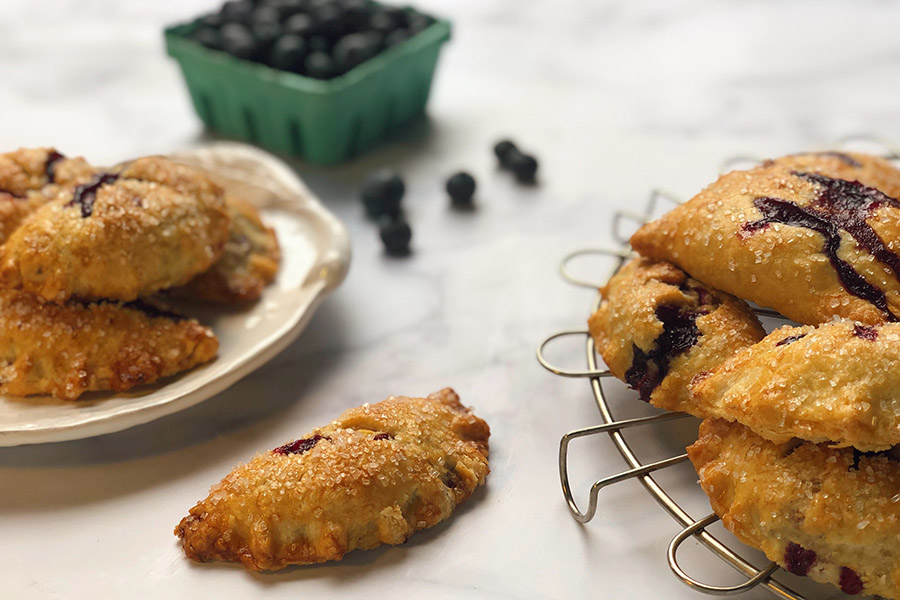 Turnovers, or hand pies, are great for a picnic dessert or breakfast pastry. These delicious pocket pies, stuffed with fruity filling, offer creative bakers a great opportunity to showcase striking flavor combinations. For these we chose blueberry and lavender. Because there is no cutting or pre-cooking involved, blueberries are our go-to fruit for making hand pies. Here, we simply tossed them in brown sugar and lavender to make a jammy floral filling. For a bit of decadence, there's cream cheese and lemon to make the rest of the flavors pop. The soft floral notes of lavender are the perfect complement to blueberries and are a wonderful flavor for spring, but it is easy to over-do. Try a little bit of the filling during prep and gauge how strong the lavender flavor is and adjust to taste.
For easy handling and a fast clean up roll the pie crust between two pieces of parchment paper using a rolling pin. If the dough gets too warm and hard to handle, lay the dough with parchment on a sheet tray and pop it in the fridge. After 5-10 minutes continue cutting our rounds and filling. The rolled pie crust can be cut and made the day before.
Ingredients
For the Crust
1-3/4 cup all-purpose flour
1-1/2 tablespoon granulated sugar
1 teaspoon kosher salt
3/4 cup unsalted cold butter, grated
1/3 cup ice cold water
For the Filling
1-1/2 cup blueberries
1/3 cup packed brown sugar
1-1/2 tablespoon cornstarch
1 teaspoon lavender, ground
1 teaspoon lemon juice
2 ounces chilled cream cheese, cubed
For Finishing
1 egg + 1 tablespoon water for the egg wash
Turbinado sugar for sprinkling
Instructions
For the Crust
In a large mixing bowl combine the flour, sugar and salt.
Add the grated butter in the bowl and quickly but gently kneading the butter into the flour mixture. The butter should begin to incorporate but the dough won't be uniform. The mixture should look crumbly.
Next add the ice cold water and knead again until the mixture comes together. There will still be small pieces of butter thoughout the dough. Form the dough into a flat ball, then cover and refrigerate for 20 minutes.
For the Filling
Meanwhile, in a small bowl, add the blueberries, brown sugar, cornstarch, lavender and combine. Stir in the lemon juice until incorporated.
To Assemble and Bake
Preheat oven at 375 degrees.
On a lightly floured surface using a rolling pin roll out the pie dough to about a quarter inch in thickness. Using a small bowl for a template, cut 7 inch circles out of the dough with a knife.
Any imperfection in the rounds won't matter once the turnovers are crimped and assembled.
On each round, evenly distribute little pieces of cream cheese in the center. Next fill each round with about a quarter cup of filling, leaving about a half inch space around the edge for easy crimping.
Brush the egg wash around the exposed edges and fold the pastry over into a half moon shape. Using a fork or fingers, press down on the edges to seal.
Using a small knife cut 3 small holes on top of pastry. This will allow steam to escape.
finally, brush egg wash on turnovers and sprinkle with turbinado sugar.
Lay on parchment paper on a sheet tray about 1 inch apart.
Bake for 25-30 minutes.
Serve warm and enjoy.
© 2021 World Spice Merchants https://www.worldspice.com