Lavender Dulce De Leche Stuffed Crepes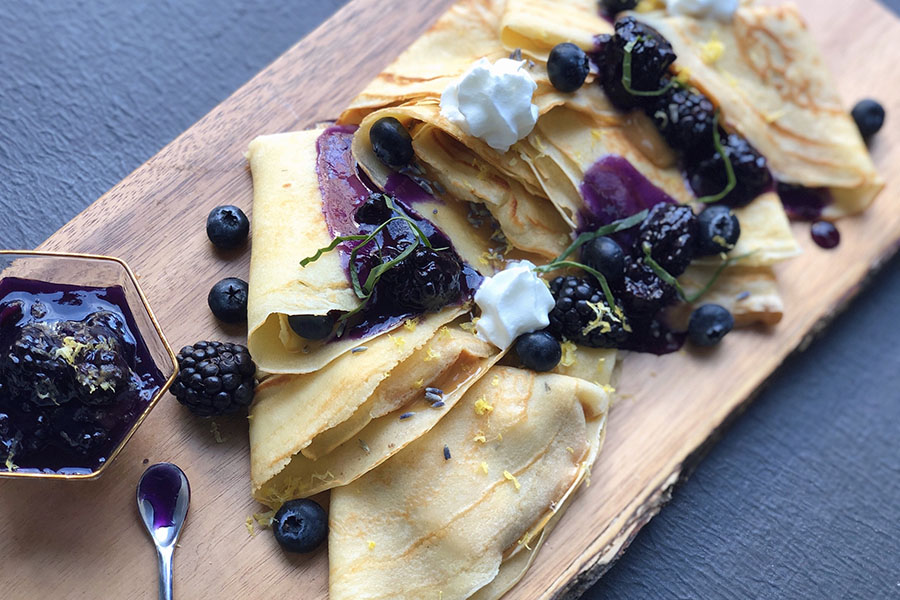 We love an excuse to eat dessert any time of day. These decadent crepes are bursting with spring flavors, and look amazing on a brunch buffet. Each crepe is stuffed full of Lavender Dulce de Leche, and garnished with sweet berries.
Lavender is bright, floral and woodsy; it's best with assertive flavors. To complement it, we spiked the batter with Moroccan Preserved Lemon Paste, and ran it through a blender. You can do this the night before for a breezy morning. Tastes like spring is here!
Ingredients
2 eggs
1 cup milk
2 tablespoons sugar
1 tablespoon Moroccan Preserved Lemon Paste
1 teaspoon vanilla extract
1 cup flour
3 tablespoons melted butter
Extra butter to coat pan
1/2 cup Lavender dulce de leche
1/2 cup fresh berries
1/2 cup favorite berry preserves
Instructions
In a blender add the eggs, milk, sugar, Moroccan Preserved Lemon Paste, vanilla, flour and melted butter. Blend until smooth.
Refrigerate for at least an hour. The batter can be made the night before.
Preheat a small nonstick skillet over medium heat. Add a dab of butter to coat the pan.
Pour in batter, about a quarter cup per crepe. Swirl the pan to spread the batter evenly.
Cook the crepe for about 40 seconds. Flip when you see light golden brown rings.
Cook the second side for 10 seconds.
Once cooked lay crepe flat on parchment and set aside. Continue cooking batter until it's gone.
Once all the crepes are cooked, evenly spread a tablespoon of lavender dulce de leche on each crepe. Feel free to add sliced berries or bananas. Fold crepes in half, and then half again to form little quarter pockets.
Dollop the crepes with you're favorite preserve, berries and whipped cream.
Serve warm.
© 2022 World Spice Merchants https://www.worldspice.com
Instructions
Remove the wrapper from the can of condensed milk and select a pot that is at least 2 inches taller than the can.
Put the can in the pot and add water to completely cover the can. Bring to a low boil and continue cooking for 3 hours, continually adding water so that the can is always submerged. This is an important bit- make sure the can is ALWAYS submerged. Keep a kettle of hot water standing by so you can add as needed.
After 3 hours, remove the can and allow it to cool completely before opening it.
Open the can and admire your dulce de leche!
Stir in the lavender and salt, and let it infuse overnight at room temperature. Use it right away or store in the refrigerator.
Notes
Tasty in coffee, on toast, ice cream, apples or Earl Grey. 
Refrigerate the dulce de leche after the lavender infusion. 
Check out our dulce de leche stuffed crepes recipe. 
© 2022 World Spice Merchants https://www.worldspice.com