Lavender Ricotta Toast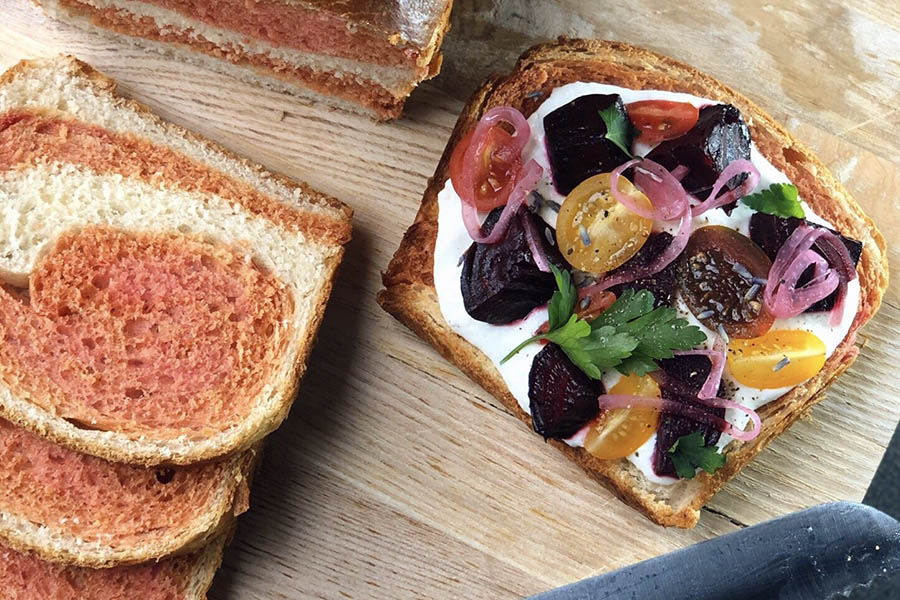 Lavender is not a "put it on anything" kind of flavor. The bold, heady aroma needs to be harnessed to be enjoyed. You can't just let it run wild like cumin or garlic. But there is so much about lavender to appreciate! Its floral flavors are the taste of spring. Enter ricotta. This mild spreadable cheese is easy to make and a touch of lavender transforms it into a really special spread. Perfectly creamy for smearing on toast, the intensity of lavender is mellowed by the milk, and brings out the sweetness in the dairy. The resulting spread is delicious on its own, but here we garnished the toast with roasted beets, cherry tomatoes and pickled onion to make it a meal.
Ingredients
Half gallon of full-fat milk
1/4 cup buttermilk
1/4 cup heavy cream
1/2 cup of lemon juice
1/4 cup vinegar
1 teaspoon salt
1/4 teaspoon ground lavender
Toast of your choice
Instructions
In a 4 quart heavy bottom pot, add all of the ingredients and give it ONE quick stir to incorporate everything. Do not be tempted to stir it any more. It will break up the curds and prevent the milk from curdling.
Heat the mixture reach 200 degrees. A candy thermometer is best to confirm the temperature because you can clip it to the side of the pot. Be sure to prevent it from boiling so that the pot doesn't get scorched on the bottom.
Simmer for 30 minutes - the milk mixture should look separated, chunky and watery. Do not stir!
Next strain the contents of the pot through a cheese cloth. The longer the ricotta is allowed to drain, the drier and crumblier it will be. If you would like a smoother ricotta, leave more of the whey in with the curds.
Remove from cheese cloth.
Spread on your favorite piece of toast and garnish with roasted beet, pickled onions and cut up tomatoes.
Refrigerate ricotta for up to a week.
Notes
Don't be tempted to turn up the heat to rush the process, you'll accidentally scorch the bottom of the pot or make it boil over. (Scorching the milk will make the ricotta taste 'smoky'.)
This ricotta is tasty in sandwiches, salads and eggs but don't be afraid to play with sweet ingredients like honey and berries. 
© 2021 World Spice Merchants https://www.worldspice.com