Rosemary Cottage Cheese Cookies
Vintage cookbooks offer up some curiously great recipes and this one from the 1930's is no exception. Cottage cheese cookies are an intriguing prospect and in this case grandma DID know best- the resulting dough is light, tender and full of flavor. The addition of rosemary and apricot jam adds festive flair.
Rosemary is wonderful in sweet applications and pairs well with most fruity jams or jellies. Cherry or blackberry would be wonderful in these, as well. This cookie is a perfect for a cookie exchange, or just as a slightly sweet accompaniment with a cup of tea or coffee.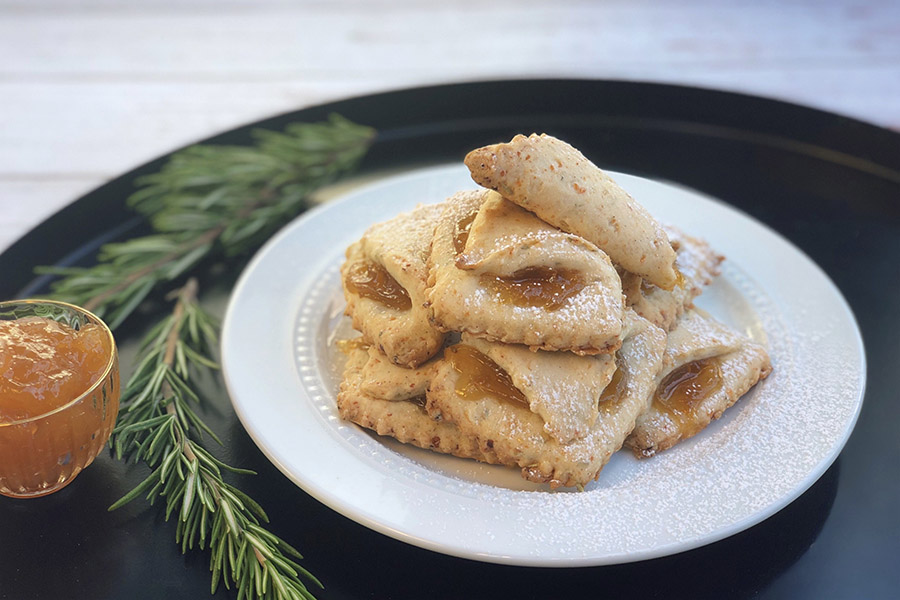 Ingredients
1 cup butter, softened
1 teaspoon vanilla, or 1 vanilla bean, scraped
1 cup small curd cottage cheese
3/4 cup sugar
3 cups all-purpose flour, pluse more for rolling
1 teaspoon baking powder
1/2 teaspoon salt
1 tablespoon rosemary, chopped
Apricot jam (or your favorite flavor)
Instructions
In a large bowl, cream butter, sugar, cottage cheese and vanilla until light and fluffy. The batter will look cuddled because of the cottage cheese.
Add flour, baking powder, salt and rosemary. Mix until dough is combined. Dough will be a bit sticky. Divide dough into two portions, putting each portion on plastic wrap and forming into a disc. Refrigerate for at least 30 minutes before rolling out.
Preheat oven to 350 degrees and line cookie sheets with parchment paper.On a lightly floured surface, roll dough out to 1/4 inch, using extra flour as needed to make it easier to roll out. Use a round or square cutter to cut dough. Place pieces on cookie sheet. Place about 3/4 teaspoon of jam towards center of dough. Slightly fold over other end of dough, pressing down the top part on the bottom part. You don't want to seal it like a turnover - the jam should show through. Bake until lightly browned, about 16 - 21 minutes. Let cool completely.
© 2023 World Spice Merchants https://www.worldspice.com