Mahlab Cherry Almond Balls
Mahlab, a spice derived from the pit of the Mediterranean St. Lucie cherry, tastes strongly of cherry and bitter almond, with more elusive floral and vanilla notes. In our search for a cookie that would do justice to this unique flavor, we were thrilled to find these phenomenal cherry almond balls. They're a perfect vehicle for this striking spice.
Using ground almonds instead of almond flour is key to these addictive cookies, which were a feature of the holidays during our childhood. The original recipe used candied cherries for the center, but we opted for re-hydrated dried cherries instead this time. The change gives the cookies a fresher, slightly less sweet flavor. Try them out, but be warned: They may become a permanent addition to your holiday baking.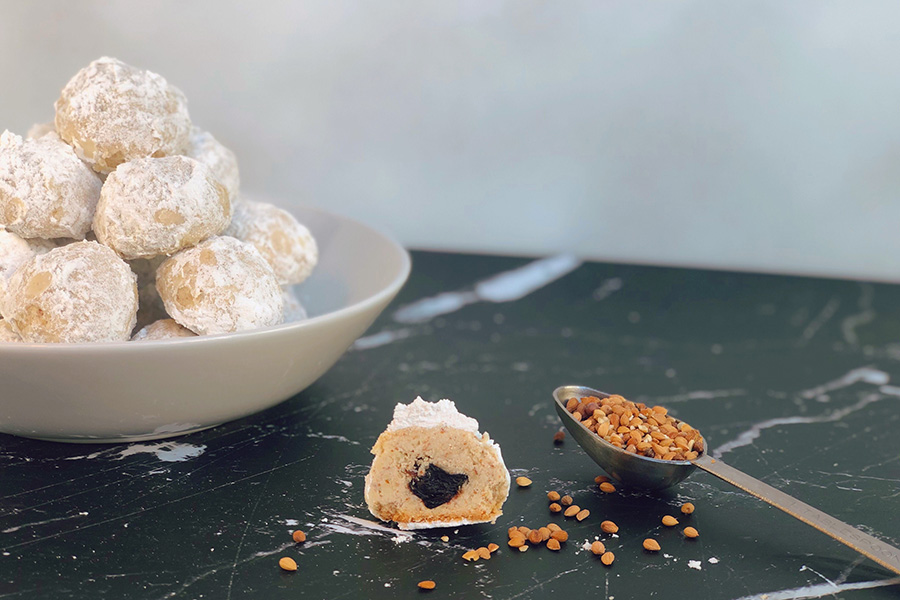 Ingredients
1 cup butter, softened
1/4 cup powdered sugar
2 cups all-purpose flour
1 cup raw whole almonds
2 teaspoons mahlab, ground
1 teaspoon vanilla extract (or scrape the inside of one vanilla bean
About 40 dried cherries or candied cherries (red and/or green)
1 cup powdered sugar (for rolling cookies in)
Instructions
Preheat oven to 350 degrees. Line two cookie sheets with parchment paper, then set aside.
If using dried cherries, put them in a small bowl and cover them with warm water. Set aside to let them plump up for about 10 minutes. Then drain them, and lay them out on paper towels so that any excess water can drain off.
Put almonds in a food processor and pulse until almost finely ground - you don't want them as fine as almond flour. A bit of texture is what is needed.
In a large bowl, beat butter, sugar, mahlab and vanilla until light and fluffy. Add flour & ground almonds and mix well.
Take a tablespoon of dough, roll it into a ball. Flatten it a little, put a cherry in the middle, then enclose dough all around, rolling it into a ball. Place on parchment lined cookie sheet, then repeat with the rest of the dough, leaving a small space between each dough ball. (You might have cherries left over.)
Bake for 17 -19 minutes, or until cookies are golden brown. While they are baking, put the rest of the powdered sugar on a plate.
When the cookies come out of the oven, carefully remove them one at a time and roll gently in powdered sugar, until they are covered all over. Let them cool on a rack. When cool, roll again in the powdered sugar.
These will keep for 3-5 days in a covered container, but they usually disappear before then.
© 2023 World Spice Merchants https://www.worldspice.com