Saffron Pumpkin Crème Brûlée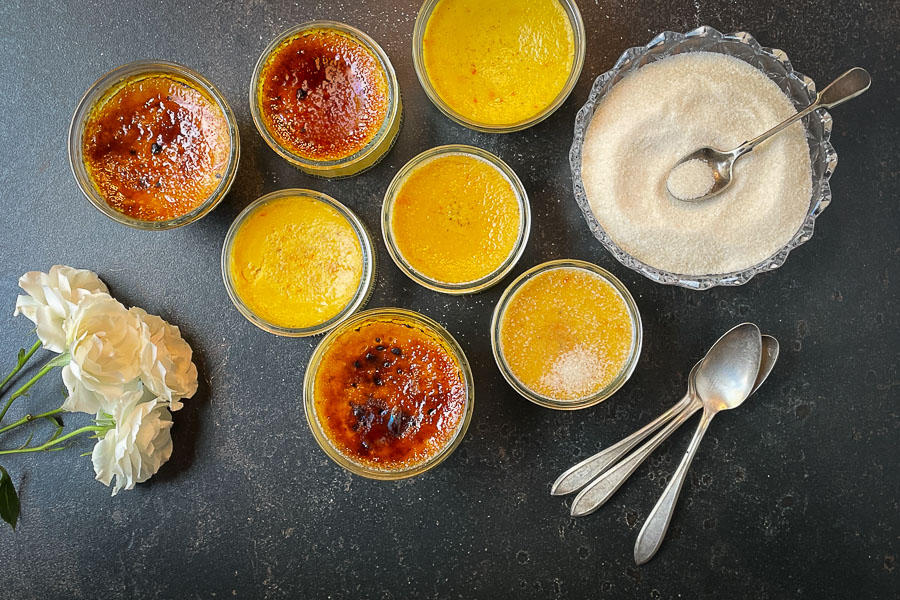 There's no shortage of pumpkin pairings these days, and the beloved spicing tends to be loud and proud. But why not switch it up? Winter is long and there are pumpkins aplenty. For a mellow change of pace, we explored a pivot to the sweet side with saffron and vanilla in this decadent pumpkin dessert. Inspired by our friends at Leite's Culinaria and their recipe for Pumpkin Pots de Crème, we set to it. The result? Amazing!!! These individual desserts are both stunning and sublime. The saffron boosts the color of the crème and the spicing elevates the flavor of the pumpkin rather than overpowering it. We opted for a tidy shortcut with the blender and allowed the flavors to bloom overnight before cooking. The results were delicious. Flecked with saffron and vanilla, the spicing brought out the buttery base of pumpkin in the most delightful way. The technique also makes it easy to whip these up well before a gathering and finish them at the last minute. If you're a planner you can make this impressive recipe days before and no one will ever know.
Ingredients
2 cups half-and-half
2 pinches saffron, about half a gram
1/2 cup packed light brown sugar
1 cup cooked pumpkin
6 large egg yolks
Pinch of salt
1/2 cup granulated sugar for torching
Instructions
Preheat the oven to 325°F.
In a high powered blender add in the half and half, saffron, vanilla bean scraped, brown sugar, pumpkin, egg yolks and salt. Blend on medium speed for 1 minute or until mixture is smooth. Cover mixture with a lid and refrigerate overnight. This will let the flavors meld and the saffron bloom completely in the liquid. The mixture will go from a pale yellow to bright yellow the next day. Using a pitcher or ladle, divide the mixture among 6 4-ounce ramekins. Place the ramekins in a large roasting pan and carefully fill with water to come halfway up the sides of the ramekins.
Bake for 40 to 50 minutes. The creme brulee should barely jiggle in the middle when it is done. Remove the pan from the oven and then remove the ramekins from the water bath. Let them cool at room temperature. Cover and refrigerate for at least 3 hours or overnight to allow the custard to set completely.
For Bruleeing
Divide the remaining 1/2 cup sugar equally among the 6 dishes and spread evenly on top. Using a torch, melt the sugar and form a crispy top. Allow the creme brulee to sit for a couple minutes before cracking one open with the back of your spoon.
© 2023 World Spice Merchants https://www.worldspice.com