Down South Goat Biryani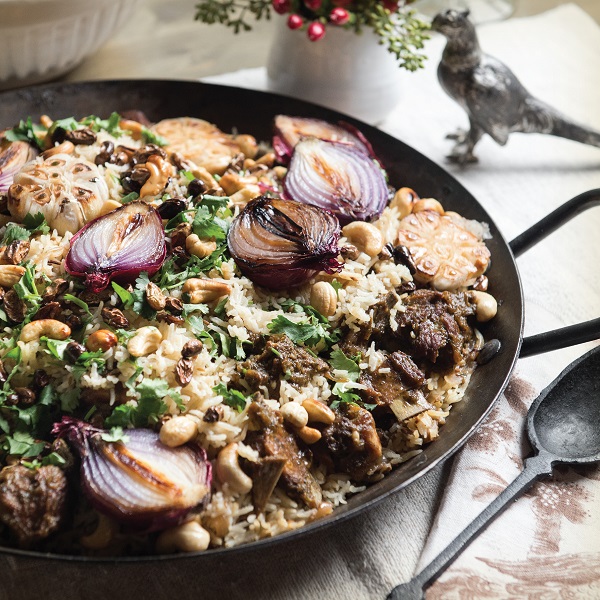 From My Two Souths and Chef Asha Gomez, we get this stunning recipe for Down South Goat Biryani.  With her love of Deep-South cooking as well as her southern Indian roots, this recipe is sure to please all of those experimenting with biryani for the first or the tenth time. Don't worry if you can't find goat – Chef Asha says it's just as delicious with beef or chicken. If you're looking for a stand-out dish for fall entertaining, this dish is for you. For more on Asha Gomez's recipes, follow her on Twitter and/or Facebook.
From the author: "Biryani is a celebration dish. Weddings, birthdays, festivals, and other times of good cheer are the usual occasions when this iconic dish of rice with meat or vegetables graces our table, with almost the entire spice cabinet having been invited into the cooking vessel. Across India, Pakistan, Bangladesh, Sri Lanka, and Malaysia, countless renditions of this festive dinner abound, as do the many names by which it is known. I think the following recipe is my favorite version to make at home, though it is wonderful made with beef chuck roast or chicken thighs. I love the tender goat layered between saffron-spiced rice and baked, then dressed with roasted shallots, cashews, raisins, and a confetti of cilantro. As I fluff t he flavored rice, I always remove the star anise, cardamom pods, cinnamon sticks, cloves, and bay leaves – counting the fifteen spice hulls as I go – and set them aside to use as a garnish. Alternatively, you can tie all the spices except the saffron and cumin seeds in a piece of muslin to make a bouquet garni, which makes a quick job of removing the spice hulls. Or, if no muslin is available, but them in a tea ball and hang the ball over the side of the pot."
Ingredients
Rice -
4 garlic cloves, thinly sliced
3 fresh bay leaves
15 threads saffron
1 teaspoon cumin seed
2 teaspoons kosher salt
3 tablespoons ghee
3 cups basmati rice
Goat:
2 bunches fresh cilantro (2 cups), leaves and stems, chopped
1 cup mint leaves
2 serrano chiles, slit in half lengthwise
6 garlic cloves
3 tablespoons peeled, chopped fresh ginger
3 tablespoons ghee
2 large red onions, peeled, halved, and thinly sliced (about 11/2 cups)
1 tablespoon garam masala
1 teaspoon green cardamom powder
11/2 teaspoons kosher salt
1 goat leg (3 pounds), cut into 1-inch pieces (see notes)
Garnish:
3 shallots, skin on, cut in half lengthwise
2 garlic bulbs, skin on, cut in half crosswise
2 tablespoons ghee, melted, divided
1/2 cup cashews
1/2 cup golden raisins
1/2 cup chopped cilantro (for garnish after assembling the dish)
Instructions
For Rice - In a 3-quart pot with 4½ cups of water, add the cardamom, cloves, star anise, cinnamon, and bay leaves and bring to a simmer, covered, over low heat.
Add the saffron, cumin, salt, and ghee; increase heat and bring to a rolling boil.
Add the rice, stir briefly, then cover tightly; reduce heat to low and cook for 12 minutes—making sure to not lift the lid—until the liquid is absorbed. Remove from heat and let sit, covered, for 10 minutes.
Fluff with a fork and set aside. Remove the spice hulls.
For Goat - In a blender or food processor, combine 1 cup water with the cilantro, mint, chiles, garlic, and ginger. Blend the ingredients to make a thick paste; set it aside.
In a large Dutch oven, heat the ghee over medium-high heat. Add the onions and cook, stirring often, until the onions are golden brown, about 8 minutes.
Add the garam masala, cardamom powder, and salt; cook and stir for 1 minute. Add the herb paste, and stir until well combined. Lower the heat and cook the sauce for 3 minutes.
Add the goat and stir to coat all the meat with the sauce. Cover and cook until the meat is falling off the bone, about 45 minutes to an hour.
For Garnish - Place the shallots and garlic in a small pan and drizzle with 1 tablespoon of the melted ghee. Roast the shallots and garlic for 20 minutes, while the goat is cooking.
In a separate pan, heat 1 tablespoon ghee and toast the cashews and raisins until golden brown, about 2 minutes.
Assembling the Biryani - Heat the oven to 350°F.
In a roasting pan, layer one-third of the rice, then top the rice with one-half of the goat; repeat and end with a layer of rice. Cover the pan tightly with foil.
Bake until all the flavors of the rice and goat combine, about 20 minutes.
Uncover and garnish with reserved spice hulls.
When ready to serve the biryani, place the roasted shallots, garlic, cashews, and raisins on top of the rice. Sprinkle with the cilantro.
Notes
Note: Have your butcher cut the meat into small pieces.

© 2023 World Spice Merchants https://www.worldspice.com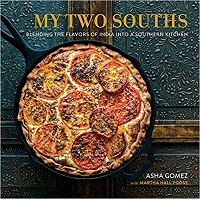 Reprinted with permission from My Two Souths: Blending the Flavors of India into a Southern Kitchen © 2016 by Asha Gomez with Martha Hall Foose. Photo credit: Evan Sung. Published by Running Press.
My Two Souths: Blending the Flavors of India into a Southern Kitchen is the September 2017 selection for the World Spice Cookbook Club. My Two Souths: Blending the Flavors of India into a Southern Kitchen is currently available for purchase at our retail store and online.