Black Cardamom Pastries
The World Spice Cookbook Club is taking a trip through the varied cuisines of Eastern Europe this month… our selection for September is Mamushka: Recipes from Ukraine and Eastern Europe, by Olia Hercules!
We always love to see an under-appreciated or rarely used spice get some time in the spotlight, as is the case in this recipe for Ukranian Verhuny fried pastries with Black Cardamom. This unique spice has the sharp camphor of green cardamom along side a musty, earthy flavor that complements these pastries exquisitely. A fantastic recipe! For more information and delicious recipes, check out Olia Hercules's website.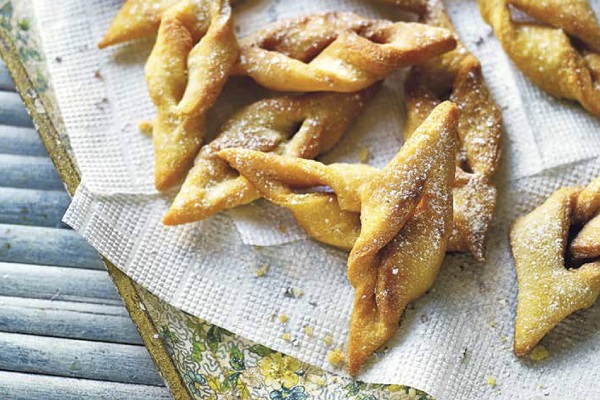 From the Author: "These are Ukrainian "angel wing" pastry crisps. Originally, they used to be fried in lard (think of Portuguese pastel de nata lard pastry). I add some ground black cardamom seeds to the sugar, but feel free to use vanilla sugar instead. "
Ingredients
1½ cups (7½ oz/235 g) flour, plus extra for dusting
pinch of baking soda
¼ cup (2 oz/60 g) butter, cubed and chilled
1 egg
1 egg yolk
5 teaspoons (25 g) superfine sugar
1 tablespoon white wine
vinegar?
¼ cup (2 oz/60 g) sour cream
1 tablespoon vodka
pinch of salt
1 cup (250 ml) sunflower oil
½ cup (2 oz/60 g)
confectioners' sugar, sifted
5 black cardamom pods, crushed and seeds extracted, then ground into a powder
dulce de leche or chocolate sauce, to serve
Instructions
Mix the flour and baking soda together, then rub in the butter with your fingertips until well combined.
Make a well in the center of the our mixture and pour in the egg, egg yolk, sugar, vinegar, sour cream, vodka, and salt, then mix well into a firm pastry dough.
Flour your work surface really well and divide the dough into 2 pieces. Roll one piece of dough out as thinly as you can. Slice the dough into 1½-inch (4-cm) strips and then diagonally across so that you end up with 20 diamonds. Make a 1¼-inch (3-cm) slash in the center of each diamond and pull one of the ends through the slash. Repeat with the second piece of dough.
Heat the sunflower oil in a medium saucepan until very hot – be very careful with hot oil, placing it at the back of the stove top if you have kids or crazy pets. Line a large plate with some paper towels.
Drop the diamonds in carefully and fry them briefly until they oat to the surface. Lift them out with a slotted spoon and drain them on the paper towels.
Mix the confectioners' sugar with the cardamom and sprinkle over the pastries. I also like to treat these as nicely as I treat churros, dipping them into dulce de leche or chocolate sauce before devouring.
© 2023 World Spice Merchants https://www.worldspice.com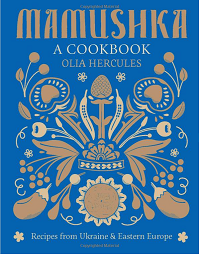 Mamushka: Recipes from Ukraine and Eastern Europe is the September 2016 selection for the World Spice Cookbook Club. Mamushka: Recipes from Ukraine and Eastern Europe is currently available for purchase at our retail store and online.
Recipe and image from Mamushka: Recipes from Ukraine and Eastern Europe by Olia Hercules. Copyright © 2015 by Olia Hercules. Photographs copyright © 2015 by Kris Kirkham. Reprinted with permission of the publisher, Weldon Owen. All rights reserved.