Curry Bread Pudding with Cardamom Cream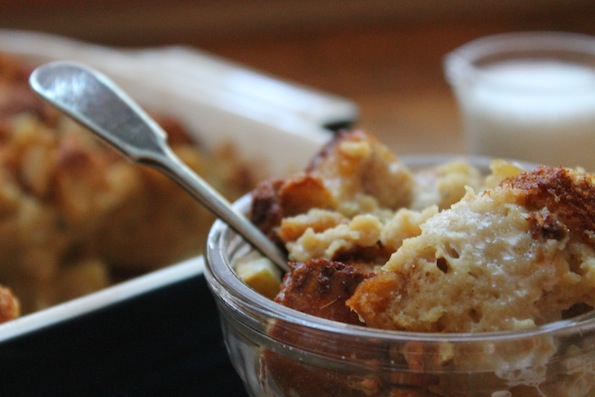 Who says you have to make curry with your curry? No one! This warm winter pudding was inspired by our friends at Hunger Restaurant, and since trying theirs we have come up with some delightful variations of our own. We've added diced apples to replace the traditional raisins- pears are nice too- and infused a mild amount of spice into the custard and cream. Enjoy with coffee, chai or your favorite toddy; nothing says holiday like bread pudding.
Ingredients
For the Pudding
5 cups cubed stale or lightly toasted bread
1 cup diced apple
2 cups half & half
4 eggs
½ cup maple syrup or agave nectar
1 teaspoon vanilla extract
For the Cardamom Cream
Instructions
For the pudding:
Preheat oven to 350 degrees.
In a small sauce pan over low heat, whisk the curry into the half & half and allow to infuse gently for 10 minutes, stirring occasionally. Make sure that the half & half does not boil. Remove from heat and allow to return to room temperature.
While the spices are infusing, combine the bread cubes and diced apples in a large bowl.
In a separate large bowl, whisk together the eggs, maple syrup or agave, and vanilla. Add the spice infused half & half and stir well.
Pour the liquid mixture over the bread and apples and let stand for 30 minutes, turning occasionally with a spatula. Allow the bread to fully absorb the liquid.
Transfer the mixture to a greased 8"x8" baking dish and bake for 45 minutes or until the center springs back to the touch.
For the cardamom infused cream:
Whisk together the ingredients in a small saucepan over low heat. Simmer gently for 10 minutes. Strain the cream to remove the cracked seeds.
Pour warm cream over the pudding and serve.
© 2023 World Spice Merchants https://www.worldspice.com