Coconut Cashew Kala Masala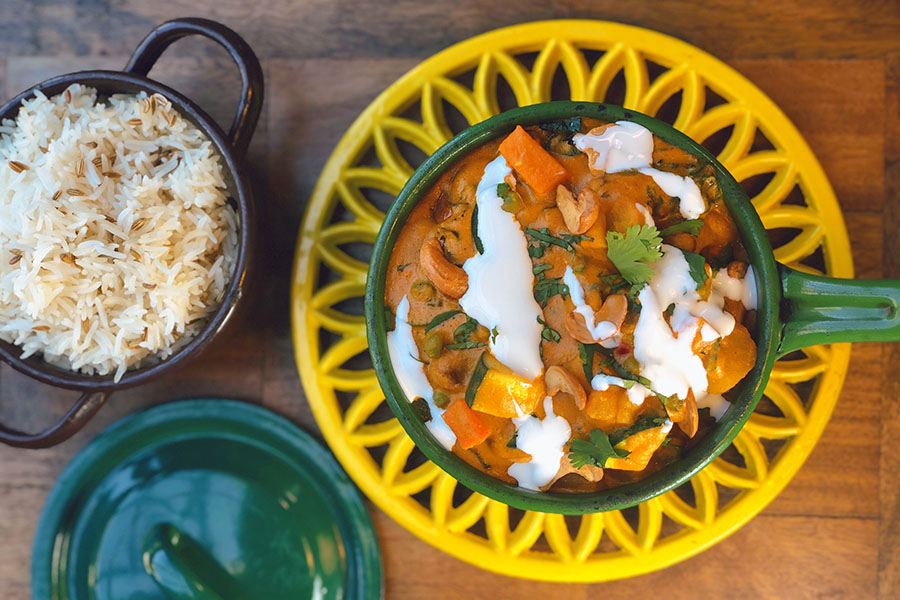 Stewed root vegetables in a velvety gravy made from cashews and coconut milk makes a wonderful fall comfort food dish that is warming, indulgent and healty all at the same time. The cashews make the sauce and add a delicious crunch to this dish. Our Kala Masala spice blend adds another layer of rich sweetness and toasty flavor. Coconut, star anise, cinnamon and cloves are the perfect complement for fall and winter vegetables. Serve this up with basmati rice or naan and you wont miss the meat in this vegan meal.
Ingredients
Sauce
2 tablespoons coconut oil
1/2 cup raw cashews
2 tablespoons ginger, roughly chopped
1 cup yellow onion, diced
4 cloves of garlic, chopped
1 large tomato, chopped
2 tablespoons Kosher salt
1 tablespoon Kala Masala, ground
1 teaspoon Hungarian paprika
1/2 teaspoon Indian cayenne
2 tablespoons coconut sugar or honey
1 cup coconut milk
1 cup water
Veggies
4 cups chopped carrots, turnips, bell peppers, kale
1 cup sweet potatoes, medium diced
1 cup russet potato, medium diced
1 teaspoon salt
1-1/2 cups water
Garnishes
Cilantro to taste
1/4 cup coconut cream
1/4 cup roasted cashews
Lime wedges
Instructions
In a medium pot on medium-high heat, add the coconut oil. Once hot, add cashews and stir frequently until lightly toasted.
Add in ginger, onion, garlic, tomato and salt. Saute until they're translucent and stir in all of the spices.
Add the coconut sugar, milk and water. Let simmer for 3 minutes.
Carefully pour into a blender and puree until smooth, then set aside.
In a medium pot, add the potato, sweet potatoes, one and a half cups of water and 1 teaspoon of salt. Cook for 8 minutes on medium high heat.
Next add the carrots and turnips and cook for 5 minutes, then add the peppers and kale.
Pour in the sauce and let it come to a simmer. Cook until all of the vegetables are tender. Add more coconut milk if the curry seems too thick.
Serve on top of basmati rice and garnish with fresh cilantro, chopped cashews, coconut cream and a lime wedge.
© 2023 World Spice Merchants https://www.worldspice.com