Besar Shrimp Skewers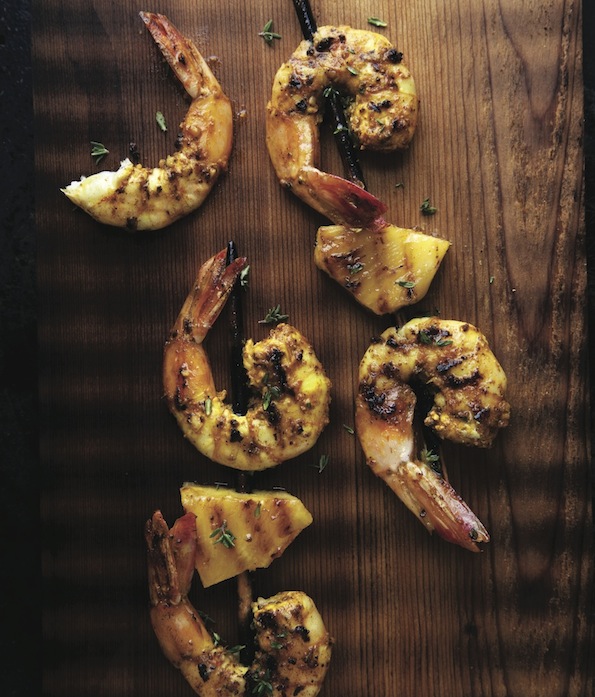 To celebrate the last gasp of summer, and the upcoming release of World Spice at Home, enjoy another sneak peek from the book!
The combination of exotic spices on seafood served with pineapple will transport you straight to the tropics. The bright layers of citrus and spice blend perfectly into the coconut oil and onto the shrimp. If you don't have time to skewer, just add the shrimp and pineapple to your indoor grill pan and serve on a platter with toothpicks. You can also turn this into a main dish by serving with steamed or grilled vegetables and rice.
Ingredients
For the marinade:
For the shrimp:
Flavor Notes:
Instructions
To make the marinade, melt the coconut oil in a small pan and allow it to cool to room temperature. In a large bowl, combine the lemon juice, garlic, Besar, lemon zest, paprika, and salt, and whisk well. Slowly add the oil whisking to combine. Add the shrimp and gently toss to coat. Cover and place in the refrigerator for 30 minutes to 1 hour.
Meanwhile, soak the skewers in water, placing a small plate directly on top of them to keep them completely submerged. Soak for about 20 minutes.
Cut the top and bottom off the pineapple and remove the rind. Halve the pineapple; cut one half into small wedges or 3- to 4-inch cubes. Cut the other half into larger wedges or half rings for serving.
Remove the skewers from the water. Thread a shrimp onto a skewer through the tail, then through the top. Push the shrimp down toward the bottom, leaving enough room to grasp the skewer. Add a pineapple cube and then another shrimp. Place the skewer on a baking sheet. Repeat with the rest of the shrimp and pineapple. Add any extra pineapple to the skewers. Brush the pineapple cubes with a little olive oil.
Heat an outdoor grill or indoor grill pan to medium-high heat. Cook the skewers for 3 to 4 minutes per side. Brush them with any extra marinade. Transfer to a platter, sprinkle with thyme, and serve with the pineapple wedges.
© 2023 World Spice Merchants https://www.worldspice.com
*(c)2014 By Amanda Bevill and Julie Kramis Hearne. All rights reserved. Excerpted from
World Spice at Home: New Flavors for 75 Favorite Dishes
by permission of Sasquatch Books.