Vadouvan Vegetable Pie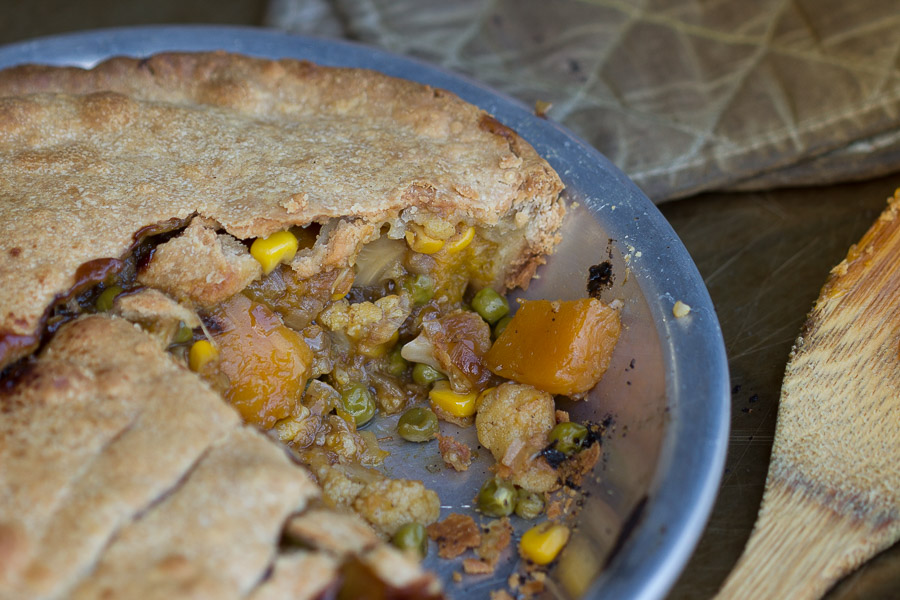 This savory vegetable pie emerged from our experiments with Vadouvan paste, a wonderfully rich and elegant flavor base. We wanted a warm, comforting meal for the cold weather outside, and this was the prize winning pie. The recipe balances the subtle, hearty flavor of the toasted curry with the earthy goodness of cauliflower and butternut squash. If you don't have Vadouvan paste, then this versatile recipe can easily feature other flavor combinations. Try it with Kashmiri Curry, Besar or even Pumpkin Pie Spice!
Ingredients
1 medium onion, diced
1 tablespoon olive oil
1/4 cup Vadouvan Paste
1 cup cauliflower florets, cut into 1" pieces
2 cups cooked butternut squash, cut into 1" pieces
1 cup frozen peas
1/2 cup frozen corn
2 cups vegetable broth
2 tablespoons potato starch
Double crust for a 9" pie
Instructions
Preheat the oven to 400 degrees.
Warm the oil in a large skillet over medium heat. Add the onion and sauté until soft and fragrant, about 5 minutes. Add the vadouvan paste and stir to combine.
Add the cauliflower and allow it to brown slightly, cooking about 3 minutes.
Add the remaining vegetables and vegetable broth. Increase the heat, bringing the mixture to a boil. Reduce heat to simmer and cook until the vegetables and warm all the way through and the broth slightly reduced. Sprinkle on the potato starch and stir until combined. Remove from heat.
Line a 9" pie pan with bottom crust and transfer the vegetable mixture on top. Cover with the top crust and pinch the edges closed.
Bake at 45 minutes, until the crust is browned and the filling is bubbling and piping hot! Allow the pie to rest 5 minutes before serving.
© 2023 World Spice Merchants https://www.worldspice.com
If you're looking for more fall recipes, then you should check out our recipes for Cauliflower Soup or Meatballs with Pumpkin.