Besar Kaleidoscope Salad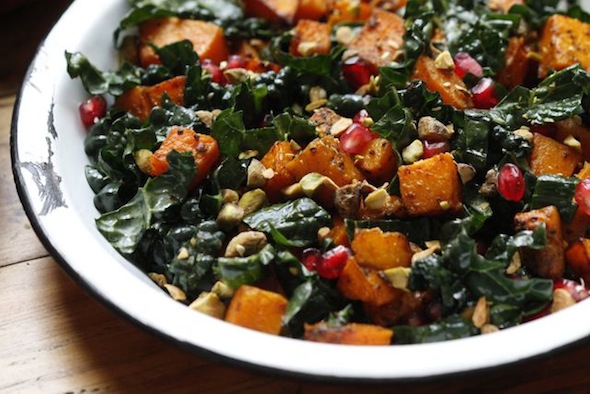 This colorful salad is a delicious fall favorite. First off, Besar and butternut squash or pumpkin is a match made in heaven, although I've also made this using Ras el Hanout and Sri Lankan Curry, and those are delicious too. Pair that with the dark leafy kale tenderized with vinegar and wilted by the warm squash, top it off with the pop of fresh pomegranate and a little nutty crunch and you have a kaleidoscope of texture, color and flavor.
This is a great dish to keep on hand through the season for a healthy lunch, and it will look beautiful on your holiday table.
Ingredients
1 medium butternut squash or small pumpkin
3 tablespoons olive oil
1 tablespoon Besar, ground
1 teaspoon Urfa biber
1/2 teaspoon kosher salt
1 pomegranate
1 bunch lacinato kale
3 tablespoons white balsamic vinegar
1 tablespoon aged balsamic vinegar
1 cup chopped walnuts or pistachios
Instructions
Preheat the oven to 400 degrees.
Halve the squash lengthwise and scoop out the seeds.
Cut the squash into manageable pieces and peel with a sharp knife or vegetable peeler, then cut the pieces into 1" cubes.
Transfer the squash cubes to a bowl, drizzle with olive oil and toss to coat.
In a small bowl, mix the besar, urfa and salt. Sprinkle the spice mixture onto the oiled squash and toss again to coat.
Line a large rimmed baking sheet with foil, and oil lightly. Transfer the squash to the baking sheet in a single layer. Bake 30-40 minutes until soft enough to pierce easily with a fork.
While the squash is baking, remove the seeds from the pomegranate and set aside.
Rinse the kale and remove the leaf from each side of the stem. Stack the leaves and cross-cut into bite sized pieces.
Transfer the kale to a large mixing bowl or serving dish and add the vinegars. Gently massage the vinegars into the kale.
When the squash is done, transfer to the mixing bowl on top of the kale. Add pomegranate seeds and chopped walnuts, and stir gently to mix.
© 2023 World Spice Merchants https://www.worldspice.com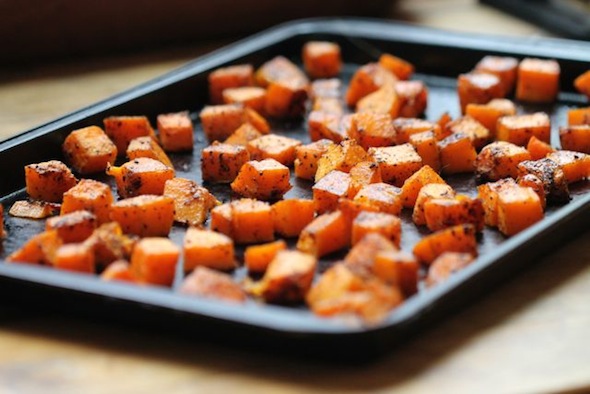 Chef Tip: Many different vinegars will work in this recipe and I've used everything from simple apple cider vinegar to this fanciful Cranberry Pear White Balsamic from Genesis Kitchen. Try your favorite and enjoy!