Tagged With:
curry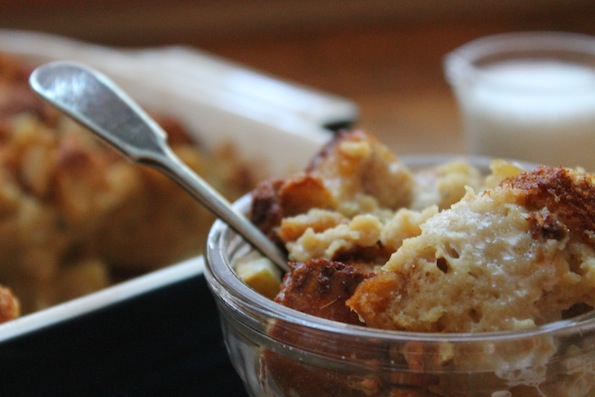 Who says you have to make curry with your curry? No one! This warm winter pudding was inspired by our friends at Hunger Restaurant, and since trying theirs we have come up with some delightful variations of our own. We've added diced apples to replace the traditional raisins- pears are nice too- and infused a mild amount of spice into the custard and cream. Enjoy with coffee, chai or your favorite toddy; nothing says holiday like bread pudding.
Curry Bread Pudding with Cardamom Cream
Ingredients
For the Pudding

5 cups cubed stale or lightly toasted bread
1 cup diced apple
2 cups half & half
4 eggs
1/2 cup maple syrup or agave nectar
1 teaspoon vanilla extract

For the Cardamom Cream

1 cup heavy cream
1/2 teaspoon cracked cardamom seeds
1/2 teaspoon sugar
Instructions
For the pudding:

Preheat oven to 350 degrees.
In a small sauce pan over low heat, whisk the curry into the half & half and allow to infuse gently for 10 minutes, stirring occasionally. Make sure that the half & half does not boil. Remove from heat and allow to return to room temperature.
While the spices are infusing, combine the bread cubes and diced apples in a large bowl.
In a separate large bowl, whisk together the eggs, maple syrup or agave, and vanilla. Add the spice infused half & half and stir well.
Pour the liquid mixture over the bread and apples and let stand for 30 minutes, turning occasionally with a spatula. Allow the bread to fully absorb the liquid.
Transfer the mixture to a greased 8"x8" baking dish and bake for 45 minutes or until the center springs back to the touch.

For the cardamom infused cream:

Whisk together the ingredients in a small saucepan over low heat. Simmer gently for 10 minutes. Strain the cream to remove the cracked seeds.
Pour warm cream over the pudding and serve.
https://www.silkroaddiary.com/curry-bread-pudding-cardamom-cream/
World Spice Merchants https://www.worldspice.com
Categories:

Course, Curries & Masalas, Global Cuisines, Holiday, Recipes, Sweet Somethings
Tags:

apples, curry, dessert, Easy, holiday, party time
3 Comments
World Spice is the most aromatic place in Seattle, in a good way. The fragrance is so intoxicating that it can sometimes overshadow the visual of all of the seeds, roots, powders and pods in their little jars, most of them in subtle and varying earthy color tones. In the center of the store, though, there sits a bright contrast to the natural richness of the spice color palette — it's a pyramid of shiny Masala Dabbas, the traditional kitchen implement of India. The gleam of the stainless steel is impossible to ignore, and is the perfect palette for the spice-centric cook.
A masala dabba (mah-SAH-lah DAH-bah) is a container kept close at hand in Indian kitchens. They consist of an outer cannister, inner ramekins, an inner lid, an outer lid, and a small spoon. The containers are filled with the most often used spices in that particular kitchen; usually some combination of Turmeric, Cumin, Indian Coriander, Green Cardamom Pods, Cloves, Black Peppercorns, Red Chile Flakes, Indian Cayenne, Amchoor, Brown Mustard Seeds, Fennel Seeds, Fenugreek Seeds, or Nigella Seeds. Having a selection of spices close at hand enables cooks to create curries on the fly to complement specific ingredients, leaving pre-mixed curry powders to less experienced culinarians.
Antique dabbas are found in both copper and wood, though in recent times, stainless steel has become the most popular material for its sleek appearance and ease of care. The dabba we offer has seven inner stainless-steel cups, each with about a 1/2 cup capacity, though we recommend only filling them half-way, and replenishing from your air-tight spice storage often. The gift of a masala dabba traditionally marks a coming of age, given from mother to daughter- though they make excellent gifts for any cook or aspiring cook on your list.
The dabba fun doesn't end with Indian cuisine, however… We use our masala dabbas for every kind of cuisine imaginable. For the barbeque enthusiast who loves to make their own rubs, a dabba filled with Sweet Smoked Paprika, Indian Cayenne, Yellow Mustard Seed, European Coriander, Granulated Garlic and Onion Powder is sure to please. For fans of south-of-the-border fare, Mexican Oregano, Cumin Seed, Ancho Chile Flakes, Chipotle Flakes, New Mexico Chili Powder, Mole Ole, and True Cinnamon Sticks will be just the ticket. Your imagination is the limit!
A word of advice from a novice gardener: Carrots are much bigger than carrot seeds. Somehow, fifty-odd square feet of garden space doesn't seem like that much when it's being planted, but it can produce a surprising haul, most especially in the carrot department. Praise be that carrots are delicious, so their being excessively plentiful is a problem I'm thankful to have! This soup is hearty and delicious, made velvety by the soft puree of carrots, and from the toasted rice in the Poudre de Colombo curry. We've dressed it up a little with the prawns, but this soup can easily be made vegan by omitting them and using red miso paste in favor of the Worcestershire powder.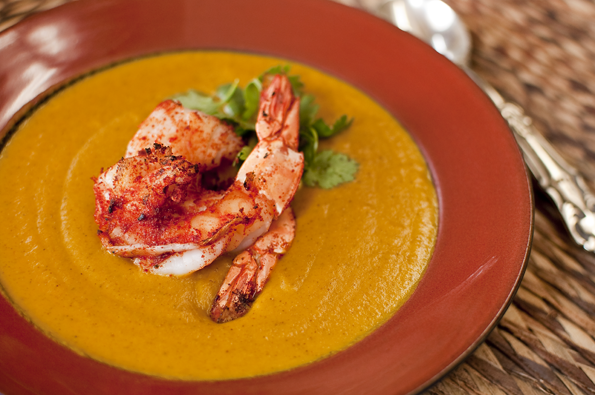 Poudre de Colombo Carrot Soup
Ingredients
Olive oil, for sautéing
1 medium onion, chopped
3 cloves garlic, chopped
1.5 inch piece fresh ginger, peeled and chopped
1.5 lbs. carrots, peeled and chopped
3 cups chicken, vegetable, or seafood stock
3/4 cups mild, dry white wine
1/4 cup ground Poudre De Colombo Curry
1 can coconut milk
1 tablespoon Worcestershire powder
Juice of 1 lime, plus wedges from 1 more for serving
Pinch of brown or raw sugar
Freshly picked cilantro leaves for garnish
12 prawns
1 Tablespoon Hungarian paprika
1 Teaspoon Indian cayenne
Instructions
Heat oil, and sauté onions, garlic, ginger, and carrots for five minutes. Deglaze with wine, and reduce until pan is nearly dry
Add stock, bay leaf, and 1 tablespoon of the curry, cover, and simmer until carrots are very tender, about 15 minutes.
Remove bay leaf. In a food processer or blender, puree soup until smooth. Work in small batches for best results, adding in the coconut milk to aid in the blending. Strain the processed soup through a wire mesh strainer in to a clean pot, and return the mixture to the stove over low heat.
Add the remaining coconut milk, Worcestershire powder, sugar, and curry, 1 tablespoon at a time, until desired seasoning level is reached. Add lime juice, and adjust for salt.
Rub prawns with paprika and cayenne, and grill or sear them.
Ladle soup in to bowls, and garnish each with two prawns, a wedge of lime, and a few leaves of cilantro.
Notes
If you're short on time, or you perhaps planned your garden space better than I did, and therefore the creative utilization of carrots is not a pressing issue for you, a can of pumpkin puree is an excellent substitution.
https://www.silkroaddiary.com/poudre-de-colombo-carrot-soup/
World Spice Merchants https://www.worldspice.com
Categories:

Caribbean, Course, Curries & Masalas, Fruits of the Sea, Global Cuisines, Main Meals, North America, Recipes, Soups and Stews
Tags:

autumn, carrots, curry, Easy, Fall, harvest, prawns, pumpkin, Soup, Vegan, Vegetarian, warming
Leave a comment