Poudre de Colombo Carrot Soup
A word of advice from a novice gardener: Carrots are much bigger than carrot seeds. Somehow, fifty-odd square feet of garden space doesn't seem like that much when it's being planted, but it can produce a surprising haul, most especially in the carrot department. Praise be that carrots are delicious, so their being excessively plentiful is a problem I'm thankful to have! This soup is hearty and delicious, made velvety by the soft puree of carrots, and from the toasted rice in the Poudre de Colombo curry. We've dressed it up a little with the prawns, but this soup can easily be made vegan by omitting them and using red miso paste in favor of the Worcestershire powder.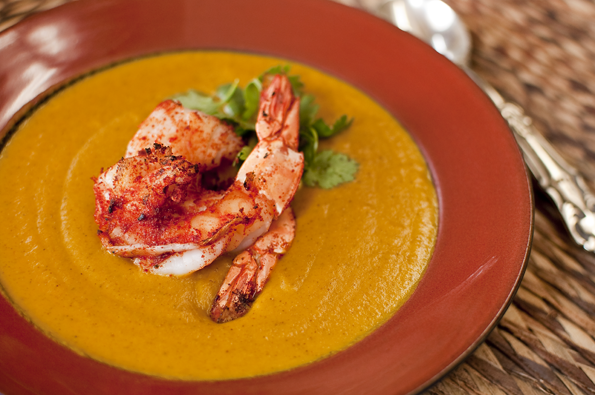 Ingredients
Olive oil, for sautéing
1 medium onion, chopped
3 cloves garlic, chopped
1.5 inch piece fresh ginger, peeled and chopped
1.5 lbs. carrots, peeled and chopped
3 cups chicken, vegetable, or seafood stock
3/4 cups mild, dry white wine
1/4 cup ground Poudre De Colombo Curry
1 can coconut milk
1 tablespoon Worcestershire powder
Juice of 1 lime, plus wedges from 1 more for serving
Pinch of brown or raw sugar
Freshly picked cilantro leaves for garnish
12 prawns
1 Tablespoon Hungarian paprika
1 Teaspoon Indian cayenne
Instructions
Heat oil, and sauté onions, garlic, ginger, and carrots for five minutes. Deglaze with wine, and reduce until pan is nearly dry
Add stock, bay leaf, and 1 tablespoon of the curry, cover, and simmer until carrots are very tender, about 15 minutes.
Remove bay leaf. In a food processer or blender, puree soup until smooth. Work in small batches for best results, adding in the coconut milk to aid in the blending. Strain the processed soup through a wire mesh strainer in to a clean pot, and return the mixture to the stove over low heat.
Add the remaining coconut milk, Worcestershire powder, sugar, and curry, 1 tablespoon at a time, until desired seasoning level is reached. Add lime juice, and adjust for salt.
Rub prawns with paprika and cayenne, and grill or sear them.
Ladle soup in to bowls, and garnish each with two prawns, a wedge of lime, and a few leaves of cilantro.
Notes
If you're short on time, or you perhaps planned your garden space better than I did, and therefore the creative utilization of carrots is not a pressing issue for you, a can of pumpkin puree is an excellent substitution.

© 2023 World Spice Merchants https://www.worldspice.com