10 Spice Vegetable Soup with Cashew Cream
The timing is perfect! As spring beckons and we are craving healthier fare, what better way to welcome the weather than with this spice-centric soup from one of our new favorite cookbooks, The Oh She Glows Cookbook: Over 100 Recipes to Glow from the Inside Out by Angela Liddon.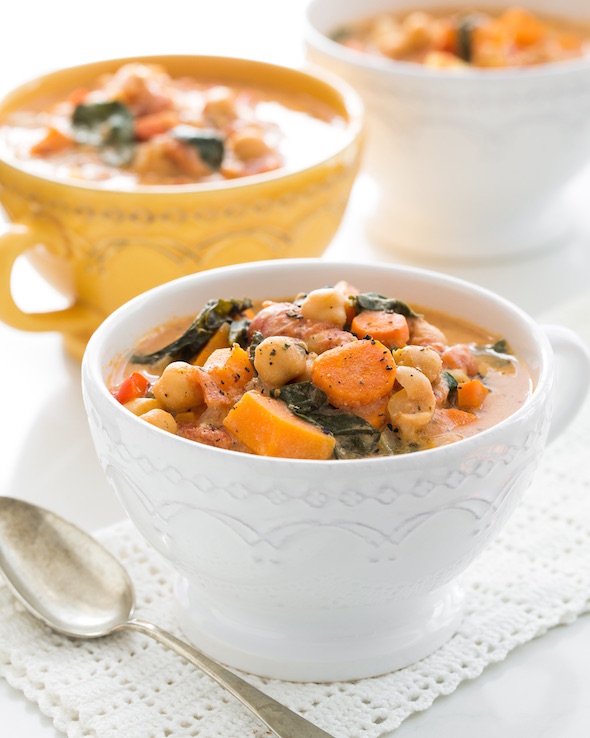 "This is quite possibly the ultimate bowl of comfort food, made with a decadent, creamy broth and loaded with an array of health-boosting spices. It's really hard to stop at one bowl! Be sure to soak the raw cashews in water the night before (or for at least three to four hours) so they are ready when you plan to make the soup."
Ingredients
3/4 cup raw cashews, soaked
6 cups vegetable broth
2 teaspoons extra-virgin olive oil
4 cloves garlic, minced
1 sweet or yellow onion, diced
3 medium carrots, chopped
1 red bell pepper, chopped
11/2 cups peeled and chopped sweet potato, regular potato, or butternut squash
2 stalks celery, chopped
1 28-ounce can diced tomatoes, with their juices
1 tablespoon 10-Spice Blend
Fine-grain sea salt and freshly ground black pepper, to taste
2 bay leaves
1 to 2 cups baby spinach or de-stemmed torn kale leaves (optional)
1 15-ounce can chickpeas or other beans, drained and rinsed (optional)
Instructions
In a blender, combine the soaked and drained cashews with 1 cup of the vegetable broth and blend on the highest speed until smooth. Set aside.
In a large saucepan, heat the oil over medium heat. Add the garlic and onion and sauté for 3 to 5 minutes, or until the onion is translucent.
Add the carrots, bell pepper, potato, celery, diced tomatoes with their juices, remaining 5 cups broth, the cashew cream, and the 10-Spice Blend. Stir well to combine.
Bring the mixture to a boil and then reduce the heat to medium-low. Season with salt and black pepper and add the bay leaves.
Simmer the soup, uncovered, for at least 20 minutes, until the vegetables are tender. Season with salt and black pepper.
During the last 5 minutes of cooking, stir in the spinach and beans, if desired. Remove and discard the bay leaves before serving.
Tip: If you don't have the ingredients on hand to make the 10-Spice Blend, feel free to use your favorite store-bought Cajun or Creole seasoning mix and add to taste.
© 2023 World Spice Merchants https://www.worldspice.com
Instructions
Combine all of the ingredients in a medium jar. Secure the lid and shake to combine. Shake the jar before each use.
© 2023 World Spice Merchants https://www.worldspice.com
Reprinted by arrangement with Avery, a member of Penguin Group (USA) LLC, A Penguin Random House Company. Copyright © Angela Liddon, 2014.
If you are interested in exploring and tasting more recipes from Oh She Glows, pick up a copy in our store or online and join us for the World Spice Cookbook Club, coming up March 4th. RSVP to [email protected].