Big Love Buttermilk Fried Chicken
When Heather Earnhardt opened her tiny cafe, The Wandering Goose, in Seattle, she added a little bit of Southern charm and comfort to the city. From her childhood in the South with her close-knit family comes this collection of traditional Southern favorites that makes use of all of the delicious food ingredients available here in the Pacific Northwest. Her specialty is her biscuits – both sweet and savory – as well as traditional Southern fare such as pickles, pies, cakes, grits and this Big Love Buttermilk Fried Chicken. This delicious recipe comes from Heather L. Earnhardt's Big Food Big Love: Down Home Southern Cooking Full of Heart of Seattle's Wandering Goose, the World Spice Cookbook Selection for June 2017.
From the Author: "Fried chicken is an emblem of the South and loved the world over: there are as many styles and flavors as there are ways of eating it. Whether it's served hot over a buttermilk biscuit or eaten cold as a midnight snack standing in front of the refrigerator, fried chicken is good any time of the day or night. And it's good for you! If your oil is at the correct temperature, the chicken won't absorb any excess and will come out with a crackling skin and hot, juicy interior. My hope is that you fry enough of this chicken so that there are one or two pieces left for a midnight snack."
Ingredients
2 quarts (8 cups) buttermilk
2 large lemons, zested and quartered
10 to 12 sprigs (about 1/2 ounce) fresh thyme
1/4 cup Texas Pete or Crystal hot sauce
1/4 cup Worcestershire sauce
1 tablespoon kosher salt
2 teaspoons freshly ground black pepper
12 bone-in chicken thighs
For the dredge:
4 cups all-purpose flour
1/2 cup kosher salt (be sure to use Diamond Kosher Salt; if using a different kind of salt, cut the amount to 1/4 cup)
1/4 cup freshly ground black pepper
1/4 cup onion powder
1/4 cup garlic powder
2 tablespoons cayenne
2 tablespoons smoked paprika
Canola oil, for frying
Instructions
In a large bowl, mix the buttermilk, lemon quarters and zest, thyme, hot sauce, Worcestershire, salt, and pepper. Put the chicken thighs in another large bowl, pour the marinade over, and marinate the thighs in the refrigerator for 24 hours. About 30 minutes prior to frying the chicken, take it out of the refrigerator so the chicken comes to room temperature.
When you're ready to fry the chicken, preheat the oven to 200 degrees F. Meanwhile, make the dredge. Sift all the ingredients into a large bowl. (This can be made up to 1 month ahead and stored in a glass jar with a lid or a ziplock bag.)
Spread the dredge out on a pie pan or plate and place it next to the stove. (Alternatively, you can put it in a large paper sack.) Have a baking sheet handy. In a large Dutch oven or cast-iron pot, heat 2 inches of oil over medium-high heat until it registers 325 degrees F on a deep-fry thermometer. Using your hands and working in small batches, remove the chicken from the marinade and press it into the dredge or shake the chicken pieces with the dredge in the sack. (This is a fun task for kids to help with.) You can dredge them up to 30 minutes before frying. Fry the chicken until golden brown, turning once, about 12 minutes. Keep the thighs warm on the baking sheet in the oven while you cook the rest of the chicken, discarding the marinade. Be sure to check the temperature of the oil before you start frying each batch.
Serve immediately or serve cold the next day.
Notes
Be sure to start this recipe the day before serving to allow the chicken to marinate. Also, be sure to use Diamond Kosher Salt. If using some other salt, cut the amount by half, or the result will be too salty.

© 2023 World Spice Merchants https://www.worldspice.com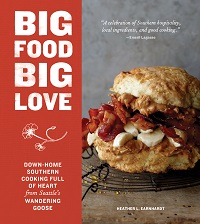 From (c)2016 By Heather L. Earnhardt. All rights reserved. Excerpted from Big Food Big Love: Down Home Southern Cooking Full of Heart of Seattle's Wandering Goose by permission of Sasquatch Books.
Big Food Big Love is the June 2017 selection for the World Spice Cookbook Club. Big Food Big Love is currently available for purchase at our retail store and online.