Khingal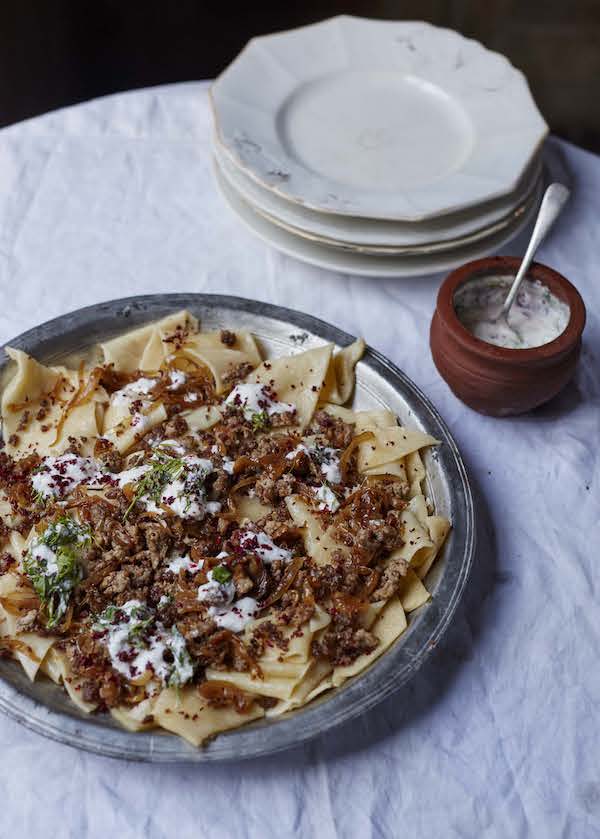 We are so excited to feature Olia Hercules' new book Kaukasis: A Culinary Journey through Georgia, Azerbaijan and Beyond for our March Cookbook Club selection. Full of stunning photographs evocative of the region, this book is a celebration, weaving personal narratives and recipes for a little known cuisine that combines European and Middle Eastern ingredients in ways that are fresh, new, and totally unexpected. Olia Hercules will take you on a culinary journey unlike any other. If you liked Mamushka, you will love this book.
From the author: "We often perceive comfort food as something lovely yet also a little bland, unassuming. It may not blow our minds with flavour, but it gives us that feeling of safe satiety. When I tried khingal in the Azerbaijan capital Baku, it was a complete revelation to me. It did all those things that comfort food does, except it also made my eyes widen as my mouth was filled with firm pasta, crispy aromatic lamb and milky, but also oh so fresh, sauce. And then there is the butter. Pasta, spice, butter, crispy meat bits, yogurt, herbs – this dish has every single component that makes me feel safe and yet also titillates my senses, what I imagine a perfect marriage may be like."
Ingredients
1 large egg, lightly beaten
¼ cup (2 fl oz / 60ml) water
1 2/3 cup (7oz / 200g) plain flour, plus extra if needed
and for dusting
6 tablespoons (3½oz / 100g) Clarified Butter or 60g (2¼oz) unsalted butter and
2 tablespoons vegetable oil, plus extra for cooking the onions
10 oz (300g) coarsely minced lamb
1 teaspoon coriander seeds lightly toasted and ground
1 teaspoon cumin seeds lightly toasted and ground
½ teaspoon turmeric
sea salt flakes and freshly ground black pepper
2 onions, thinly sliced
¾ cup (7oz / 200g) natural yogurt
1 garlic clove, finely grated
a little milk or water
1 tablespoon chopped coriander (cilantro)
1 tablespoon chopped dill weed
½ teaspoon ground sumac
Instructions
To make the dough, mix the egg and water together in a bowl, then gradually add the flour (stop if the mixture seems to be getting dry) and knead the mixture in the bowl into a dough. You should end up with a firm, elastic pasta dough, so knead in more flour if it feels too wet. Cover it in plastic wrap and leave to rest in the refrigerator for 15-30 minutes.
Preheat the oven to 325°F (160°C), ready for keeping the lamb and onions warm. Heat half the Clarified Butter or half the ordinary butter and 1 tablespoon oil in a pan. When really hot, add half the minced lamb - you want the meat to be crispy, so overcrowding the pan is not an option here. Fry it without disturbing it too much until it starts crisping up. Add half the spices and some seasoning and cook for 1 minute, then pop into a heatproof bowl and keep warm in the oven.
Repeat with the second batch of meat.
Don't wipe out the frying pan but add some more butter or oil and cook the onions gently until they become deep golden and luscious. Be patient - it will be worth it. Season them, too, and add them to the lamb keeping warm in the oven.
Roll out the pasta, either by hand or using a pasta machine, but not too thin - about 1/16 inch (2mm) thick - as you want a little bit of a bite here. Then cut the pasta into 1 ¼ inch (3-cm) diamonds. You can let them dry out slightly while you rustle up the yogurt sauce.
You can leave this sauce simple - just mix the yogurt with the garlic and a tiny bit of salt, adding a little milk or water to loosen it up. I also like adding the chopped coriander and dill to it, as well as dusting the whole dish with sumac at the end.
Bring a large saucepan of salted water to the boil and drop in your pasta diamonds. They will be ready within 2 minutes. Check they are cooked by tasting one when they float to the top. Drain them quickly and layer with the meat and onions, drizzling over the yogurt sauce as you go.
Notes
Sometimes I stir a little bit of brown butter into the yogurt. Don't judge me.
© 2023 World Spice Merchants https://www.worldspice.com
The above recipe is excerpted from Kaukasis: A Culinary Journey Through Georgia, Azerbaijan and Beyond by Olia Hercules. (Courtesy of Weldon Owen, 2017)