Harissa and Vegetable Couscous
This recipe has been a long time coming. Hardly anyone who comes in to the shop — spice masters and novices alike — can pass over the North African section without some long, lingering sniffs. The spices from that region are so exotic, in their perfect union of sweet-spicy-aromatic. "How do you use the Harissa?" is one of the most common questions following the exclamations of delight, and though my fellow merchants and I have written versions of this recipe on many a business card, envelope, and scratch paper, it's about time it took its place among our favorites here on the blog.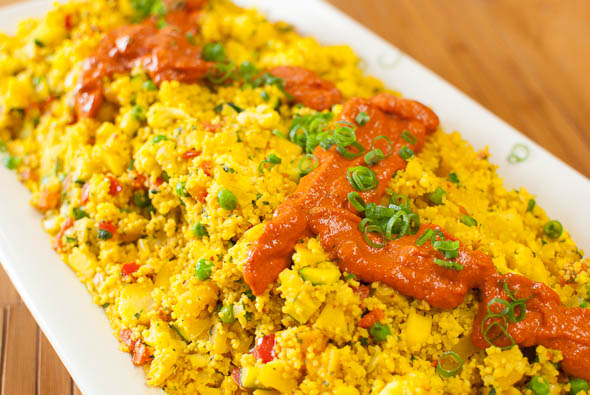 The tender-crisp vegetables and fluffy cous cous are a perfect vehicle for this sumptuous sauce; our version of the traditional Tunisian red pepper condiment that is so ubiquitous in Northern Africa. The cumin, coriander, and caraway add complexity and depth, with the guajillos lending just enough heat to be interesting without being overwhelming. You can also try the Harissa sauce on grilled meats or eggplant — or even on halibut!
Ingredients
For the Harissa:
 
6 ounce can of tomato paste
12 ounce jar roasted peppers
1 tablespoon olive oil
1 small red onion, chopped
2 tablespoons ground Harissa
1-1/2 teaspoon garlic granules
1/3 cup olive oil
¼ cup red wine vinegar
4 green onions, sliced thinly
 
For the couscous :
 
3 tablespoons olive oil
1 small sweet onion, chopped
6 large garlic cloves, chopped
2-1/4 cup vegetable broth
1 cup dried apricots, chopped
1 small acorn or butternut squash (cut into ½ inch cubes)
1 small cauliflower, florets cut into small pieces
1 medium zucchini (cut into ½ inch cubes)
1 can chickpeas, drained and rinsed
2 teaspoons turmeric
1 teaspoon ginger powder
1 teaspoon Aleppo pepper
6 Roma tomatoes, seeded and diced
¾ cup fresh or thawed green peas
½ cup chopped cilantro
1-1/2 cups couscous
Instructions
To make the Harissa:
In a small saute pan on medium heat, add 1 tablespoon olive oil. When hot, add the chopped red onion, and saute until it starts to get a little color. Meanwhile, in a blender, combine the tomato paste, roasted peppers, Harissa, garlic granules, 1/3 cup olive oil and red wine vinegar. Pulse until it's still a little chunky. (You can also puree it until it's smooth.)
Transfer tomato mixture to a bowl and add salt to taste. Add the sauteed red onions and green onions and mix well.
To make the Couscous:
In a large Dutch oven, heat the oil over low heat. Saute the onion and garlic until translucent. Add stock, dried apricots, squash, zucchini, cauliflower florets, chickpeas, turmeric, ginger powder and Aleppo pepper, stirring well. Bring to a boil, cover, and simmer until the vegetables are tender, but still a bit crispy. This should take about 5 minutes.
Mix in the diced tomatoes, peas, cilantro and couscous. Remove the pot from the heat, cover and let stand 10 minutes to cook the couscous.)
Remove the lid and fluff the couscous with a fork. Transfer to a serving dish and drizzle some of the Harissa onto the couscous, serving the rest of the Harissa on the side.
Notes
You can prepare the Harissa sauce ahead of time. Let it get to room temperature before serving. If you have any leftovers, it will keep well in the refrigerator. This works well as a condiment to any meal.

© 2023 World Spice Merchants https://www.worldspice.com