Grilled Chicken and Pineapple with Ayam Peanut Sauce
June 25, 2017
/
Serves 4
/
/
Print
/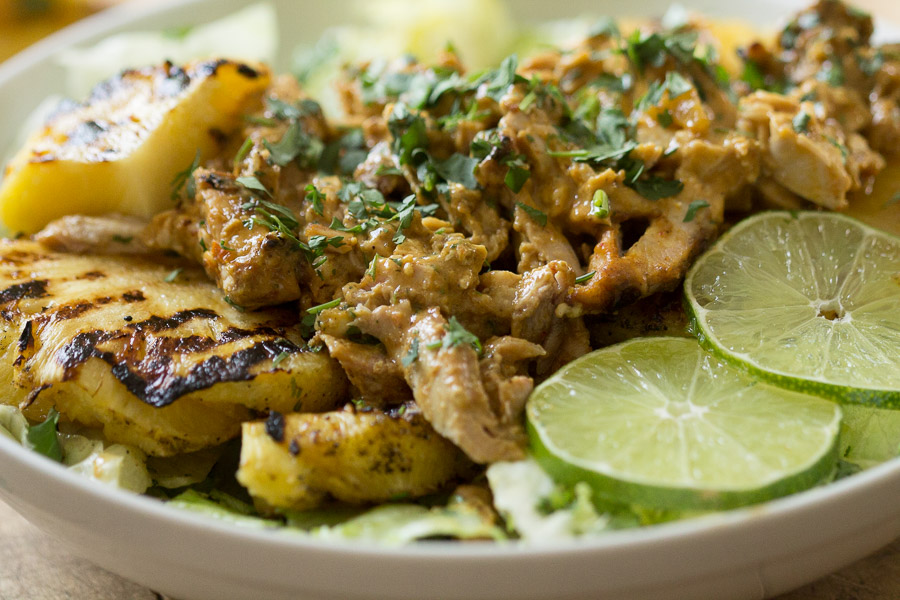 Ayam peanut chicken has been on my summer menu for years, and this updated version is the best one yet. Our Indonesian Ayam spice lends the peanut sauce a special flavor to peanut sauce that puts it over the top. The spicing is notable but not overpowering and paired with peanut and citrus makes a versatile sauce that complements grilled chicken and pineapple perfectly.
Ingredients
For the Sauce
1/4 cup ground Indonesian Ayam Spice
1/2 cup creamy peanut butter
1/3 cup lime juice
3 tablespoons toasted sesame oil
2 tablespoons soy sauce
2 tablespoons sambal olek
1 tablespoon sugar
1 tablespoon fresh grated ginger or 1 teaspoon ginger powder
4 cloves fresh grated garlic or 1/2 teaspoon garlic granules
3/4 cup hot water
For the chicken
3-4 pounds boneless, skinless chicken thighs
3/4 - 1 cup peanut sauce
For the pineapple
For serving
Romaine or iceberg lettuce
Chopped cilantro
Lime wedges
Instructions
For the peanut sauce
Combine the sauce ingredients in a 1 quart jar with a tight fitting lid. Shake well.
For the chicken
Rinse the chicken thighs and pat dry. Transfer the meat into a large ziplock bag and pour 3/4 - 1 cup of the peanut sauce over the meat. Reserve the remainder of the sauce for dipping or dressing at the table.
Squeeze the air out of the bag and seal it. Place the meat in the refrigerator and allow to marinate 1-3 hours.
While the meat is marinating, prep the pineapple. Cut off the top and bottom, then set the pineapple upright and slice away the skin. Then, using a thin, sharp paring knife, cut away the prickly eyes. From here it is grillers choice- you can slice the pineapple into wedges or rounds, with or without the core. I like to do six thick slices and leave the core in for sturdier pieces and then remove the core after grilling as it it going on the plate.
Preheat the grill to high heat and lightly oil the grate. Brush each piece of pineapple lightly with oil and grill each side 3-4 min. Once removed from grill, sprinkle pineapple with Aleppo and Maldon sea salt.
Lower the heat to medium-high heat for the chicken. Grill about 20 minutes, until each piece is cooked through.
Slice the chicken into strips and drizzle with additional peanut sauce. Serve over crisp greens alongside grilled pineapple with extra lime wedges on the side.
© 2023 World Spice Merchants https://www.worldspice.com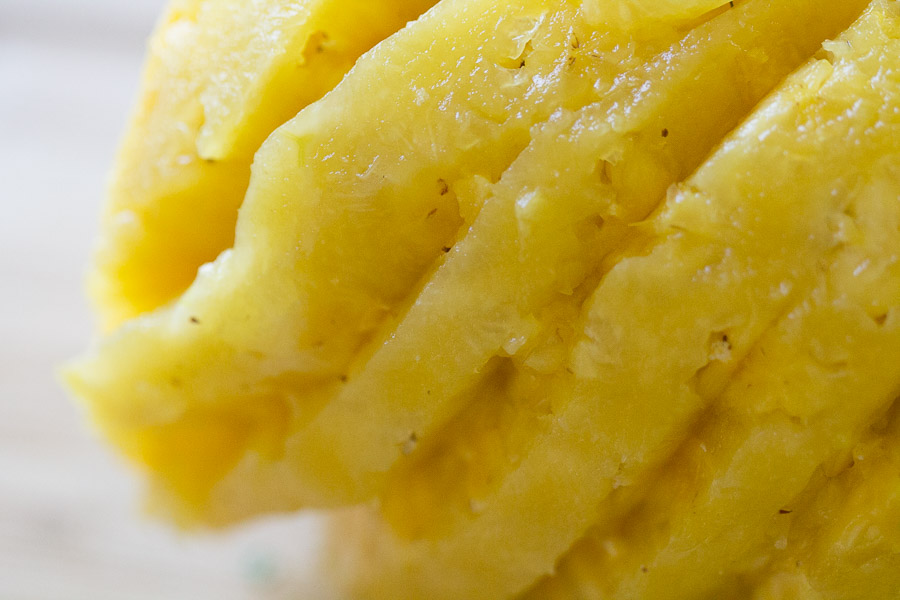 Looking for more grill season recipes? Check out our recipes for Chimichurri or Tarheel Sliders.