Tarheel Sliders with Carolina Slaw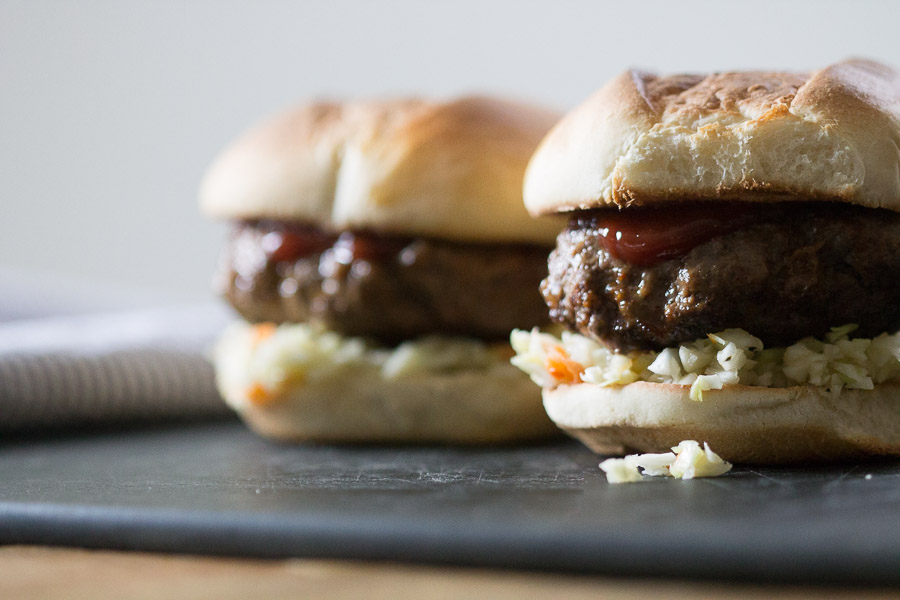 Carolina BBQ traditions inspired this delicious Tarheel sliders combination, and the flavors work together perfectly. A healthy dose of our Tarheel BBQ Rub flavors the meat, and the Carolina slaw is pert with vinegar and Voodoo, plus just a little sweet to round it out. Everything is easy to prep and the sliders pop on and off the grill in just a few minutes. Sit back and enjoy the flavors!
Ingredients
For the Carolina Slaw
1 medium green cabbage, cored and coarsely chopped
1 carrot, grated
1/2 cup yellow onion, chopped
4 tablespoons avocado oil
1/2 cup white or apple cider vinegar
2 tablespoons sugar
1 tablespoon Voodoo
For the Tarheel Sliders
2 lb ground beef
3 tablespoons Tarheel BBQ Rub
12 slider buns
Ketchup & pickles!
Instructions
For the Carolina Slaw
Assemble the vegetables on a cutting board or in a large bowl. Working in batches, transfer a few cups of the vegetable combination to a food processor at a time and pulse 3-4 times to a rice-like consistency. You want the slaw to be fine enough to hold together on a slider bun, but be careful not to over-process. Transfer all the processed vegetables to a large bowl.
In a small bowl or measuring cup, stir together the remaining ingredients and pour over the processed vegetables.
Cover and refrigerate until ready to serve. The slaw can be made a day ahead.
For the Tarheel Sliders
Prepare a sheet pan lined with parchment or waxed paper.
Put the ground beef in a large bowl and sprinkle the Tarheel BBQ Rub over the top. Gently knead the spice into the meat and divide into 12 equal portions. Roll each portion into a ball and flatten into a 4" patty. Line up the prepared patties on the sheet pan.
Preheat your grill to high heat.
Grill the patties about 6 minutes total, flipping once or twice during the cooking time.
Serve immediately on slider buns with Carolina slaw, ketchup and a pickle.
© 2023 World Spice Merchants https://www.worldspice.com
Need another recipe for the grill? Check out our recipes for Chimichurri or Ayam Peanut Chicken.