Voodoo Pimento Cheese Ball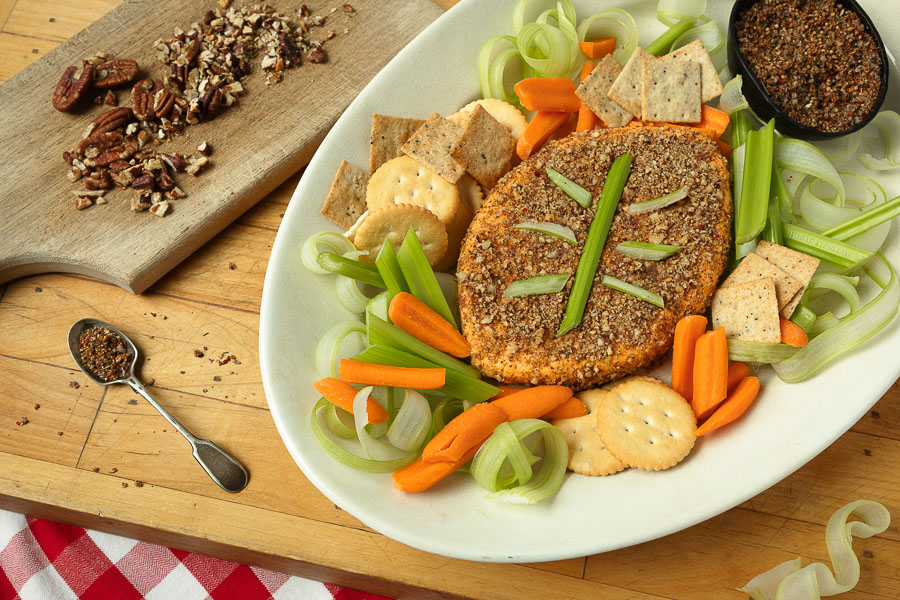 Looking to bring the appetizer A-game to the next house party? This recipe is the ultimate game-day snack and a real fan favorite of ours. Voodoo seasoning has robust ingredients like Aleppo pepper, brown and yellow mustard, allspice, thyme, onion, and garlic. These flavors compliment the bright pimento and rich cheese perfectly. Whip this up, set it in the center of the table, and watch it disappear!
Ingredients
8 oz. cream cheese
8 oz. medium cheddar cheese, grated
2 teaspoons grated shallot
1 tablespoon minced pimentos
1 teaspoon smoked paprika
2 teaspoons Voodoo, divided
1 teaspoon vegetable oil
1 cup pecans
Carrot and celery sticks for garnish and dipping
Instructions
In the bowl of a stand mixer, combine cheeses, shallots, pimentos, smoked paprika and 1 teaspoon Voodoo. Mix well on low speed, using the paddle attachment.
On a plate, form the cheese mixture into a football shape and press firmly on all sides. Cover tightly with plastic wrap and refrigerate for 2-3 hours.
While the cheese ball is firming, make the crust. Preheat the oven to 350 degrees. Place the pecans in a small bowl and drizzle with oil and 1 teaspoon Voodoo. Toss to combine. Place the nuts on a baking sheet and toast in the oven for 10-12 minutes, until fragrant. Cool and chop finely.
Remove the cheese ball from the refrigerator and unwrap 15 minutes before serving to allow the surface to become sticky. Use celery strips to make the "laces" of the football. Then sprinkle the chopped nuts on the cheese ball and press firmly to make them stick.
Serve with veggie sticks and crackers on game day!
© 2023 World Spice Merchants https://www.worldspice.com
If you want more fan fare, whip up a batch of Hawk Wings too!