Pasilla Oaxaca Vegetable Soup
Sometimes it's hard to get enough of a good thing, and that is certainly true with Pasilla Oaxaca chiles. Every summer we run out of the small crop of these rare chiles, and celebrate when they are harvested again in the fall. They come only from the Oaxaca region of southern Mexico and combine a rich dose of smoky chile flavor with just the right level of heat- not too much. We are thrilled, because this years crop just arrived!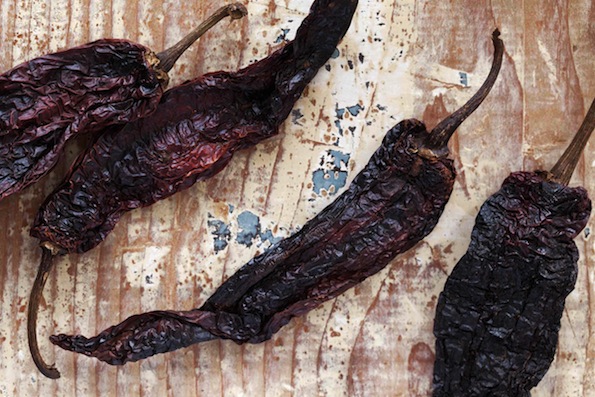 Use Pasilla Oaxaca in your favorite recipe for chili or vegetable soup, or try this creative Afro-Latin fusion. We've used both our Harissa spice blend, traditional in North Africa, and the Pasilla Oaxaca chile to season a chunky melange of carrots, zucchini, okra and black eyed peas in this satisfying fall soup. Enjoy!
Ingredients
1 tablespoon plus 1 teaspoon avocado or vegetable oil, divided
1 medium yellow onion, diced
1/2 teaspoon kosher salt
1 teaspoon plus 1/2 teaspoon ground Harissa, divided
2-3 carrots, chopped
1 tablespoon apple cider vinegar
1- 28 oz. can diced tomatoes
6 cups vegetable broth
3/4 cup dried black eyed-peas, pre-soaked
1 Pasilla Oaxaca chile, whole
2 medium zucchini, chopped
1 cup sliced okra, fresh or frozen
4 cups chopped kale
Instructions
In a large soup pot over medium heat, sauté the onion, salt and 1 teaspoon Harissa in 1 tablespoon of oil until softened, about 5 minutes.
Add the carrots and continue cooking until they change color and begin to sweat, about 3 minutes more. Add the apple cider vinegar to deglaze the pan.
Add the tomatoes, vegetable broth, black eyed peas and Pasilla Oaxaca and bring to a boil. Simmer 30 minutes until the beans begin to soften.
While the soup is simmering, in a separate pan, sauté the zucchini in the remaining 1 teaspoon of avocado oil with the remaining 1/2 teaspoon of Harissa for 3-5 minutes until golden.
Add the sautéed zucchini, okra and kale to the soup pot and simmer an additional 15 minutes. Remove the Pasilla Oaxaca before serving.
Notes
**Chef tip!** It is worth the extra effort to sauté the zucchini with some spices before boiling them in the soup pot. This allows the flavors to be fully absorbed by the zucchini, and creates a nice texture too.

© 2023 World Spice Merchants https://www.worldspice.com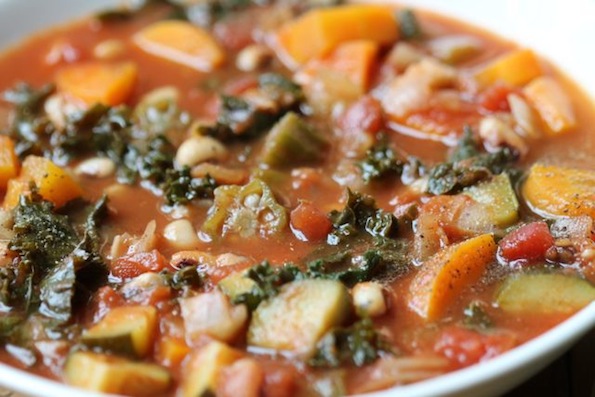 Pasilla Oaxaca are traditional in molé sauces, rellenos and salsas but are also SUPER easy to use whole if you want fabulous flavor in your next hearty fall soup. Just drop one in and remove before serving…like a bay leaf!