Bebinca de Rabano (XO Daikon Cake)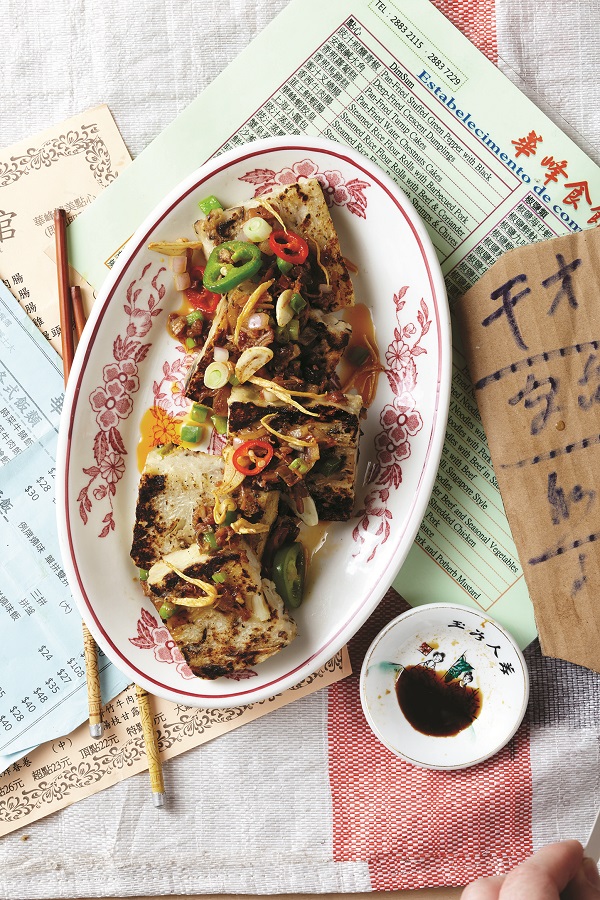 This recipe from The Adventures of Fat Rice, the August 2017 Cookbook Club selection may take a little work and ingredient hunting, but the spicy and crunchy result is well worth it.
From the Author: "Throughout the Portuguese-speaking world, bebinca basically describes something that has been steamed or baked to set. Also known as Bebinca de Nabo, turnip cake, white carrot cake, and chai tow kway, this dish isn't really a cake per se, but more
of a steamed loaf. Confusing as hell but absolutely delicious."
Ingredients
Chilli Oil
Daikon Cake
1-1/2 pounds shredded daikon radish
1 teaspoon salt
1-1/2 cups rice flour
1/4 cup coconut oil
6 cloves garlic, minced
1 (1-inch) piece fresh ginger, peeled and minced
4 ounces fresh shiitake mushrooms, stemmed and coarsely chopped
1 cup fisheye-cut (thinly sliced rounds) green onions, white part only
1 teaspoon tian jin preserved vegetable**
3 tablespoons preserved mustard stems (suimi ya cai)**
1 teaspoon sambal oelek**
3 tablespoons peanut oil
2 tablespoons Chilli Oil (recipe above)
10 cloves garlic, thinly sliced
1 red onion, finely diced
1 green bell pepper, seeded and finely diced
6 green onions, white parts only, fisheye-cut (thinly sliced rounds)
2 fresh red finger or fresno chillies, sliced into thin rounds
1 jalapeño, sliced into thin rounds
1?4 cup Vegetable or Chicken Stock
1 cup XO Sauce, optional**
2 tablespoons soy sauce
Instructions
For Chilli Oil - Combine the oils, star anise, cinnamon, and ginger in a small heavy pot fitted with a candy thermometer. Set over medium heat and bring to 140 degrees F. Add the garlic and bring to 180 degrees F. Remove from the heat, cool to 160 degrees F, and add the ground chillies, Sichuan pepper, and paprika. Transfer to a storage container and let steep for 24 hours at room temperature, then strain through a cheesecloth-lined fine-mesh strainer. Discard the solids and store the oil, tightly sealed, in the refrigerator for up to 1 month.
For Daikon Cake - Toss the radish and salt together in a small bowl, then transfer to a strainer and set the strainer over a bowl. Let the liquid drain for 30 minutes, then squeeze any excess liquid from the radish and set the radish aside. In a separate small bowl, whisk together the rice flour and 1 cup water to make a slurry. Set aside.
Heat a prepared wok over high heat. Add the coconut oil and when melted, add the minced garlic and ginger and cook until slightly brown and fragrant, about 1 minute. Add the mushrooms and green onions and cook until fragrant, an additional 2 minutes. Add the radish and mix well, then add the preserved vegetable, preserved mustard stems, and sambal and mix to incorporate. Whisk the slurry again and while stirring, add to the wok and thoroughly mix until thickened. Remove from the heat.
Pour the mixture into a standard 9 by 5-inch loaf pan and set aside. Set up a wok half full of water with a steamer basket insert with lid and bring the water to a boil. Place the loaf pan in the steamer, cover, and steam for 2 hours, making sure to add water to the wok as necessary.
After 2 hours, when the cake is solid and firm, remove from the heat and let fully cool. The cake can be wrapped tightly and refrigerated for up to 3 days.
When fully cooled, turn the cake out from the loaf pan. Cut into 1-inch slices, then cut each slice in half crosswise. Heat a large sauté pan over high heat, add the peanut oil, and when the oil starts smoking, carefully lay the squares in the pan (you may need to do this in batches, wiping out the pan and adding new oil each time). Allow to sit in the pan, untouched, until dark golden brown with a slight char, about 2 minutes. Flip and repeat, then remove to a serving platter and set aside.
Heat a prepared wok over high heat. Add the Chilli Oil, then the sliced garlic, and toast for 15 seconds. Add the onion, bell pepper, green onions, chillies, and jalapeño and stir-fry for 60 seconds. Add the stock and stir until most of the liquid has left the pan. Add the XO Sauce (optional) and soy sauce and stir to combine, then remove from the heat and top the cakes with the stir- fry. Garnish with the cilantro and serve immediately.
Notes
**Can be found at your local Asian grocery store or online.
© 2023 World Spice Merchants https://www.worldspice.com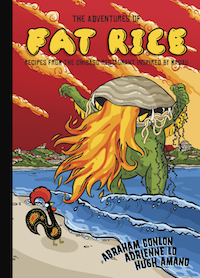 Reprinted with permission from The Adventures of Fat Rice by Abraham Conlon, Adrienne Lo, and Hugh Amano, copyright © 2016. Photography by Dan Goldberg. Published by Ten Speed Press, an imprint of Random House LLC.
The Adventures of Fat Rice is the August 2017 selection for the World Spice Cookbook Club. The Adventures of Fat Rice is currently available for purchase on amazon.com.