Sheng Jian Baozi with Chile Oil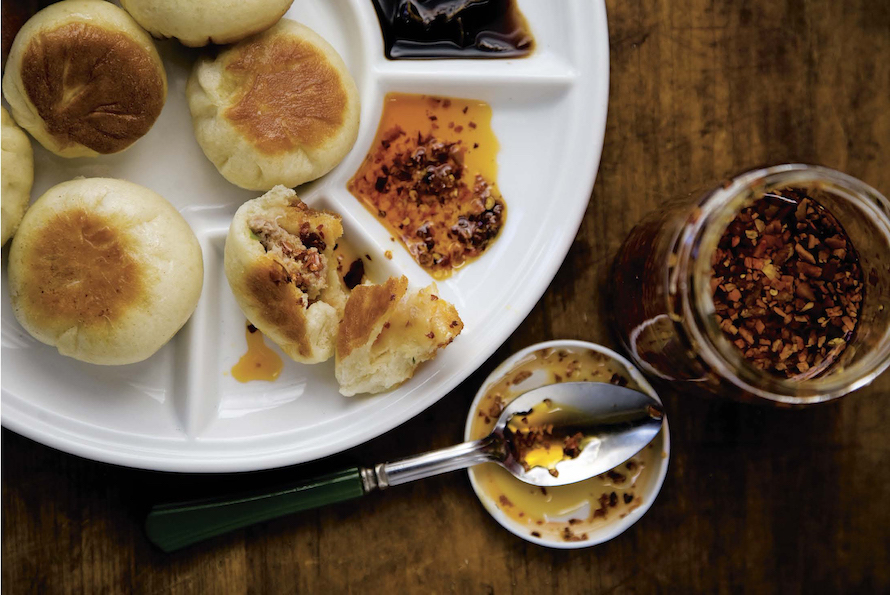 The World Spice Cookbook Club is grilling, steaming and frying at the August 2015 Meet & Eat. We are all cooking from Andrea Nguyen's classic Asian Dumplings: Mastering Gyoza, Spring Rolls, Samosas, and More and her more recent, crazy-popular The Banh Mi Handbook: Recipes for Crazy-Delicious Vietnamese Sandwiches. Sherrie from World Spice Retail is cooking up these mini buns, and we can't wait to try them!
From the author: If you like pot stickers and steamed buns, you'll love these spongy-crisp pan-fried treats from Shanghai, where typically they are cooked in humongous shallow pans (much like large paella pans) with wooden lids. These buns are made of yeast dough that is filled with an aromatic pork mixture and then fried and steamed in a skillet. Cooking under cover with a bit of water delivers plenty of moisture to puff up the buns. Ground beef chuck or chicken thigh can stand in for the pork in this recipe. A bāozi is a mini bāo (bun) and for that reason, I like to keep these true to their name and shape small ones. However, you can elect to form sixteen medium-size (23/4-inch) buns. Roll the dough circles out to 3-1/4 inches in diameter and use about 4 teaspoons of filing for each bun; increase the water and cooking time a tad.
There are several methods for making Chinese yeast dough, some of which employ starters and leavening, such as lye water and ammonium carbonate. Th is dough uses ingredients available at regular American supermarkets, and the results match the best I've experienced in China. Many Asian cooks employ—to great success—a cakey, snowy-white Cantonese-style dough made from low-gluten cake flour or from a quickie flour and baking powder blend. This dough is different; it has more depth, and its loft and resilience comes from combining yeast and baking powder; fast-rising yeast works like a champ. All-purpose flour with a moderate amount of gluten, such as Gold Medal brand widely available at supermarkets, is what I prefer for this dough. Use bleached flour for a slightly lighter and brighter finish.
Used in Chinese, Japanese, and Southeast Asian cooking, chile oil is easy to prepare at home, and it's infinitely better than store-bought. Its intense heat enlivens many foods, especially dumplings, which benefit when chile oil is part of the dipping sauce or used as a garnish. Some cooks add aromatics, such as ginger, star anise, and Sichuan peppercorns, to the oil, but I like to keep the chile flavor pure. While you may use other cooking oils, such as canola oil, my preference is for the kind of peanut oil often sold at Chinese markets, which is cold pressed and filled with the aroma of roasted peanuts. It is texturally light, has a high smoking point, and offers a wonderful nuttiness that pairs well with the intense chile heat. Lion & Globe peanut oil from Hong Kong is terrific. Use just the infused oil or include the chile flakes for an extra brow-wiping experience.
Ingredients
DOUGH
1-1/2 teaspoons rapid-rise (instant) dry yeast
3/4 cup lukewarm water
2 tablespoons canola oil
2 tablespoons sugar
2 teaspoons baking powder
12-1/2 ounces (2-1/2 cups) bleached or unbleached all-purpose flour
FILLING
1-1/4 pounds Basic Yeast Dough, preferably made with unbleached flour
10 ounces fatty ground pork, coarsely chopped to loosen
2 teaspoons minced fresh ginger
1/4 cup finely chopped Chinese chives or scallions (white and green parts)
1/4 teaspoon plus 1/8 teaspoon salt
1/8 teaspoon white pepper
1/2 teaspoon sugar
1 tablespoon light (regular) soy sauce
2 teaspoons Shaoxing rice wine or dry sherry
2 teaspoons sesame oil
1 tablespoon water
1 tablespoon finely shredded fresh ginger
1/4 cup Chinkiang vinegar or balsamic vinegar
Light (regular) soy sauce (optional)
Chile Oil (optional)
3 to 4 tablespoons canola oil
CHILE OIL
1/4 cup dried chile flakes or coarsely ground dried chiles
1 cup peanut (or canola) oil
Instructions
Put the yeast in a small bowl, add the water, and set aside for 1 minute to soft en. Whisk in the oil to blend and dissolve the yeast. Set aside.
To make the dough in a food processor, combine the sugar, baking powder, and flour in the work bowl. Pulse two or three times to combine. With the motor on, pour the yeast mixture through the feed tube in a steady stream and allow the machine to continue running, for about 20 seconds, or until the dough starts coming together into a ball. (If this doesn't happen, add lukewarm water by the teaspoon.) Let the machine continue for 45 to 60 seconds to knead most of the dough into a large ball that cleans the sides of the bowl; expect some dangling bits. Press on the finished dough; it should feel medium-soft and tacky but should not stick to your finger.
To make the dough by hand, combine the sugar, baking powder, and flour in a large bowl. Make a well in the center and pour in the yeast mixture. Slowly stir with a wooden spoon, moving from the center toward the rim, to work in all the flour. (Add lukewarm water by the teaspoon if this doesn't happen with relative ease.) Keep stirring as a ragged, soft mass forms. Then use your fingers to gather and pat the dough together into a ball. Transfer to a work surface and knead for about 5 minutes, or until smooth, fingertip soft , and slightly elastic. (You shouldn't need any additional flour on the work surface if the dough was properly made. Keep kneading and after the first minute or two, the dough shouldn't stick to your fingers. If it does, work in a sprinkling of flour.) Press your finger into the dough; the dough should spring back, with a faint indentation remaining.
Regardless of the mixing method, lightly oil a clean bowl and add the dough. Cover with plastic wrap and put in a warm, draft -free place (for example, in an oven with the light on) to rise for about 45 minutes, or until nearly doubled. The dough is now ready to use.
Though the dough can be left to sit for an hour or so after it has doubled, it's best to have
the filling already prepared, especially if it requires cooking and cooling. Alternatively, punch down the dough, cover with plastic wrap, and refrigerate overnight. Return the dough to room temperature
before using.
To make the filling, combine the pork, ginger, and Chinese chives in a bowl. Use a fork or spatula to stir and mash the ingredients together.
Combine the salt, white pepper, sugar, soy sauce, rice wine, sesame oil, and water in a small bowl and stir to combine well. Pour over the meat mixture, then vigorously stir to create a compact mixture. Cover the filling with plastic wrap and set aside for 30 minutes, or refrigerate overnight, returning it to room temperature before assembling the buns. There should be 1-1/3 cups of filling.
Transfer the dough to a very lightly floured work surface, gather it into a ball if needed,and then pat it to flatten it to a thick disk. Cut the disk in half and cover one-half with plastic wrap or an inverted bowl to prevent drying while you work on the other half.
Roll the dough into a 12 to 14-inch log, and then cut it into 16 pieces. (Halve the log first to make it easier to cut even-size pieces. The tapered end pieces should be cut a little longer than the rest.) Lightly roll each piece between your hands into a ball, then flatten each one into a 1/4-inch-thick disk.
Use a wooden dowel–style rolling pin to roll the pieces into circles, each about 2-1/2 inches in diameter. The rim of each circle should be thinner than the center; keeping a 1-inch wide belly ensures consistent thickness all over the bun. The finished circle will thicken as it sits. Lay the finished circles out on your work surface, lightly dusting their bottoms with flour if you fear them sticking.
Line a baking sheet with parchment paper and lightly dust with flour. To assemble a bun, hold a dough circle in a slightly cupped hand. Use a bamboo spatula, dinner knife, or spoon to center about 2 teaspoons of filling on the dough circle, pressing down very gently and keeping about 1/2 to 3/4 inch of the dough clear on all sides. Use the thumb of the hand cradling the bun to push down the filling while the other hand pulls up the dough edge and pleats and pinches the rim together to form a closed satchel. Pinch and twist to completely close. Place the bun, pleated side down, on the baking sheet. Repeat with the remaining dough circles and filling. Loosely cover the buns with plastic wrap and let rise in a warm, draft-free spot for 30 minutes, or until about 50 percent larger than their original size. Meanwhile, make buns from the remaining dough and filling.
While the buns rise, divide the ginger and vinegar between 2 bowls. Taste and if the vinegar is too tart, add water by the teaspoon. Set these at the table along with the soy sauce and chile oil for guests to mix their own sauce.
To pan fry the buns, use a medium or large nonstick skillet; if both sizes are handy, cook 2 batches at the same time. Heat the skillet(s) over medium heat and add 1 tablespoon of canola oil for a medium skillet and 1-1/2 tablespoons for a large one. Add the buns one at a time, arranging them, pleated side up, 1/2 inch apart; they will expand during cooking. (In general, medium skillets will fit 8 or 9 buns; large skillets will fit 12 or 13 buns.) Fry the buns for 1 to 2 minutes, until they are golden or light brown on the bottom. Gently lift to check the color.
Holding the lid close to the skillet to lessen the spattering effect of water hitting hot oil, add enough water to come up the side of the buns by 1/4 inch, about 1/4 cup. The water and oil will sputter a bit. Cover with a lid or aluminum foil, placing it very slightly ajar to allow steam to escape, so condensation doesn't fall on the buns and perhaps cause their collapse. Let the water bubble away until it is mostly gone, about 6 minutes.
When you hear sizzling noises (a sign that most of the water is gone), remove the lid. Let the dumplings fry for about 1 minute, until the bottoms are brown and crisp. At this point, you can serve the buns, crisp bottoms up like pot stickers. Or, you can use chopsticks to flip each bun over (separate any that are sticking together first) and then fry the other side for about 45 seconds, or until golden.
Turn off the heat, wait for the cooking action to cease, and transfer the buns to a serving plate. Display them with a golden side up. Serve with the gingered vinegar, chile oil, and soy sauce. Eat these buns with chopsticks—they're a little greasy on the fingers.Reheat left overs with some oil and water in a nonstick skillet, as you would a pot sticker.
To make chile oil, put the chile flakes in a dry glass jar.
Attach a deep-fry thermometer to a small saucepan and add the oil. Heat over medium-high heat until smoking hot (the temperature will top 400°F) and remove from the heat. Wait 5 to 7 minutes for the temperature to decrease to 325° to 350°F (drop a chile flake in and it should gently sizzle), and then pour the oil into the glass jar. The chile flakes will sizzle and swirl and then settle down.
Cool completely before covering and storing. Give it a couple days to mature before using. Chile oil keeps for months in the cupboard.
© 2023 World Spice Merchants https://www.worldspice.com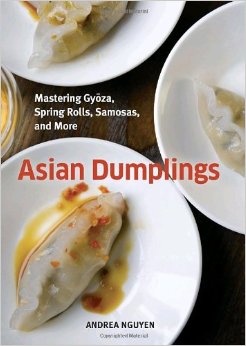 Asian Dumplings: Mastering Gyoza, Spring Rolls, Samosas, and More is one of the August selection for the World Spice Cookbook Club. Asian Dumplings: Mastering Gyoza, Spring Rolls, Samosas, and More is currently available for purchase at our retail store.
Reprinted with permission from Asian Dumplings by Andrea Nguyen. Copyright © 2009 Published by Ten Speed Press, a division of Random House, Inc. Photography © 2009 by Penny De Los Santos