Vegan Richa's Instant Pot Fried Rice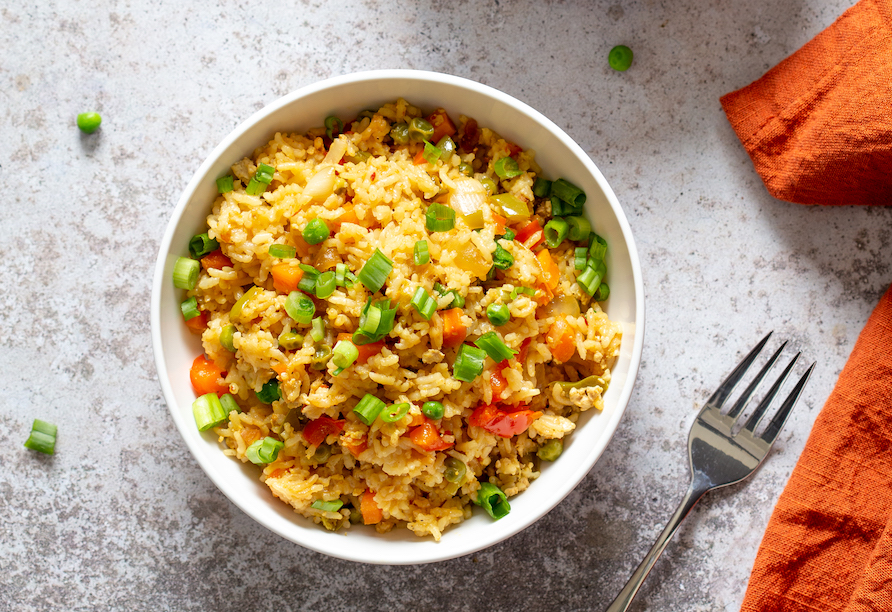 Fried rice is an easy satisfying meal and using an Instant Pot makes it even easier for days when we are short on time. It is also a great way to use up any leftover vegetables. Richa's recipe is a good "basic" fried rice recipe that allows for creativity with spices and ingredients.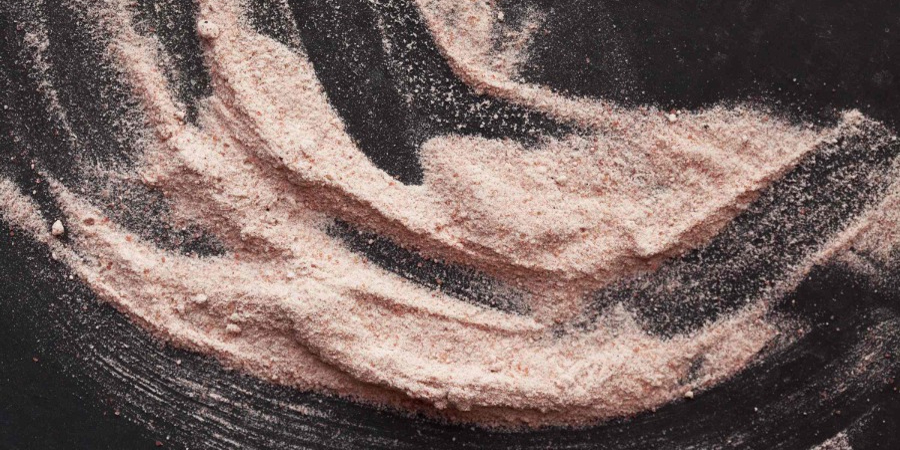 In Vegan Richa's recipe you won't miss the egg! Tofu mimics the egg, and it gets its "eggy" flavor from a secret ingredient- Indian black salt. This complex mineral compound has a rich sulfur content that blooms when cooked into a delicious umami flavor.
Ingredients
Rice
1-1/2 cups (280 g) uncooked long-grain white rice
2 teaspoons safflower or sunflower oil
1 small red onion, chopped (about 3/4 cup [120 g])
3 to 4 garlic cloves, finely chopped (1-1/2 - 2 teaspoons)
3 scallions, white and green parts separated, chopped (reserve greens for garnish)
Pinch of salt
Tofu Egg
Sauce and Vegetables
1-1/2 teaspoons grated fresh ginger
2-1/2 tablespoons soy sauce
2 teaspoons sambal oelek or other Asian chile sauce
1 teaspoon toasted sesame oil
1/4 teaspoon salt
Generous pinch of freshly ground black pepper
Generous pinch of ground white pepper
1/2 cup (90 g) thinly slices or finely chopped green bell pepper
1/2 cup (90 g) thinly sliced or finely chopped red bell pepper
3/4 cup (95 g) chopped carrot
1 cup (180 g) frozen vegetables, such as carrots, beans, or green peas, thawed for 15 minutes, or finely chopped fresh vegetables
1/2 cup (70 g) fresh or thawed frozen green peas
1-1/2 cups (355 ml) plus 2 tablespoons water
Instructions
For the rice, rinse the rice and soak in warm water for at least 15 minutes while you begin the recipe.
Preheat the Instant Pot by selecting the Sauté setting. Heat the oil in the preheated pot for a few seconds, then add the onion, garlic, scallion whites, and salt and cook, stirring frequently, until the onion is translucent, about 2 minutes.
For the tofu egg, crumble the tofu into a large bowl, add the garlic powder, black salt, onion powder, and turmeric if using, and toss to coat the tofu in the spices.
Move the cooked onion mixture to one side of the pot. Add the spiced tofu and cook for 1 minute. Then remove the tofu and set aside.
For the sauce and vegetables, add the ginger, 2 tablespoons of the soy sauce and the sambal oelek, sesame oil, salt, black pepper, and t=white pepper to the pot and mix well. Cook, stirring frequently, for 30 seconds, or until heated through. transfer half the mixture from the pot to a bowl and set aside.
Add the bell peppers, carrot, frozen vegetables, and 1/4 cup (35 g) of the peas to the sauce in the instant Pot and mix well. Drain the rice and add it to the pot. Add the water and give it a good stir to pick up any stuck bits. Select the Cancel setting
Lock the lid into place, set the Pressure Release Knob to Sealing, select the Pressure Cook/Manual setting at high pressure, and set the cook time to 5 minutes.
Once the cooking cycle is done, let the pressure release naturally for 10 minutes, then carefully set the Pressure release Knob from sealing to Venting to release any remaining pressure.
Open the lid and stir in the remaining 1-1/2 teaspoons of soy sauce. Fluff the rie well with a spatula or fork, making sure to get to the bottom of the pot. Add the reserved tofu mixture and peas. Taste for seasoning, adjusting if needed. Transfer from the pot to a serving dish (keeping the rice in the warm pot will continue to cook and compact it.)
Garnish with the scallion greens. The fried rice will keep, refrigerated, for up to 3 days.
Notes
- If you increase the amount of vegetables, also increase the soy sauce, sesame oil, and sambal oelek.
Variations:
- Dump-and-done fried rice: After heating the oil in the first step, add the onion, ginger, and garlic and cook for 1 minute. Add  the remaining ingredients, omitting the spice-coated tofu egg, to the pot and mix well to combine. Pressure cook as instructed.
- Extra eggy flavor: Sprinkle in additional Indian black salt while fluffing the rice.
- Curry it up: Add 2 to 3 tablespoons of red or green curry paste.
- Gluten-free: Use tamari instead of the soy sauce.
- Soy-free: Use coconut aminos instead of the soy sauce, and Chickpea Flour Tofu.
© 2023 World Spice Merchants https://www.worldspice.com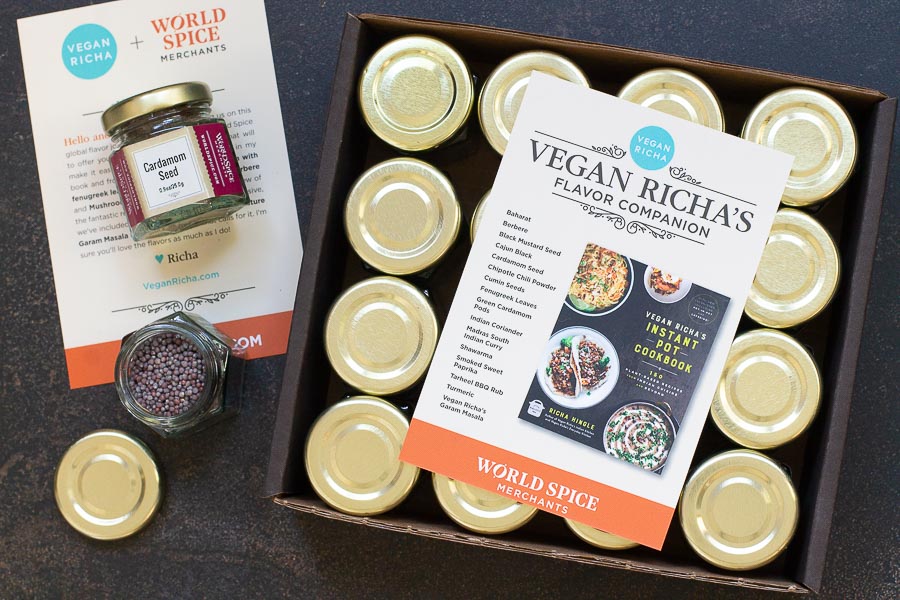 Looking for the spices used in this recipe and the cookbook? We worked with local author Richa Hingle to make this great gift set that contains both Vegan Richa's Instant Pot Cookbook and its Flavor Companion. This boxed set of sixteen spices and blends will give you what you need to start cooking from this wonderful cookbook written by a longtime user of our spices. Whether you're new to using an Instant Pot™ or have been using one for years, Vegan Richa's Instant Pot Cookbook will help you both save time, as well make delicious meals with hearty flavors no matter what day of the week. Have allergies or are on a special diet? Using a wide range of global cuisines, her recipes also have many adaptations and swaps for those.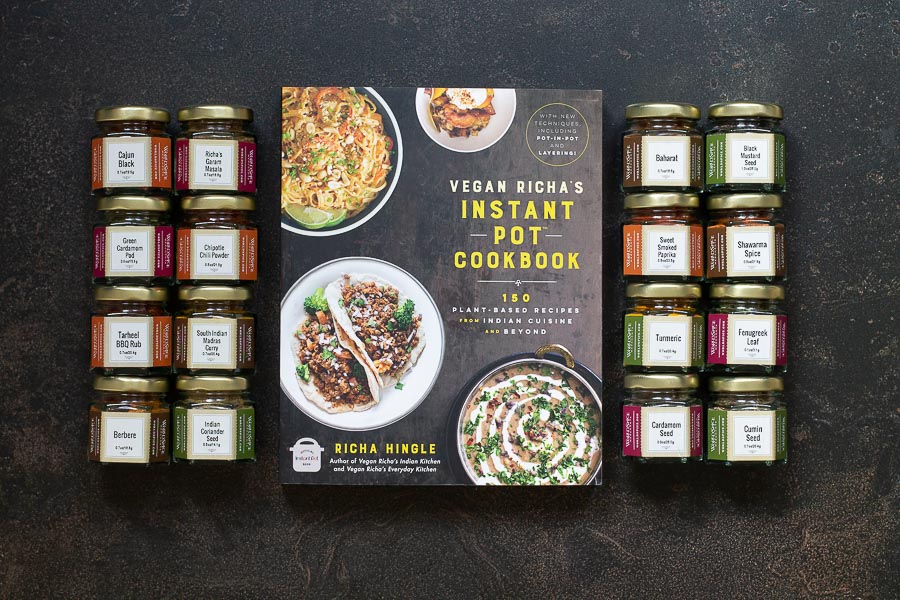 Richa Hingle is a longtime World Spice Merchants customer, as well as a prolific and award winning recipe developer, blogger, and photographer based here in Seattle. The recipes she has on VeganRicha.com are easy to follow, with step-by-step photos so that even the novice vegan cook can make delicious food. She loves to show people how easy it is to cook vegan Indian or other cuisines, which are allergy friendly and have gluten-free and soy-free options. Her latest cookbook is Vegan Richa's Instant Pot™ Cookbook which has many adaptations, swaps for allergies and special diets, full nutritional information, and will become your go-to guide for healthful, flavor-forward meals that are a breeze to get to the table.