Turmeric Silk Pie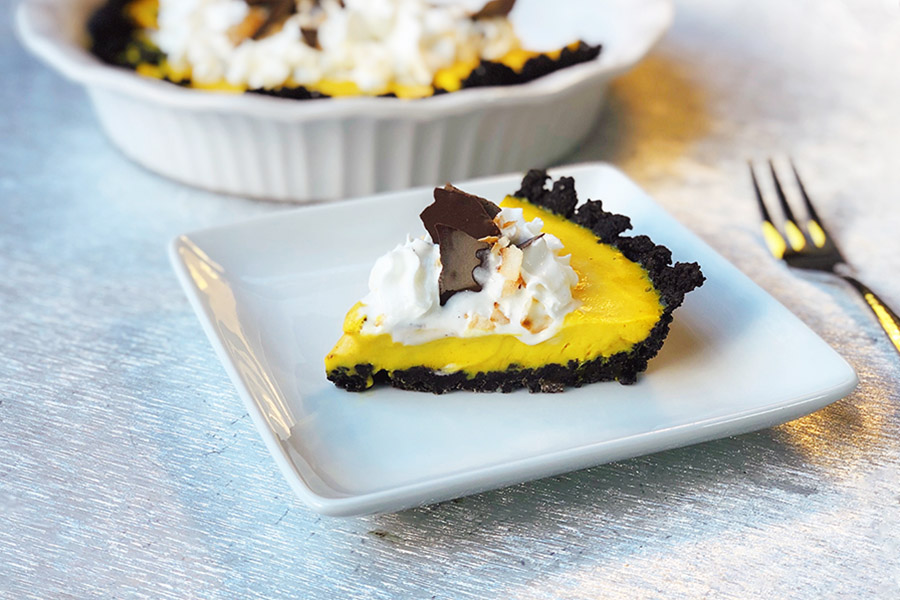 Spicy, fruity, and chocolatey, this stunning pie is a surefire conversation starter. Its striking color comes from the addition of turmeric to the white chocolate filling, which creates a beautiful contrast with the dark chocolate crust.
This pie takes a few hours to set, so you'll want to prepare it ahead of time, and your crowd will thank you for doing so! This pie is full of textures and rich flavor, sure to please everyone. You won't find any eggs, nuts or dairy, either, so it's perfect for a family with allergies or to bring to a pot luck.
Ingredients
Filling:
12 ounces white chocolate chips or vegan white chocolate chips
1 teaspoon vanilla extract
10 ounces silken tofu, drained
1 teaspoon turmeric
1/2 teaspoon Kosher salt
Chocolate wafer crust:
22 Oreo cookies with filling removed and discarded, or 44 chocolate wafer cookies
1 tablespoon sugar
1/2 teaspoon Indonesian cinnamon
3 tablespoons coconut oil, melted
Instructions
Chocolate Wafer Crust:
Preheat oven to 350 degrees.
Using a food processor, grind cookie wafers, cinnamon and sugar into fine crumbs. Slowly add melted coconut oil and pulse to combine.
Press mixture into a 9-inch pie pan and up the sides to create an edge.
Bake pie crust for 12 minutes and set aside.
Filling:
Add the white chocolate to a microwavable bowl and microwave, stirring every 15 seconds until the white chocolate is melted and smooth. It should take about a minute and a half, but be careful not to scorch the white chocolate chips.
Add vanilla, silken tofu, turmeric, salt and melted white chocolate to a blender. Blend until smooth and scrape sides.
Pour the filling into baked crust and refrigerate for 3 hours until set firm.
Garnish pie with whipped cream, toasted coconut and chocolate shavings.
Notes
This pie freezes well. If you live somewhere warm pop it in the freezer 30 minutes before digging in for easier slicing. 
© 2023 World Spice Merchants https://www.worldspice.com