Buddha Bowl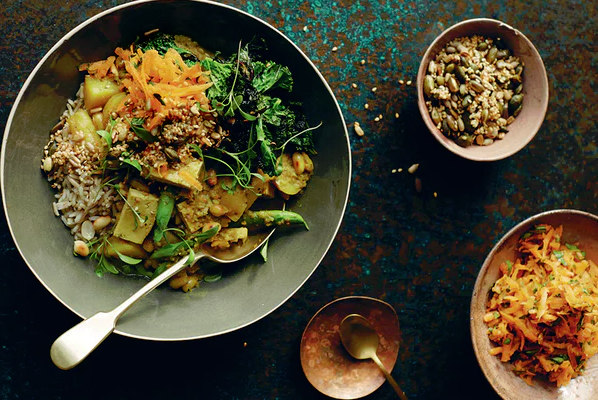 This Buddha Bowl from "a modern way to cook" by Anna Jones is chock full of good-for-you things and a rich curry, fragrant with a homemade curry paste and peanuts, all served over over brown basmati rice, then topped with freshly pickled carrots, crispy kale, and toasted seeds.
From the Author: "This all comes together in 45 minutes, but you do need to stay on top of a few things at once. The list of ingredients may look long, but I promise this is simple to make. You can also make a double batch of the paste and freeze some."
Ingredients
For the paste:
For the curry:
17 ounces/500 g new potatoes
sea salt
5 ounces/150 g unsalted peanuts
1 (14 ounce /400 g)can of coconut milk
2 tablespoons tamarind paste
1 tablespoon runny honey
7 ounces/200 g green beans, trimmed
7 ounces/200 g firm tofu
2 slices of fresh pineapple
The rest:
Instructions
Fill and boil a kettle of water and get all your ingredients and equipment together. You'll need a small food processor or blender for the paste, a couple of large saucepans, and a frying pan.
Keeping the skins on, chop the potatoes into 1/2 to 1 inch/1 to 2 cm chunks. Put them into a pan, cover with boiling water, add some salt, then bring to a boil and cook until tender - this should take about 5 minutes.
Put your brown rice into another pan with twice its volume of cold water, some salt, and a dollop of coconut oil and put over high heat to boil for 20 to 25 minutes. Keep an eye on the rice while you do your other jobs, making sure it doesn't boil dry.
Next, make the paste. Toast the fennel, coriander, cardamom, and peppercorns in a dry pan for a couple of minutes, then put into a food processor with all the other ground spices and the chile flakes. Coarsely chop the peeled ginger and shallot, discard the tough outer layer of the lemongrass and chop the inner stalk, then add it all to the processor. Cut the stalks off the cilantro and add these with the garlic. Add a couple of tablespoons of coconut oil and blend on high until you have a paste.
Heat a large pan over high heat, then add the peanuts and stir for a minute before adding the paste. Fry for a couple of minutes more, then add the coconut milk, tamarind, honey, and a good pinch of salt. Drain the potatoes, add them to the sauce, and cook for 5 to 10 minutes, until it's a good consistency.
To make a quick pickle, grate the carrots into a bowl and add the zest and juice of a lime, a squeeze of honey, a splash of vinegar, and a pinch of salt. Finely chop the cilantro leaves and add to the bowl, then put to one side.
Use the pan you toasted the spices in to pan-fry the kale over medium heat in a little coconut oil, adding some salt and black pepper, until wilted but starting to crisp.
Once the potatoes have had 5 minutes in the sauce, add the green beans. Cut the tofu into 2/4 inch/2 cm lengths, then cut the pineapple into pieces about the same size, discarding the skin. Add both to the curry and simmer for a few minutes, topping up with hot water if the curry is getting dry.
Once the rice and the curry are ready, ladle the rice into bowls and top generously with the curry. Finish off with a pinch of carrot pickle, some kale and a sprinkling of seeds.
© 2023 World Spice Merchants https://www.worldspice.com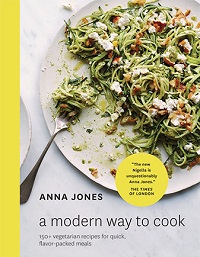 a modern way to cook is the February 2017 selection for the World Spice Cookbook Club. a modern way to cook is currently available for purchase on amazon.com.
Recipes from a modern way to cook © 2016 by Anna Jones. Photography by Matt Russell. Published by Ten Speed Press. All rights reserved.