Massaman Curry
February 9, 2016
/
4 to 6 servings
/
/
Print
/
At our February Cookbook Club Meet & Eat, we're trying recipes from all across Asia, courtesy of Lucky Peach Presents 101 Easy Asian Recipes. The book features a mouthwatering lineup of dishes, like this recipe for Massaman Curry features coriander, turmeric, star anise, and cassia alongside fresh ginger and lemongrass.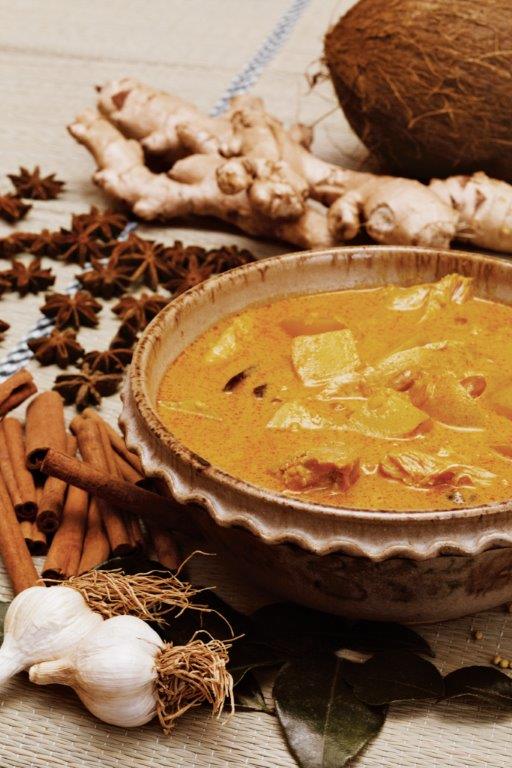 You'll find this and other great recipes in the February Cookbook Club Selection: Lucky Peach Presents 101 Easy Asian Recipes.
Ingredients
1 stalk lemongrass
2 tablespoons neutral or coconut oil
1 small onion, chopped
2 tablespoons minced garlic
2 tablespoons minced fresh ginger
¼ cup red curry paste
1 teaspoon coriander, ground
½ teaspoon turmeric
3 whole star anise
2 kaffir lime leaves (optional, but very nice if you can find them)
1 cinnamon stick (3")
1 can (14 oz) coconut milk
2 cups water
1½ pounds chicken thighs
2 teaspoons kosher salt
1 pound Yukon Gold potatoes
½ cup roasted unsalted peanuts
1 tablespoon fish sauce
1-2 tablespoons lime juice
palm or brown sugar
cooked rice, for serving
Instructions
Smash the lemongrass with the back of a knife at ½-inch intervals, then bend the stalk and tie it in a knot. This will help release the flavor of the lemongrass.
Heat the oil in a large Dutch oven over medium heat. Add the onion, garlic, and ginger and sweat until aromatic and softened, about five minutes. Add the curry paste, coriander, and turmeric and stir to coat the vegetables in the paste. Once incorporated, toss in the star anise, lime leaves (if using), cinnamon and lemongrass. Stir in the coconut milk and water and bring to a simmer. Add the chicken and simmer, uncovered, for 20 minutes. Add the potatoes and peanuts and cook until tender, about 25 minutes longer.
Remove the star anise, cinnamon, lime leaves, and lemongrass and discard. At this point the curry may be cooled and refrigerated for up to 2 days. (Reheat over medium-low heat, stirring frequently to avoid scorching.)
Stir the fish sauce and lime juice into the curry, then adjust the seasoning with sugar and salt. Serve with rice.
© 2023 World Spice Merchants https://www.worldspice.com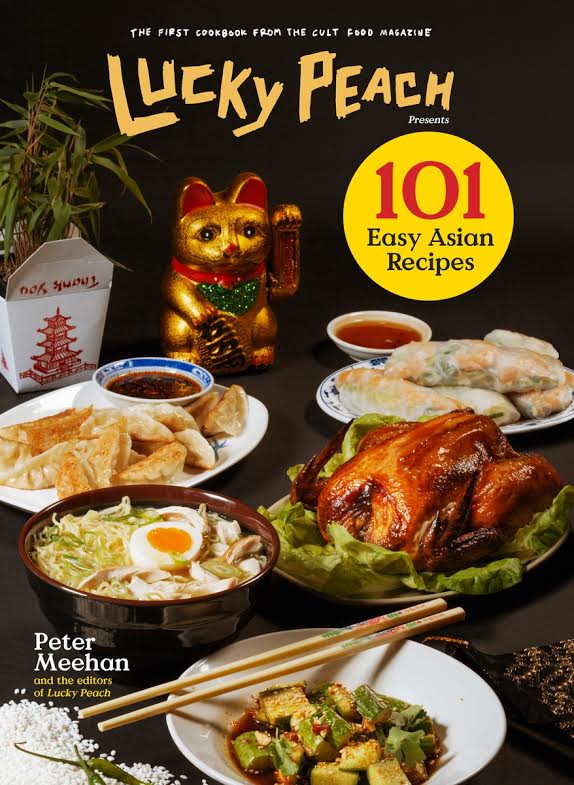 Lucky Peach Presents 101 Easy Asian Recipes is the February 2016 selection for the World Spice Cookbook Club. Lucky Peach Presents 101 Easy Asian Recipes is currently available for purchase at our retail store and online.
Reprinted with permission from Lucky Peach Presents 101 Easy Asian Recipes published in 2015 by Clarkson Potter. Text © 2015 Lucky Peach, LLC; Photography © 2015 Gabriele Stabile. All rights reserved.