World Spice Birthday Cake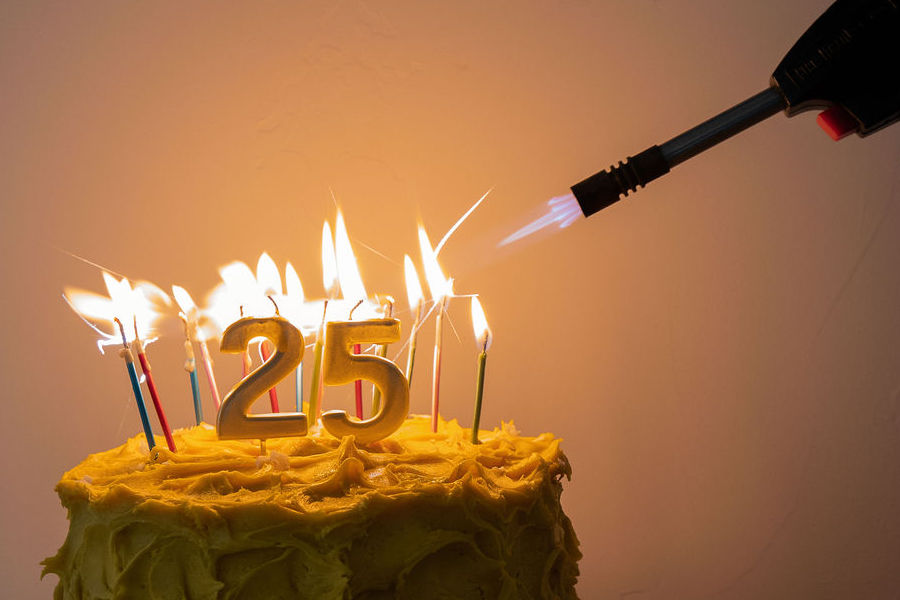 Let's see….how do you celebrate a quarter century milestone 2020 style? Go with the flow! This cake has all the flavor worthy of a 25th birthday spice cake and all the ease that comes with working with what's at hand. We spiced everyday cake mix with our Roast Chai blend and added turmeric to a delicious tub of frosting to take it over the top. Coconut orange curd made up the filling of this 5 tier tower of sweet, bold flavor. You only turn 25 once, and it was a fun cake to make. We hope you are inspired to make this or use what you have on hand to experiment with your own version, because sneaking in spice into any celebration should be delicious and easy. Enjoy!
Ingredients
Cake
Betty Crocker Super Moist White Cake Mix - 16.25oz
1-1/4 cup water
1/3 cup vegetable oil
3 whole eggs
2 tablespoons roasted masala chai, ground
Coconut Orange Curd
2 teaspoons orange zest
1/4 cup orange juice
1 teaspoon lemon juice
1/2 teaspoon turmeric
3/4 cup Coco Lopez
1 cup white sugar
1 cup shredded coconut
6 egg yolks, beaten
1 stick unsalted butter
1/2 teaspoon kosher salt
Icing
Betty Crocker Rich and Creamy Cream Cheese Frosting - 16oz
Betty Crocker Rich and Creamy Vanilla Frosting - 16oz
1 tablespoon turmeric
Garnishes
2 cups toasted shredded coconut
Birthday Candles
Instructions
Prepare the cake mix as directed on the box adding the water, vegetable oil, eggs and stirring in the ground Roast Chai. Bake as directed on the box. We used 5 layer cake pans that were the perfect size for this boxed cake mix. Spray the pans liberally and distribute the batter evenly, then bake and cool the cake layers.
Coconut Orange Curd
Combine orange zest and citrus juice in a medium saucepan.
Add remaining ingredients, except the shredded coconut, and heat over medium-low heat, stirring constantly with a whisk..
After about 3 - 5 minutes, the mixture should start to simmer.
Once bubbling, simmer for 2 minutes on low while constantly stirring until the mixture starts to thicken.
Remove from heat and pour in wide container immediately. Cover the curd with plastic wrap, gently pressing it down directly on the curd, so that it doesn't develop a skin while cooling. Store in an airtight container in the refrigerator. Let the curd chill completely before using.
Frosting
Add the container of cream cheese frosting and vanilla frosting into bowl or Kitchen Aid mixer. Add the turmeric, then whisk the turmeric in until fully incorporated and bright yellow.
Assembly
Using a large serrated knife, slice a thin layer off the tops of the cakes to create a flat surface, then discard. For easy clean up and decorating, add a cardboard round as the base for the cake for easy transfer. Add parchment below the the cardboard so its easy to pull out. This will protect your stand from any debris while decoration.
Place the first cake layer on your cake stand or serving plate. Evenly cover the top with about a quarter inch of curd leaving about a half inch free around the edges. Repeat with every cake layer while stacking each cake on top to create a tower. On the final cake layer turn it bottom side up so the top of the cake is as flat as possible. Refrigerate the cake for 1 hour before frosting. The curd will harden further and glue the layers together so the cake is sturdy when you frost it. To finish the cake evenly, spread a thin layer of frosting all over using a cake spatula and refrigerate for 30 minutes to set the crumb layer. Finally, add the remaining frosting while doing a wave motion all over the cake to create a textured look. Sprinkle the cake toasted shaved coconut on the bottom edges of the cake as a garnish and top with birthday candles. Remove parchment from the edges to reveal a clean stand or plate.
Notes
We used a 5 layer cake pan set 6 inches x 0.75 inches high
Feel free to use yellow cake or chocolate cake mix of your choice. 
While making curd its importantly to always stir on medium low so the mixture doesn't curdle from over cooking.  
© 2023 World Spice Merchants https://www.worldspice.com