Golden Turmeric Granola with Dried Berries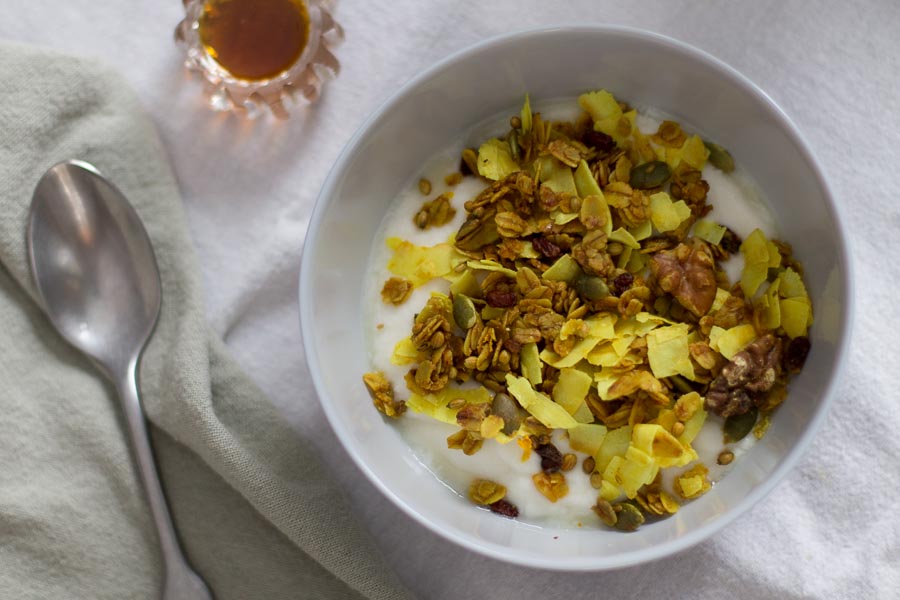 Start your day with this powerhouse of nutrition and flavor. We've infused coconut oil with turmeric and star anise to turn everyday granola into a beautiful ambrosia with whole Indian coriander seeds and tart dried fruit. There are no limits to what you can do with this fancy cereal! Use our Golden Turmeric Granola as a base for dessert crusts or energy bars and enjoy every bite. It really is about more than just the looks. The unexpected flavor of Indian coriander is delightful and the little pops of barberries are so welcome! Not too big or chewy like some dried fruits, the barberries are just the right size and flavor. If you don't have any barberries, you can chop up dried cranberries for the same flavor.
Ingredients
3/4 cup solid unrefined coconut oil
2 tablespoons turmeric
2 tablespoons cracked star anise
1/2 cup honey
4 cups rolled oats
1 cup coarsely chopped walnuts
1/2 cup pumpkin seeds
1/2 cup Indian coriander seeds
1-1/2 teaspoons kosher salt
1-1/2 cups large flake coconut, unsweetened
1/2 cup barberries, dried blueberries or chopped dried cranberries
Zest of 1 orange
Instructions
Preheat the oven to 325 degrees.
Prepare two sheet pans lined with parchment and set aside.
In a medium saucepan over low heat, combine the coconut oil, star anise and turmeric.
Warm gently for 20 minutes and strain through a mesh sieve.
Return the coconut oil to the saucepan and add the honey.
In a large bowl, combine the oats, walnuts, pumpkin seeds, Indian coriander and kosher salt. Stir to combine.
Put the coconut flakes in a separate, smaller bowl.
Pour most of the coconut oil and honey mixture over the oat mixture, reserving about 2 tablespoons to coat the coconut flakes. Add the reserved coconut oil and honey to the coconut.
Spread the oat mixture on one sheet pan and the coconut on the other.
Bake the oat mixture 35-40 minutes, stirring once at the 20 minute mark. Check for doneness every 10 minutes thereafter. When the granola is golden and fragrant, remove it from the oven. Be careful not to overcook. The granola won't be crunchy when you remove it from the oven, but will crisp as it cools on the sheet pan. After you remove the granola from the oven, toast the coconut for 5-7 minutes until golden and slightly browned.
Zest the orange over the warm granola and add the barberries or chopped dried cranberries and coconut flakes. Allow the granola to cool on the pan. Mix the layers and store in an airtight container.
Notes
We love the sweet and salty character of this Golden Turmeric Granola but feel free to dial back the salt to 1 teaspoon, if preferred.
© 2023 World Spice Merchants https://www.worldspice.com