Pomegranate Ash with Meatballs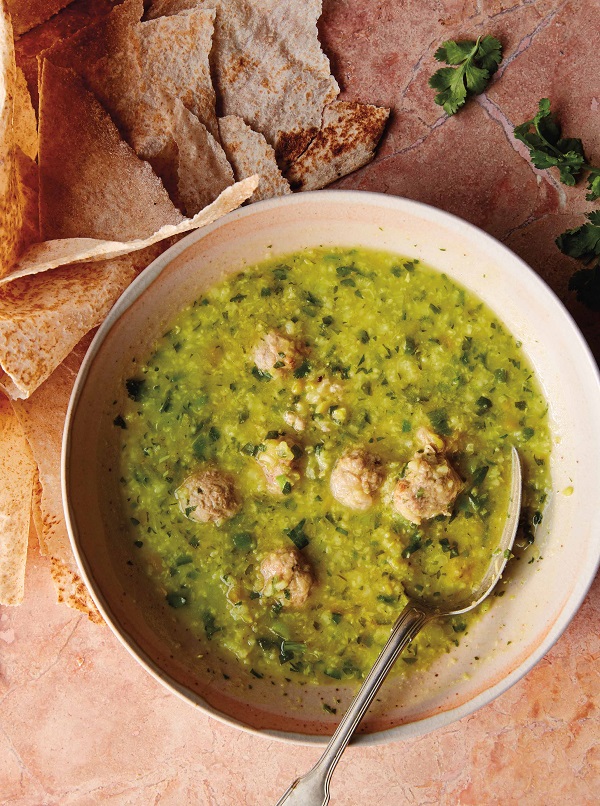 The countries in the Persian culinary region are home to many religions, languages, cultures and politics. In culinary traditions, however, they have a deep love for food that has tart flavors and is fresh and colorful. You'll find fresh herbs at every meal and colorful ingredient used such as pomegranates and saffron. Naomi Duguid's latest book  Taste of Persia shows us through delicious recipes and fascinating stories how diverse and wonderful this region is. To find out more about Naomi Duguid's other great cookbooks and her culinary travels around the world, go to Naomi Duiguid's website.
From the author: "Ash is at the heart of Persian home cooking, a category of slow-cooked sustaining soups that are welcoming, subtle, and rewarding for cooks and eaters alike. The soups are also flexible: You can make substitutions, as long as they stay within the feel of the original. This ash is an inviting blend of legumes and rice, flavored with little lamb meatballs. A crowd-pleaser. Like most ash recipes, this one looks long, but please don't be dismayed. Yes, it takes some time to cook, but it's a carefree kind of thing to make: Start it on a weekend afternoon and then set it aside until shortly before you want to serve it. Or make it a day ahead, and reheat it to serve. Just make sure it comes to the table hot."
Ingredients
¼ cup sunflower or extra-virgin olive oil
1 onion, sliced
½ teaspoon ground cassia (cinnamon)
½ teaspoon turmeric
¾ cup short-grain rice or broken jasmine or basmati rice (see Note), washed and drained
¾ cup dried split peas, soaked in water for an hour (or as long as 12 hours) and drained
8 to 10 cups water, or as needed
¼ pound scallions, trimmed and finely chopped
2 bunches flat-leaf parsley, leaves and tender stems, finely chopped (about 2 cups)
2 bunches coriander (cilantro), leaves and stems, finely chopped (about 2 cups)
1 bunch mint, leaves finely chopped (about 1 cup)
1½ tablespoons sea salt, or to taste
4 to 6 tablespoons pomegranate molasses, to taste
Meatballs
Toppings
About ¼ cup sunflower or extra-virgin olive oil
2 tablespoons dried mint
1 cup thinly sliced onion
Instructions
To make the soup, place the oil in a large heavy pot over medium-high heat, toss in the onion, cassia, and turmeric, and cook until the onion is translucent, 4 to 5 minutes.
Add the rice, drained split peas, and 8 cups water, raise the heat, and bring to a boil, then lower the heat to maintain a strong simmer and cook for 1 to 1-1/2 hours, or until the split peas are tender.
While the soup is cooking, make the meatball mixture: Mix the onion thoroughly with the lamb. Mix in the salt and pepper.Set aside, covered, in the refrigerator.
Add the scallions, parsley, coriander, and mint to the soup and simmer for 30 minutes. Add another cup or two of water to thin it, as you wish, and bring back to a strong simmer.
Add the salt and 4 tablespoons pomegranate molasses and stir. Taste and add a little more pomegranate molasses if you like.
Make the meatballs about 15 minutes before you want to serve: Scoop up about a heaped teaspoon of the meat mixture for each and roll it into a ball between your wet palms, then drop it into the soup.
Let the soup continue to simmer while you make the toppings.
Pour 2 tablespoons of the oil into a small skillet and heat over medium-high heat. Toss in the dried mint and immediately remove from the heat; it will fizz up a little. Set aside in a small bowl.
Heat the remaining 2 tablespoons oil in the skillet over high or medium-high heat, add the sliced onion, and fry until starting to brown and crisp, about 6 minutes. Set aside on a plate.
Ladle the hot soup into individual bowls, making sure to serve several meatballs in each, and top with a drizzle of mint oil, and with a sprinkling of fried onions if you wish.
Notes
NOTE: Short-grain rice or broken rice will break down more easily than long-grain rice as it cooks, and the starch from the rice helps thicken the soup.

© 2023 World Spice Merchants https://www.worldspice.com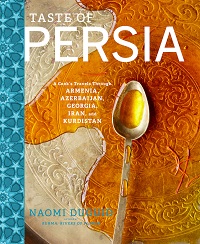 Excerpted from Taste of Persia by Naomi Duguid (Artisan Books). Copyright © 2016. Photographs by Gentl & Hyers.
Taste of Persia is the October 2017 selection for the World Spice Cookbook Club. Taste of Persia is currently available for purchase at our retail store and online.