Roselle-Rooibos Drink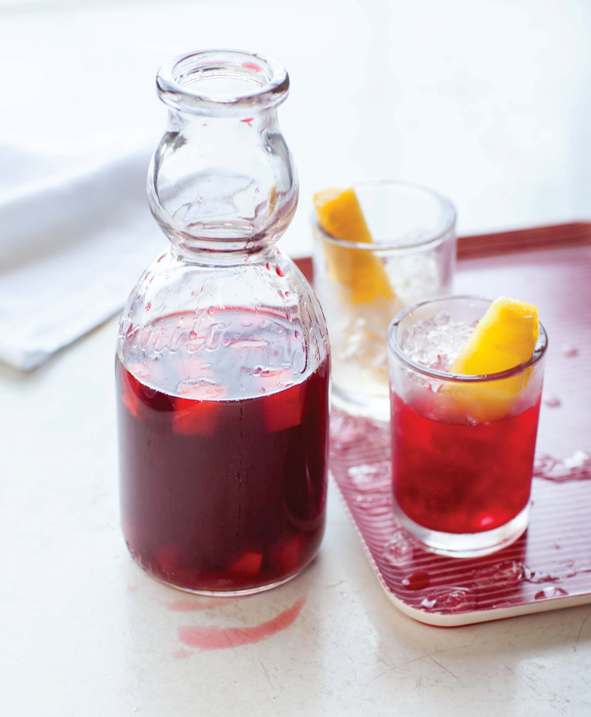 Afro-Vegan  by Bryant Terry is the  World Spice Cookbook Club selection for May, and we'll be serving up his delicious Roselle-Rooibos drink at the Meet & Eat.
From Bryant Terry author of Afro-Vegan: "This drink is tart, sweet, and floral and has become one of my favorite summertime beverages. In this recipe, I call for fresh pineapple to give the drink texture and vibrant tropical flavor, but when my editor, Melissa Moore, brought me a bag of fresh peaches from the farm of Mas Masumoto, I peeled, sliced, and used them in place of the pineapple. It was off the chain! I think any other stone fruit, such as nectarines or cherries, would also work well and I encourage you to experiment with adding them.
For a late fall or winter spin, serve this drink warm, omitting the fresh fruit and boiling the tea and hibiscus with 1/4 teaspoon whole cloves, in a nod to how roselle is prepared in Trinidad and Tobago."
Ingredients
6 1/2 cups water
2 (2 inch) cinnamon sticks
6 tea bags or 3 tablespoons roobios tea
2 cups dried hibiscus flowers
1/4 cup fresh squeezed orange juice
1 cup agave nectar
2 cups cubed fresh pineapple, in 1-inch chunks, plus 6 spears
Ice for serving
Instructions
Put the water and cinnamon in a medium saucepan. Bring to a boil over high heat, then boil for 2 minutes.
Add the rooibos, hibiscus flowers, orange juice, and agave nectar and mix well.
Immediately remove from the heat, cover, and let stand for 30 minutes.
Uncover and let cool to room temperature.
Strain through a fines-mesh sieve into a pitcher, pressing down on the solids to extract as much liquid as possible. (Compost the solids.)
Add the pineapple chunks and refrigerate for at least 8 hours or overnight.
© 2023 World Spice Merchants https://www.worldspice.com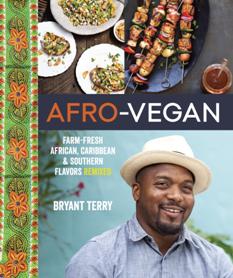 Afro-Vegan: Farm Fresh African, Caribbean & Southern Flavors Remixed is the May selection for the World Spice Cookbook Club. Afro-Vegan is currently available for purchase at our retail store and also online through the following sellers:  Amazon.com, BarnesandNoble.com, Powells.com, IndieBound.org.
Reprinted with permission from Afro-Vegan by Bryant Terry, copyright (c) 2014. Published by Ten Speed Press, a division of Penguin Random House, Inc. Photography (c) 2014 by Paige Green