Tagged With:
Hibiscus
Celebrate Cinco de Mayo like never before with this delicious cocktail. The hibiscus infuses a deep rich red color to this libation… Add a slice of lime and Sel de Mer to the rim of your glass and you have the colors of the Mexican flag!   Almost cranberry in flavor, it's got a "zing" that is enhanced by using silver tequila and the homemade spiced simple syrup.  Tune in to the mariachi station on Pandora while you whip these up for an absolute fiesta!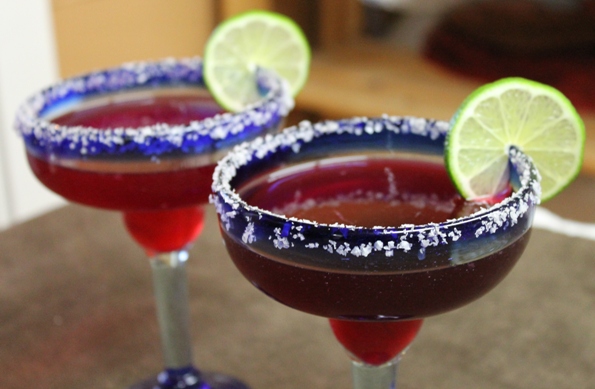 Ingredients
Margarita

3 ounces silver tequila
1/2 lime, juiced
2 ounces Hibiscus Syrup
Ice

Hibiscus Spiced Simple Syrup

2 cups water
2 cups white sugar
4 cloves
1 teaspoon chopped ginger
1/4 cup hibiscus
Instructions
For the Hibiscus Spiced Simple Syrup

Place all the ingredients in a medium sized pot
Bring to boil over medium-high heat
Reduce heat to medium-low and simmer for 20 minutes
Strain and pour into jar. Allow to cool to room temperature
Once cooled, place in refrigerator. Your syrup will keep in the refrigerator for a couple of weeks

For the Margarita

Combine tequila, lime juice and Hibiscus Spiced Simple Syrup in a glass with a couple of cubes of ice.
Stir well
Drink
Repeat
https://www.silkroaddiary.com/hibiscus-margarita/
World Spice Merchants https://www.worldspice.com
Categories:

Course, Global Cuisines, Holiday, Latin America, Recipes, Wet Your Whistle
Tags:

beverage, Cinco de Mayo, Easy, Hibiscus, Margarita, party time, Sel De Mer, Tequila
Leave a comment
Easter can be the time for pastel-dyed confections, day-glo-hued eggs, baskets filled with cheap plastic toys, waxy chocolate, and dapper-dressed rabbits  intent on stuffing you with all of the above… unless you're World Spice! We're big believers in featuring the earth's natural gifts, and with a host of spices and teas to choose from, we decided try our hand at the season's chosen craft of dyeing eggs.  What resulted were beautifully dappled eggs in a rainbow of subtle spicy hues. Below are some of our favorites, and a bit of our process, too!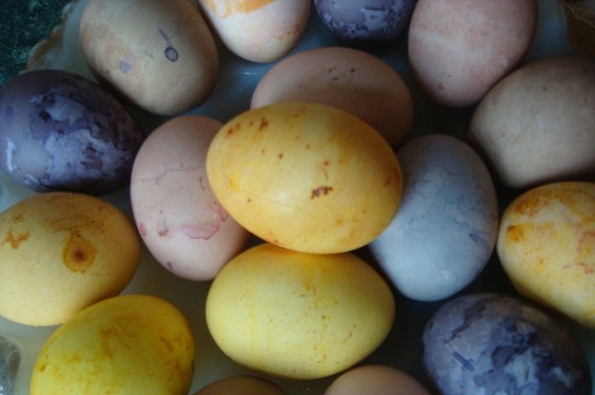 The vibrant yellow you see, is of course, from turmeric. The pinkish color is from beet powder, which we expected to make a more intense color, but instead came out as closer to a dusty rose. Hibiscus flower tea made the periwinkle color right in the middle, but combining beet powder and hibiscus made the intense indigo up in the left-hand corner. The hibiscus was so intense that if another of our experiments didn't work, we soaked them in the hibiscus after, and came up with all sorts of odd colors, some even close to black!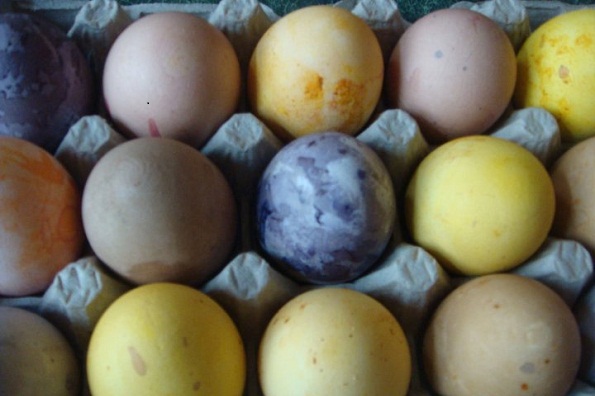 We used white vinegar for our mordant, but you can use cream of tartar, as well. Distilled water works better than tap for dyeing, too. We were less than scientific in our measurements, but a good ratio is two tablespoons of mordant per four cups of water, and about a half cup of dyestuff. Bring mordant and water to a boil with your spice or tea to dye, turn off the heat, and allow the eggs to soak for at least half an hour, but in the fridge as long as overnight for the best results.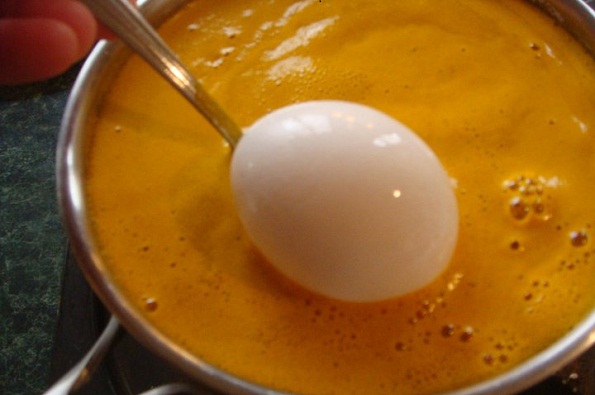 To make designs on your spice and tea dyed eggs, you can draw on the shells with beeswax prior to dyeing, or wrap the egg in rubber bands for a fun batik effect. To increase the dappled look, marbleize your egg by adding a drop of oil to the dye liquid. If you prefer a smoother look, strain the dyeing liquid before soaking the eggs. Which ever you do, be sure not to stir or shake up the eggs when they're soaking, or you'll disturb the setting of the mordant, and they won't color as deeply.
Happy Easter from the World Spice team!
Categories:

Holiday, Hot Topics, North America, Notes from the Field, Spice Notes
Tags:

beet powder, cream of tarter, Easter, Easter eggs, Hibiscus, holiday, spice dye, tea dye, turmeric
Leave a comment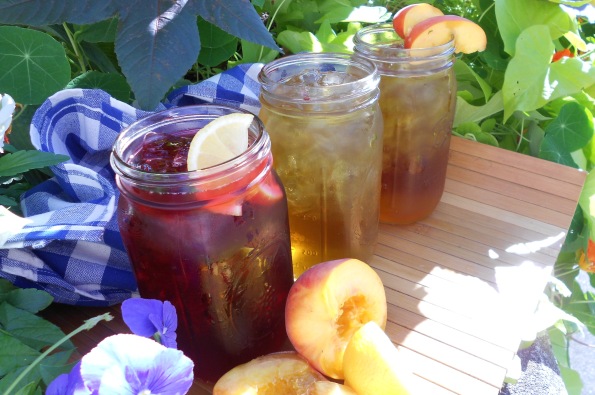 It's true. We love a good cocktail. There happens to be several hours between Bloody Mary o'clock and Happy Hour, though, and to pass that time in the dog days of summer, I've come up with a list of unique and refreshing beverages that should keep you (and I both!) hydrated all summer long. Any one of these could handle a jigger of locally made spirits, too, if you haven't gotten your fill by five o'clock.
Black Tea
For those mornings when it's hot by 9:00, or those afternoons when your refresher needs a pick-me-up, my hands down favorite is our High Mountain Keemun. When it's chilled, it gives the barest hint at the smokiness evident in a hot cup, and progresses quickly to a fruity smoothness that the spice team can't get enough of. We like it best barely sweetened with agave syrup, and perhaps with a few fresh raspberries or a wedge of perfect Northwest peach thrown in for garnish. Try blending it with lemonade in equal parts for a decadent Arnold Palmer.
Herbal Blends
Our Moroccan Mint combines earthy Gunpowder green tea with refreshing mint, and it's a natural to serve chilled. Sweeten with raw or brown sugar for best results- the subtle molasses flavors in these sweeteners bring out the most nuance in the tea. I'll occasionally muddle a sprig of fresh mint in  my glass for a fresh little bite.
Cold Hibiscus tea is a common offering in Mexican and South American homes and from street vendors, but it has yet to attain its' well-deserved popularity stateside! Tart, floral, and perhaps a little earthy, hibiscus tastes like lemon meets pomegranate meets red berries in the best way. Sweetened to taste and doctored with a few drops of Scrappy's Lime Bitters, this one's over the top. Freeze it into popsicles, simmer it with sugar to make a syrup to pour over shaved ice, or just sip it from a frosty mason jar.
The ice cubes are crystal clear, the lemons are poised for action on the kitchen counter, the pitchers are standing at the ready… we're prepared! Let's bring on that heat!