Chocolate Chili Chess Pie with Liquored Pie Dough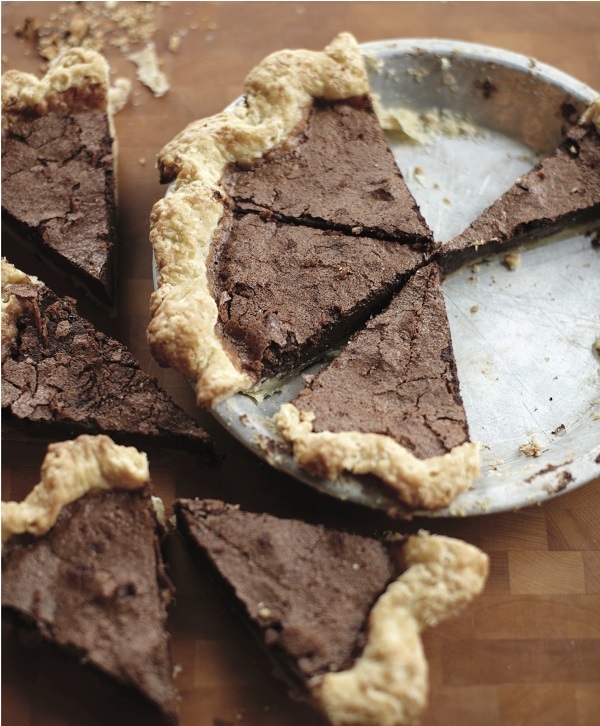 When Heather Earnhardt opened her tiny cafe, The Wandering Goose, in Seattle, she added a little bit of Southern charm and comfort to the city. From her childhood in the South with her close-knit family comes this collection of traditional Southern favorites that makes use of all of the delicious food ingredients available here in the Pacific Northwest. Her specialty is her biscuits – both sweet and savory – as well as traditional Southern fare such as pickles, fried chicken, grits, cakes and this luscious Chocolate Chili Chess Pie with Liquored Pie Dough. This delicious recipe comes from Heather L. Earnhardt's Big Food Big Love: Down Home Southern Cooking Full of Heart of Seattle's Wandering Goose, the World Spice Cookbook Selection for June 2017.
From the Author: "Chocolate Pecan Pie is one of my favorites, but I wanted a spicy version without nuts. I love the balance of sweet and spicy heat. After your first bite, the chili spice lingers a few moments but is not too overpowering, and the hint of cinnamon adds a nice warmth. Serve this with a big dollop of Whipped Cream. This pie dough will most likely make more than you need, but keep it in the freezer so you can pop it out to defrost and within a few minutes have a homemade crust ready for a sweet or savory pie. You can use a food processor or a stand mixer. If using a stand mixer, just be sure not to overmix the dough once you add the water or vodka. Use ice water if you don't have vodka, or half vodka and half water if you don't have a lot of vodka."
Ingredients
Pie dough
3-3/4 cups all-purpose flour
3 tablespoons sugar
1-1/2 tablespoons kosher salt
1-1/2 cups (3 sticks) unsalted butter, cold (preferably frozen) and cut into 1/4-inch dice
1 cup plus a few extra tablespoons chilled vodka (or ice water)
Pie
Instructions
For Dough - In a food processor, pulse the flour, sugar, and salt five times. Add in the butter pieces and pulse until the butter is the size of small peas. (If using a stand mixer, mix everything on low speed until the butter is the size of small peas.)
Turn the dough out into a large bowl. Add the vodka slowly, using a rubber spatula to gently mix it in. Keep adding vodka until the dough is cohesive and can be patted together easily. Form the dough into a 1-inch-thick disk and wrap it in plastic wrap. Chill it in the refrigerator for at least 1 hour before using.
For Pie - Refrigerate the dough for 1 hour. On a lightly floured surface, roll the chilled dough out into an 11-inch circle 1/4 inch thick. Fit it into a 9-inch pie plate. Crimp the edges and chill in the freezer while you melt the chocolate.
Over a saucepan of simmering water, stack a metal or glass bowl, making sure it fits snugly but the water doesn't touch the bottom. Put the chocolate, butter, cocoa, and the red pepper flakes in the bowl and stir until fully melted and smooth. Keep warm over low heat while you parbake the shell.
Preheat the oven to 375 degrees F.
To parbake the shell, cut a circle of parchment paper to fit over the crust and place it on top. Add dried beans or pie weights on top of the parchment. Bake for 12 minutes, then remove the beans and parchment, and bake the crust for another 3 minutes. the crust should be lightly golden brown on the edges and a pale tan on the bottom.
Reduce the oven temperature to 350 degrees F.
In a large bowl, whisk the eggs, sugar, milk, flour, vanilla, cinnamon, and salt. Add the chocolate mixture to the filling and mix until well blended. Pour the filling into the parbaked crust and bake until it's set and no longer jiggly in the middle, about 40 minutes. The crust will be a bit puffed and starting to crack.
Notes
Liquored Pie Dough makes enough for two 9-inch crusts.

© 2023 World Spice Merchants https://www.worldspice.com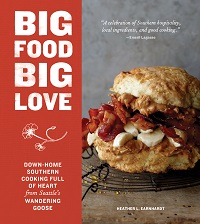 From (c)2016 By Heather L. Earnhardt. All rights reserved. Excerpted from Big Food Big Love: Down Home Southern Cooking Full of Heart of Seattle's Wandering Goose by permission of Sasquatch Books.
Big Food Big Love is the June 2017 selection for the World Spice Cookbook Club. Big Food Big Love is currently available for purchase at our retail store and online.