Beet Sourdough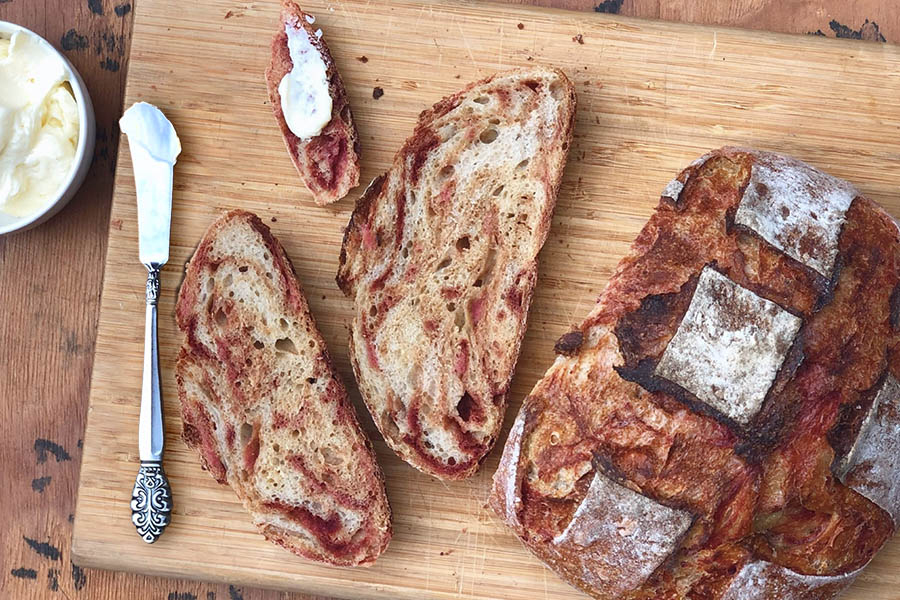 Spring 2020, the sourdough frenzy started. I had very little bread baking experience and flour was scarce. There was no sourdough starter in sight, but we were in lockdown. After a legit learning curve, and in desperate need of a hobby, sourdough ended up giving me all of the bread confidence I needed. So grateful! Sourdough truly has a mind of its own, but that makes it fun to work with. It is rewarding and well worth the patience. At my peak of sourdough creativity, I set out to make a beet sourdough loaf. Beet puree made a bright colored dough but it was messy and caused mayhem with the starter, resulting in an epic fail. Enter the secret ingredient, beet powder. Rusty red earthy layers emerged to compliment the tang of my starter. The dried powder is free from moisture, making for less interference with the starter and easier clean up. The awesome layers created while making the folds in your boule are gorgeous. It's not to late to get on the COVID baking bandwagon and dive deep into bread and sourdough.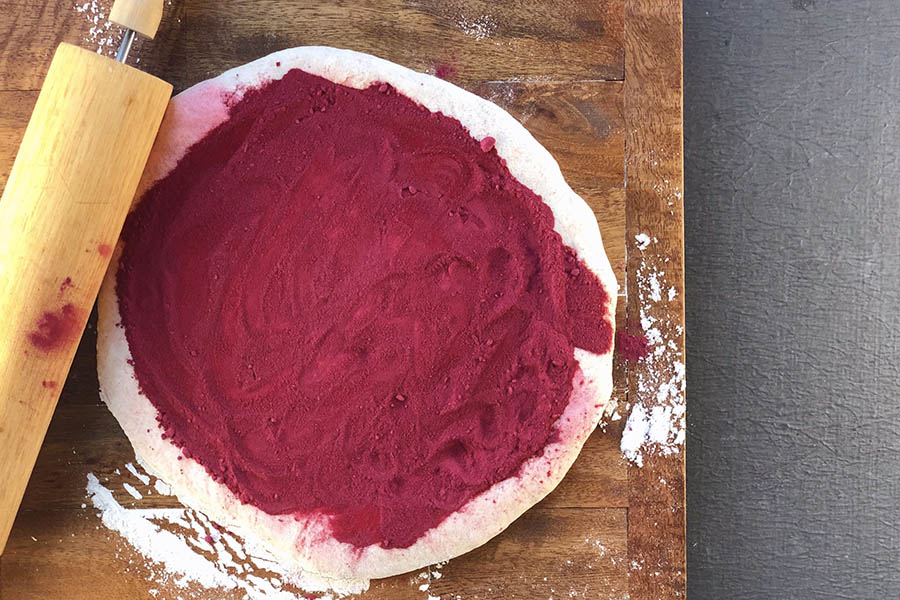 Ingredients
1 cup or 225 grams sourdough starter
2-1/2 cups or 300 grams all-purpose white flour
1/3 cup or 40 grams whole wheat flour
3/4 cup or 200 grams water
2 teaspoons or 10 grams kosher salt
2-1/2 tablespoons or 40 grams beet powder
Instructions
Combine the starter, flours, and water in a large bowl and mix well, until all of the flour is moistened and the dough has come together. Add a splash of water or flour if needed to form a soft, tacky dough.
Cover the dough and let it rest for 20 minutes. The dough will absorb water as it rests and form gluten for easier shaping.
After the dough has rested, add the salt and knead the dough until it's smooth and springy. The dough will be tacky and a little firm. Once dough has been kneaded, place the dough back in the bowl, cover, and let it rise for 1 hour.
This is how to give the dough a fold: Turn it out onto a floured surface and, using a bowl scraper or bench scraper, fold it like an envelope pulling from the sides. Gently flatten it a bit, and flip it over so the smooth side is up. Return the dough to the bowl, cover, and let it rise for another hour.
Return it back to a floured surface and roll out the dough so it's 1/3 of an inch in thickness using a rolling pin. Sprinkle the beet powder evenly over the dough. Keep about a half inch away from the edges of dough. (See second photo.) Repeat the previous step by folding the dough like an envelope. Turn the dough into a bowl and let rest covered for 30 minutes.
To create the beet layers another fold is needed and this time let it rise for 2 hours.
Preheat the oven to 450°F.
Once dough has risen, shape the dough into a round boule. Using both hands with a little extra flour holding the dough on a flat floured surface make a circular motion to create a perfectly rough ball. Place the dough seam side down in a Dutch oven or on a baking stone.
Wait 20 minutes and using a lame or sharp knife cut desired design on sourdough.
About 60 minutes before the bread is ready to bake, preheat the oven to 450°F.
Bake for 40 - 45 minutes or until the internal temperature of bread reaches 190°F. The loaf should look golden and have a firm crust. Cool fully on a rack before slicing.
Eat within two days for the best bread. Store in a paper bag at room temperature.
Notes
For extra crusty bread midway through the bake add 1 cup of ice cubes to the oven to great extra steam.
© 2023 World Spice Merchants https://www.worldspice.com